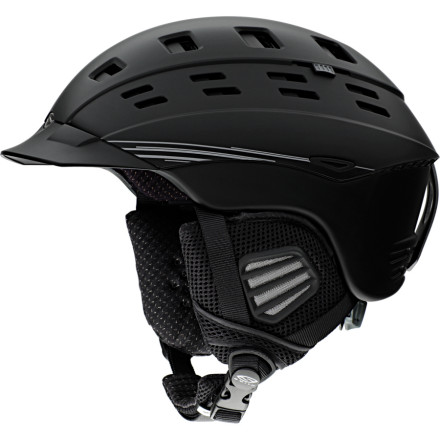 Flip your beacon to 'send' and point downhill. The Smith Variant Brim Skullcandy Twin-Tip Audio Helmet will fight to keep your skull safe and your groove steady.
Twin-Tip Audio Kit gives you phone and audio compatibility in a reliable, hard-wired package
22 Adjustable vents let you blow off steam whenever you need
Hybrid SL construction combines tough Bombshell ABS with lightweight In-Mold tech for a feathery weight and iron-clad toughness
AirEvac 2 ventilation system works in concert with Smith goggles to keep your vision clear at crucial moments
X-Static Performance Lining uses a silver-coated fiber to help reduce odor and static and to increase heat transfer
Slidelock chin adjustment makes wearing a helmet a comfortable experience
Snapfit ear pads let you was your funk off once in a while
Unanswered Question
Is it supposed to come with an audio cord?...
Is it supposed to come with an audio cord? Mine didn't come with one.
how do you take the speakers out of the...
how do you take the speakers out of the helmet?
I must have an older model from 2009 or 2010 because there is no zipper. Any other suggestions?
Variant model next to the Smith newest model Vantage is cheaper and has the same main features and styling in general.

My head size is 58 cm (or 58.2 cm with more hair), so M-size works better than L-size. Pay attention, since Smith adult HFS helmet line (Variant including) is somewhat larger than Smith Holt line of helmets! I usually wear L-size helmet, but needed smaller size with this particular model.

The best goggle between the OTG Monashee and the OTG Cariboo to fit with the Variant Brim Helmet, is going to be the OTG Cariboo model. The Monashee has a little bit wider lens and doesn't fit inside the helmet as well as the Cariboo will integrate with the helmet ventilation system (it has a little bit taller, but narrower lens). And will fit great in the Variant Brim.

The devil is always in the details, do not ignore them. Have a fun on the slopes! Ken, California
Again Smith has another winner on their hands with the Variant Brim helmet. This helmet is lightweight and comfortable and can be warm or cool depending on the vent settings. The vents on the helmet are easy to operate and allow the user to customize the amount of airflow depending on the conditions of the day. The size adjustments give the helmet a custom fit for each person. This helmet also works great with the smith I/O goggles. The goggle vents on the brim of the helmet direct air into the goggle to prevent fogging of the lens. The skull candy speakers provide good sound so you can ski or ride to your favorite music. If you are looking for a great audio helmet, look no further…
Smith variant Brim Skullcandy twin Tip Audio Helmet
Very comfortable and warm. I've used it on some very cold days this season. I don't use the chord and volume control that came with the helmut because I have a chord with a mute button from a Giro helmet that fits and works well. I like the mute button better for my IPod since I don't connect my phone while I'm skiing. It's a good helmet with good sounds.
Unanswered Question
Is the audio system compatible with the...
Is the audio system compatible with the 3G iphone? Are the sound controls easy to contol--can you mute the audio system w/o manipulating the MP3 device?
New Lid for an Old School Daddio
Okay, I'm 40, been skiing for 32+ years, so I was a Refuse-nik when it came to helmets. Like all good subdivision, terrified Oprah-Dads, I have my kids in helmets; and after hearing, "Hey Dad, how come you don't wear a helmet?," I finally caved to kinder-pressure. I tried on this helmet, and it looked pretty cool. I was in Switzerland at the time, and I could have flown back to the USA for the price of this helmet at the Swiss ski lodge. Like all good ski bums, I jumped on the internets and scored a silly deal from Backcountry.com. They totally hooked me up, and this helmet rules!

Great fit, excellent adjustability, and not too hot or cold. I tested this out at Kitzbühl, Austria, so I was pretty giddy to begin with, and the helmet was more of an afterthought, as it should be. I shouldn't notice it. It should be as cozy as any tuque I've worn in the past 3 decades. This helmet does just that.

Santa Clause hooked me up with a sweet pair of Smith Phenom googles, which were insanely good, and match seamlessly with the helmet. Even if you don't need a new set of googles, spring for a new set of vision and the interoperability is priceless.

So all told, I have a new helmet and googles by Smith. They are primo cheese for a Valveeta hack like myself. Over time, I BS'd myself think I was hard core and not a sellout because I spent nickels and dimes on run of the mill equipment. I wasn't hard core, I was just a Moron!! If you are like me, you are a skiing fanatic, you spend a small fortune on the whole endeavor, so spring for great gear and skimp on the Motel 6.

Bottom line, out with the old: drafty tugue and old, scratched to hell dime store goggles. In with the new, damn near climate controlled Smith Variant Brim helmet, with killer sound system and new googles. It's like a stuck Aspen's Hotel Jerome on my head and went skiing. Much improved over my supposed "hard core single wide" mentality.
Just got this helmet but the skullcandy...
Just got this helmet but the skullcandy connection does not fit my cell phone. How do I resolve this?
Best Answer
It has a standard 3.5mm jack so if your phone doesn't fit then you'll need to figure out what your phone accepts and then get an adapter for it.
What is the difference between the Variant...
What is the difference between the Variant and the Vantage versions of this helmet?
the amount of vents and the ability to control them is the difference
Another Variant Brim Believer
As a first timer to helmet wear for skiing I was cautious. Thanks to several reviews and testing at stores I finally pulled the trigger. The Variant Brim was the only helmet to fit perfectly and with the added bonus of the skullcandy audio, the helmet is second to none. Comfort is the most important aspect to the helmet in addition to its safety. Warmer, fully adjustable venting to modulate temperature, no painful earphone, superior sound and stylish are the quick characteristics. Part of the excellence includes ordering from Back Country. Excellent service at all times of the day with customer first attitude makes Back Country as good as this helmet.
Great sound quality, great helmet
My husband is really liking this helmet. He can answer his phone with the system- yeah, I know it makes him look like a douche bag, but apparently it's important when he's "working" on the mountain- and when he's not on the phone, he can rock crystal clear Yanni radio.The vents on the left and right side operate independently and are easy to open and close with your gloves on, sound quality is awesome, and the cord comes with plug-ins for two devices. If you're trying to decide between this and the brimless, go with this one- the brim keeps the chair lift rain from dripping down through your goggles. He's rocking a pair of early 2000 oakley goggles and they fit pretty well underneath, just bit of a gap on each side but nothing you'd notice if you weren't looking closely.Sizing in this helmet is bigger than most others. He originally had a large but was floating in it and ended up going with a medium. Head measurements in the sizing chart are accurate, so pay attention to them.
What is the advantage of the brim vs. non...
What is the advantage of the brim vs. non brim helmet?
Is the twin tip audio system perminently installed in the helmet?
If so is does the pug always "hang down" or or can it be tucked in out of the way when not using the an ipod or mobile phone?
Is there enough room to keep googles on the front of the brim helmet?
John, I don't have the brim on my, and my wife does, I like the "look" of the brim. But I think the brimless one the goggles seat better on the helmet when you are not using them. The pug is never in my way, nor does it bother me in anyway. The sound system can be removed, I never have removed it. The remote on mine (2008) was a POS and finally fell apart on the 75th day, I went to radio trash a bought a straight cable and I am much happier, the remote is the weak link in this system. I love the helmet and the sound system rocks.

Pico
Unanswered Question
I just purchased the bluetooth version of...
I just purchased the bluetooth version of this helmet. The Helmet looks awesome, fits great and I think it going to work well with the bluetooth, but did I really just spend $250 for a helmet and in the product book it says "you should purchase a usb charger"? Really? The charger for the helmet isn't included? Am I missing something here?
Variant Brim is the best helmet I have ever owned
This is such a great helmet. The adjustable fit makes a perfect fit every time I put it on. The speakers sounds like I am in a recoding studio. They Rock!!!The helmet is comfortable and warm.....oh not to mention how much safer I am with a helmet on.
Can you buy the audio set? i want to get...
Can you buy the audio set? i want to get a variant brim, but a white one with the same audio set up
Best Answer
You can buy the Skullcandy Twin-tip audio set seperately. It runs $50. It looks like Backcountry doesn't sell it and Smith is out of it. I would try here:

http://www.rei.com/product/807522