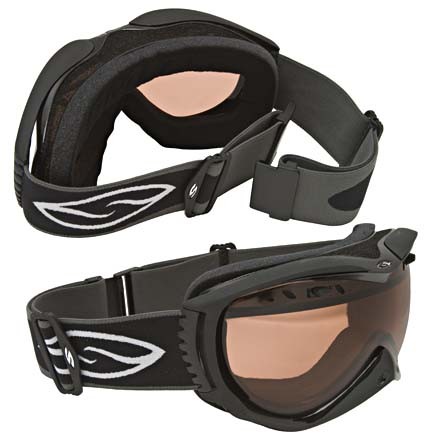 Detail Images
These goggles have a smaller/medium face fit, and feel great for me. They fit with my Giro helmet perfectly, and the platinum mirror lens works great. I also have some Oakley Wisdom's, I'll still use the high intensity lens on that for the snowy/foggy days, but the Triad is definitely more comfortable with a helmet, and fits a smaller face better.
These are wide goggles; they fit me well since I have a big head (7 5/8) and they offer great peripheral vision. They're not quite as nice as lower-profile goggles when trying to look down, meaning you have to tilt your head to look straight down when you're trying to see if you're locked into your skis or board. They ventilate well and it's easy to swap the lenses.
Triad Regulator Spherical ski goggles
These are the best goggles I've ever owned. They fit my helmet(Giro Nine)like a glove. The interchangeable lens makes this the ultimate weapon out on the slopes. I use to prefer wearing sunglasses when the sun was beating down, but now it's got to be the Triads with the mirror lens. They are so comfortable, I forget they are even on.
Smith Triad Spherical Goggles
I love them! The range of view is great. I don't feel restricted at all. I also like that they don't go down around my nose at all like a lot of other goggles. I can barely feel that they're on my face at all. Definitely an investment.
Smith Triad Regulator Spherical Series Goggles
These are great goggles for a mid-range price. They have many different lenses to choose from and very soft, comfortable face padding. They have great ventilation and a very sleek design. I was deciding between these and the Oakley Wisdoms and I'm happy that I went with these. Definitely recommend.
triad regulator spherical goggles
I recently purchased these goggles in a comparison against my Oakley Wisdoms. There really is no comparison. The Smith's are much more comfortable - especially when using a helmet. I can actually breathe out of my nose since the goggle does not press down like the Oakley's. If you are considering a top end goggle, this should be your choice. Reasonably priced replacement lenses is also a big plus.
Hey make sure you completely dry the goggles out between days. I left mine in the car overnight and had a really hard time getting the fog out from between the layers of lenses.

But all in all they did great. We had varying light conditions and they handled with ease. Well it did snow most of the time (pity). Great goggles!
Triad Regulator Spherical Series Goggles
I bought the goggles for my boyfrind and he loves them! He doesn´t even need to use his ordinary glasses when he is driving, because the light is so sharp when he is using them. Very good sight and no mist over them. And they are very good-looking!
I like how Smith uses the KISS (Keep it simple stupid) method because it makes their lenses and goggles have better value. Having a yellow white-out lens eliminates the purpose of oakleys so called "high intensity blue" lens that costs an arm and a leg.
This goggle has performed perfectly for me in all conditions. It has never fogged once in any weather. If your a serious skier and normally wear a helmet this is the goggle for you--GUARANTEED
I just returned from Island Lake Lodge in British Columbia and was extremely impressed with how the regulators performed in the backcountry. I am a heavy sweater and have had fogging problems with every pair of goggles I have ever owned. I highly recommend these for people who have fogged all makes and models.
goggles are everything i hoped they would be. Awesome lookin eyewear.