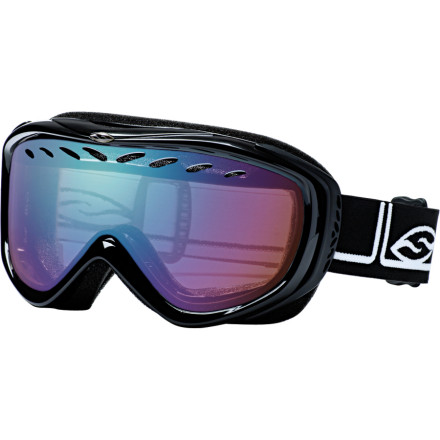 Detail Images

Community Images
A comfortable fit and amazing value combine to make the Smith Transit Pro Goggle a solid choice for any day on the mountain. Smith's Airflow ventilation uses vents on the dual lens to ensure foggy vision is a foreign concept. The helmet-compatible design also features an Articulating Outrigger system that evenly transmits pressure for a comfortable, full-seal fit.
good goggles for beginners
Gender:

Male

Familiarity:

I've used it once or twice and have initial impressions
I had no problems with these goggles on the slopes.
Unanswered Question
Are these compatible with iterchangable...
Are these compatible with iterchangable lenses?
Unanswered Question
which smith goggle lens is best in flst...
which smith goggle lens is best in flst light, sensor mirror or ignitor mirror?
I bought this goggle to my wife and she loved it.
She has a medium face size and it fits perfectly. Also it is very bealtiful.
These work good in sunny conditions, harder to see and transition in shade or dusk so watch out for the un-even terrain! They didn't fog at all and were comfortable on though. I'll keep them.
I must have a tiny pin head
Because these goggles are still pretty big on me. I can't imagine wearing the Scope Pro.. Anyways these fit me nicely even so, are comfortable, and haven't fogged up, yet. Build seems solid. I got the Black frame with the RC36 lens and my girlfriend says I look even sexier than usual with them on, so that's a plus.
Does it have a Carbonic-X lens?
Does it have a Carbonic-X lens?
Unfortunately no, but I can tell you it is great lens technology (can't go wrong with Smith). Last time I checked, they make Carbonic-X lenses for the Turbo fan, Spherical, and Regulator series goggles (i.e. the I/O and Stance would be great examples). If you are looking for a smaller goggle, I would go for the I/OS or the Anthem. Both will have the lens that you are looking for.

I have had Carbonic-X lenses in my Stance goggles, and I love them. Very scratch/fog/doom resistant. Worth it!
these googles are an excelent option for the price, plus the have a great fit for slim faces, and the fit very we well with the smith holt helmet.
Transit Pro (lower) Scope Pro (upper)
As mentioned, the Transit Pro is very similar to the Scope Pro. They only differ in size and strap width, overall construction and function is practically identical. Both fit me well, even with my large face/head. Note that larger faces will benefit more from the Scope Pro.
Transit Pro = Smaller Scope Pro
The Transit Pro is essentially a slimmed down version of the Scope Pro with a few minor variations (See my review of Smith Scope Pro Goggles). They share the same great features; a flexible frame, proper ventilation, comfortable padding, a stretchy silicone lined strap, and fog resistant double lenses. The obvious differences can be found in the overall lens size (with the Transit Pro being significantly smaller) and the strap width (the Transit Pro strap is approximately 1.5" wide while the Scope Pro strap is about 2" wide).

The Transit Pro Goggle is sized for a small to medium adult face, and is also suitable for some larger youth faces. I got a pair of these for my girl, who found the Scope Pro Goggles to be too large for her forehead and nose. The Transit Pro's fit her much more appropriately, while still providing just as much protection from the elements. While they have a slimmer profile, and slightly more feminine styling, they still fit me (with my large head) quite well and don't negatively impact my peripheral vision.

These work seamlessly with the Smith Holt helmet, or any Smith helmet. The Transit Pro is a worthwhile purchase for those with smaller faces, or those who don't like larger/bulkier lens styles. Everything you need from a pair of goggles, except the high price.
Great goggles!!! I tried on a lot of pairs and these fit great, they fit nicely underneath my Bern helmet too! No fogging up at all and the rose colored lens was great at night! You could see the shadows really well!The price is really reasonable as well! I would highly recommend these goggles! God Bless!!! JC
what is the difference between sensor...
what is the difference between sensor mirror, rc36 and ignitor mirror. Need something that will work in all conditions. Thanks
Best Answer
The R36 lenses are all purpose lenses that allow for glare reduction and improved contrast/depth perception. The sensor mirror lenses are the lowest tint of the 3 choices and are most helpful in flat light for color definition and depth perception. The ignitor mirror lenses are designed to work under the widest set of conditions, while having similar benefits to the R36s. My suggestion is the ignitor mirror lens.