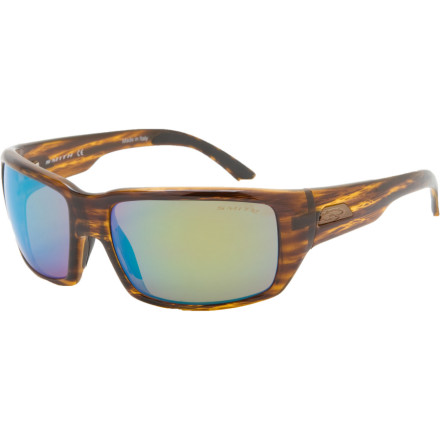 Detail Images

Videos
Description
Take charge.
The Smith Polarized Touchstone Sunglasses radiate authority—no question who's running the show. Nothing will escape your notice when you look through the Smith premium Techlight glass lenses that are precisely fitted with top-quality polarized film for maximum glare-free, distortion-free vision. Lightweight, ultra-thin Techlite glass incorporates a multilayer anti-reflector mirror coating to absorb back-light effects, and the oleophobic coating protects the lens by repelling water, dirt, fingerprints, and grease.
Smith Touchstone Polarized Sunglasses
I've been wearing Smith sunglasses for 4-5 years now and these are my favorite. They aren;'t quite wrap-arounds, but they are nice and large with thick arms and look great on my head (hat size 7 5/8). The polarized lens is really awesome too. Crystal clear.
Smith Touchstone with Kirt Voreis
Love the big field of vision
Larger Face fit. Spring hinges. Comfortable all day long with the quality of glass!! Love em!
Smith knocked it out of the park with this polarized Techlite glass lens. I have had the chance to wear almost every other major brand of sunglasses over the last few years, and they do not compare with the quality and clarity of this lens. The Touchstone has a full coverage fit good for skiing and climbing. Looks good in a suit and tie too.
Fresh Look...but they may fly off if ya really Active
I have never been let down by smiths before these are no diff... I would say casual use is better then work
or sports for these but killer shades dude!
I really have been digging the new Touchstone. And the new polarized green mirror lens is awesome. Its really hard to go back to a regular lens once you've been blessed with the polarized. I like mine in particular for being on my bike when the streets are wet in Seattle and the sun is glaring off of everything: puddles, cars, homeless people. The polarized cuts out all the glare and lets me carve the urban jungle with ease.