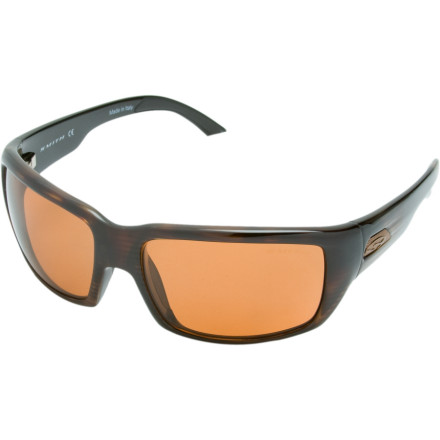 Detail Images

Community Images
Description
Low-key styling meets high-tech optics.
Smith's Touchstone Polarchromic Sunglasses combine high-tech, distortion-free optics with clean, retro styling.
Polarchromic lenses eliminate glare and self-adjust tint according to light conditions (when the clouds roll in, the lens lightens, and when the sun comes out, the lens darkens)
Techlite polarized TLT glass lens for distortion-free clarity and scratch resistance that is far superior to plastic lenses
Grilamid polycarbonate frame for durability
Medium fit with maximum coverage
My two cents
Gender:

Male

Familiarity:

I've used it several times
I had been wearing the Frontman Chromapop and with Ignitor lenses. Apparently these are one of the few with the new Chromapop that are Photochromic and Polarchromic. To make a long story short, the quality is not quite there with the Frontman so I wanted to try out the Touchstones. That being said, there are a couple of things that will keep me with the Frontman over the Touchstones.



First, Touchstones slip down my nose way more easily than the Frontman. Over a long day of fishing, I've learned the hard way with another pair of sunglasses that this can get very annoying. Second, after having the Frontman the Touchstones seem very heavy on the face in comparison. Now don't get me wrong, some people may like this because they do seem more sturdy, but I prefer lighter sunglasses. Last, the Touchstone just don't seem true to color as there is a redish tint for the Ignitor lense. This is probably the biggest reason I'm sticking with the Frontman because the colors just seem better and more true to color.
They don't float :(
Familiarity:

I've put it through the wringer

Fit:

True to size
Update from my original review:



This past weekend I was about to jump off a high rock into a swimming hole. I took these babies off and set them on the ground next to me. Unfortunately I didn't secure them very well and next thing I saw was the glasses cascading down the rocks into the pool of water, and sinking to the bottom. After about 20 minutes of trying to search the bottom I gave up.



I just bought my second pair because even at this price, they are totally worth it and I can't seem to live without them in the summer.
Perect
Familiarity:

I've put it through the wringer
I am a huge fan of these sunglasses. I usually get headaches from wearing sunglasses to long, but I've had days where I have worn these 13+ hours only taking them off because it finally got dark.



In addition to the comfort, they do what I need and cut the glare and maintain great color without being too dark.
Huge fan
Familiarity:

I've put it through the wringer

Fit:

True to size
I'm a huge fan of these puppies. They let in the perfect amount of light, have amazing optics (colors are amazing while wearing them), and have the perfect amount of coverage for me. The polarchromatic function allows me to wear them in direct sunlight all the way down to a cloudy day. Love em.
Can't live without them
Familiarity:

I've put it through the wringer

Fit:

True to size
I have been wearing Smith sunglasses for well over a decade now and the new glass polarchromics are amazing! They handle everything I put them through.

I do landscape maintenance and weed eat sometimes for hours a day and these are the first shades that survived the season.

I wear them daily and the glass has held up to drops and flying rocks and debris.

Love this Idaho company. Love their product.
LOVE.
Familiarity:

I've put it through the wringer

Fit:

True to size
Great sunglasses. They are a tiny bit large for my head, but still feel great and optics are so quality.
Best Smith Glasses I've Ever Had
I have 10+ pairs of Smiths and I've been wearing them for years. I can honestly say that these are my absolute favorites. The hinges are strong, the glass lenses are super clear, coverage is perfect (if you like it on the large side). I use them for fly fishing, mtn biking, ski touring and they haven't let me down.
Increase your odds with techlite glass
Look good and see way more fish with the polarchromic advantage!
Any suggestions for the best color...
Any suggestions for the best color polarchromic lens to use for trout fishing in rivers?
Best Answer
Polarized lenses are your freind. They will cut the reflected glare from the water and let you see down through it. There is no " best" color for all conditions and time of day. Here is a breakdown of different common len's colors and their uses:

Gray: This is a general-purpose tint, and will work well in a wide variety of situations.  Colors are transmitted evenly without distortion, ensuring that all colors remain "true" while looking through the lens.  Grey lenses are a good choice for sunny and bright days. 
Brown: Brown lenses provide the best compromise between true color and contrast, meaning that focal points will remain vivid and sharp throughout the spectrum.  These are a perfect choice for medium to bright light conditions.  Anglers with sensitive eyes will enjoy the comfort these lenses provide. 
Tan/Copper: These are another all-purpose tint to choose, performing best on cloudy or overcast days.  They are comfortable for all-day wearing, and work well for sunshine conditions.  For those anglers that sight fish, these are your best bet to buy. 
Yellow: Yellow lenses help in enhancing the available light, making them a good choice for dusk and dawn, and extremely low light level periods throughout the day.  These will be all but useless during bright light conditions.  


Hope this helps!
Great lenses, with brilliant clarity. I've got a slim to medium face/head size and they fit fine, although, they are bigger fitting than previous sunglasses I've owned (mostly Oakleys). The tortoise shell frames look good.
Love these shades. Wear them daily. Optics are wonderful. Fit is great for look and I trail run in them. LOVE the Touchstone.
Nicest Sunglasses I've Owned
While someone else mentioned a great fit on a larger head- I've got a more slender face and they fit very well on me as well. The lense coverage is great for mountain biking, preventing any eye watering or drying. The Evolve frame looks really cool and as everyone has mentioned, the lenses are top notch. I've got the polarchromatic ignitor lense, and I'll wear them from overcast/rainy to bright sun. They honestly improve my eyesight. Absolutely worth the $.
Smith Touchstone with Kirt Voreis
Smith's techlite polarchromic glass is the real deal. Its like putting a camera lens on your face, everything is so crisp and sharp. For fly fishing, having a glare cutting lens is key.

Here Ian uses his Touchstone glasses to see where the fish are hiding!
Fantastic sunglasses of the highest grade
I've had a number of sunglasses over the years in the $50-$250 range (I don't go for fashion brands!) and had varying degrees of success with them. Some such as Native was always hit or miss, some such as Oakley was consistently good. I've only had one pair of Smith sunglasses (although plenty of their snowboarding goggles) the photochromic Methods from about 2006 and they've gotten plenty of miles in them. Hence I figured it was about time for an upgrade. I've got to say I'm very impressed with these so far. The build quality is very solid compared to Methods. My head is medium size and they sit fairly nicely - not too tight like a lot of wraparounds and not too lose like some of the casual sunglasses (similar to Methods). I'm not quite ready to go water rafting in these but eventually I think I will. Optics quality is amazing, but in this price range I don't think I ever saw bad glass.
How funky is it to look through the purple...
How funky is it to look through the purple lense?
Not funky at all. Makes the world seem cooler looking actually.
Great Glasses for a larger head
These glasses are awesome for my big head. The spring hinges make them super comfortable every day - all day! Glasses lenses are crisp, clear and super durable. Love em!!