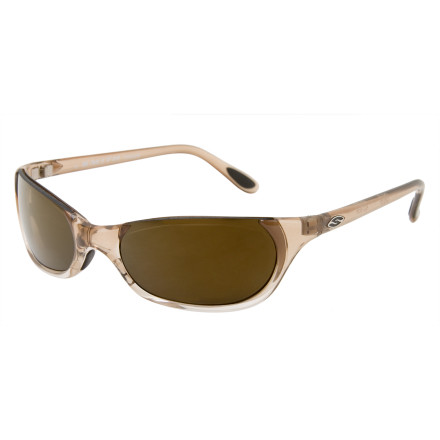 Share your thoughts
What do you think of the
Smith
Toaster Sunglasses - Interchangeable
? Share a...
Unanswered Question
Write your question here...What is the...
Write your question here...What is the lightest lens I can get for the Toaster? I have a pair and need to replace lens'.
Theses glasses are so good that I lost mine two nights ago and have already re ordered a pair. An expensive mistake to make but well worth it. I am a tiny female, under 5 feet with a small face and have a hard time finding a pair of sunglasses that can perform well. I wear these for every sport including running and hiking and even in the water with a proper holder. They are so versatile. I have ordered several different lenses through the years and wear my toasters for every light condition. Well worth the money, don't lose them!
Write your question here... I have Smith...
Write your question here... I have Smith Toaster Sunglasses,

and need A new set of Lens.
Do you have them ?
thanks, Bonita
You can buy new lenses directly from smith.

http://www.smithoptics.com
This sunglasses are awesome. I have 3 pairs of the toasters and I can't live without them. I use them for everything. Driving around, hiking, out on the lake, trail running, and laying by the pool. They fit my face and I don't have a problem with them sliding off or moving around.
small lenses, really light, lots of lens options. my lashes rub on most wraparounds, but not on these. small, thin arms are good to squeeze past helmet straps. the brown lenses work almost all the time. i wear contacts so the yellows are nice for dusk and the clear are good for night riding. not something i would wear unless on the bike but for that they are great.
Unanswered Question
Do you carry toaster hammers? These sun...
Do you carry toaster hammers? These sun glasses are pictured in Bicycling magazineThanks
The toasters are just so cute and look great on so many women's faces. They are sporty yet girly. They are super lightweight and the interchangeable lenses are soo nice. They don't do a super great job of blocking wind though when I'm going really fast on my road bike, I have found
Cool shades, but "small fit" didn't work.
First, I got these shades extremely fast . Very cool.

I spoke with a great tech help person while deciding if these would work for me, as I told him my dilemmas with finding shades to fit my face. I was told about these shades by many and loved the way they looked online, etc.

Wanted something that would give more coverage around the sides, but would fit the narrowness of my face. These sounded perfect. Fit dilemma is that my face is somewhat long and narrower than most, but I have big eyes and want shades to fit my face (not be too wide) and eye shape. Hard to do without trying them on, so went by referrals.

However, when I got them, they looked to be shades for a kid or someone with an extremely small head. They look awesome, but did not fit (me) at all. They fit width-wise, but the actual shades are so small that they didn't even cover my eyes. Even the great feature of the nose gripper was wasted on me, because the shades themselves were so small that I could see right over them with more than half my eye showing.

Forgive the long review, but I hope it helps with people having the same issues as me finding a fit. I would suggest finding the glasses by trying them on, and then buying them from here. =) I had read so many good reviews about the product, and the customer service was fantastic.
I've had my Smith Toasters for 5 yrs and I love them! I have a small face and they fit great. I use them year around for biking, skiing, hiking, running... The only drawback I've found is that the lens are a little hard to change and they don't seat perfectly once they've been changed.
poor design, lenses scratch
They're cool looking and stay on your head really well. Problem is that if you're changing lenses on the fly, like while you're mountain biking, dirt can build up in the frame and scratch the lenses when you interchange them. My lenses ended up horrifically scratched. If dirt isn't in your future, then you should be fine. Just be careful.
Nice sunglasses for all kinds of sports!
I use these for running, cycling, kayaking, hiking, and snowboarding. I lost my first pair in the river last summer and immediately bought another pair. They are lightweight, fit well, look good, and the interchangeable lenses are great. They seem to be quite durable too.
not the greatest coverage
These glasses are definitely some of the best I've ever had in terms of fitting the width of my face but the lenses are very small vertically and don't give me a lot of coverage on the bottom part. While walking over snow there is definitely a lot of reflection that gets under the glasses and I can imagine the same would be true of fishing with light reflecting off the water.
For the prices of these bad mommas were too good to pass up but smith always makes a great product. The interchangeable lens make everything you need for any duty: bike, run, fish or hunt. Good stuff thanks
I've had toasters for years now. Lost a couple pairs, bought new ones right away. The fit is great, a little on the small side. Love the interchangeable lenses. I use them for biking or running because they're pretty light.
These sunglasses are great! They are lightweight and it is really handy to be able to change the lenses.
On my 3rd pair...I love these!
I abuse my sunglasses and my only complaint is that the lenses are scratched (good think for the spares!) These are the perfect sunglasses if you're looking for something lightweight and durable. They stay put while running, hiking, skiing, climbing, etc. By far the best sunglasses I've owned in my life, especially considering how easy it is to switch out the lenses. (The only reason I'm on my third pair is because I keep losing them.)
These are the best sunglasses ever. I have gone through three pairs and I've loved all three. They handle abuse well and will fit a small face to perfection. The sticky parts on the nose piece are ideal for running. They don't slip down at all and they're super lightweight. Plus, they come in a ton of rad colors. Get them!
I used to swear by Smith sunglasses. But I switched when my polarized lenses got a stress fracture and Smith wouldn't give me the time of day. Smith will not under any circumstances, even manufacturing flaws, warranty lenses. That's an expensive replacement (especially when I've no reason to believe the lenses won't fracture again).
My wife loves them. Although they are unisex glasses (my friend Todd has a pair), they have a slightly narrower horizontal facial fit which seems ideal for women. They are sporty enough for biking and skiing, yet fashionable enough to wear at casual outdoor slightly dressier gatherings. Highly recommended.
I had some Smith glasses in the past that I really liked, the hybrid Sliders. I bought the Toasters a few weeks ago and sent them back, immediately. For 150.00, what a waste of dough. They were cheap and flimsy, did not feel like I was getting anything for my money. Ended up getting two pairs of other glasses for what I would have paid for these.