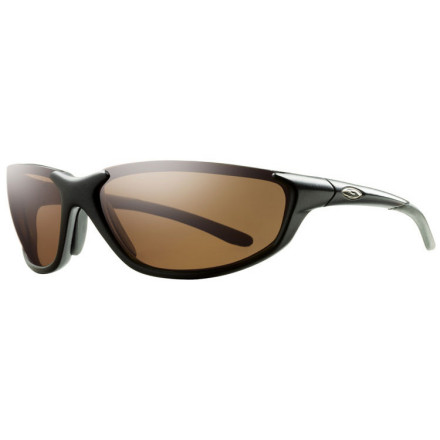 Community Images
The Smith Threshold has a sleek, wrap-around design to provide full coverage for a wide variety of faces. Smith's patented Interchangeable lens system utilizes distortion-free lenses to provide precise optical clarity and maximize coverage while minimizing peripheral exposure to sun, wind, and glare.
Smith's Tapered Lens Technology (TLT), gives you a distortionless view of objects -- something that gives you optical quality you'd expect only from glasses that cost twice as much. As you might've already experienced, visual distortion occurs when light waves hit an aggressively curved lens causing them to refract. This refraction causes a prismatic effect, or distortion. TLT corrects the distortion by progressively tapering the lens thickness from the optical center toward the peripheral edges. With TLT, light waves travel directly to your eye to generate precise vision and reduce potential eye fatigue. Objects are clearly defined and seen in their exact position.
Beyond TLT technology is the fact that your lenses are Carbonic -- the most impact resistant lens material money can buy. Smith treats them with an anti-scratch coating to keep them as new as possible, as long as possible. They're light, they exceed ANSI Z80.3 specifications, and they protect your eyes from 100% of the UVA, UVB, and UVC rays out there.
The Grilamid TR90 frame provides you with maximum comfort, maximum flexibility, maximum toughness, and maximum resistance to sweat and sunscreen. And the hydrophilic Megol nose and temple pads keep them locked in place on your face. They won't slip. They won't slide. They won't fall off.
The Smith Threshold offers a great degree of coverage and is considered a Large Fit. It's available in three colors -- Black, Graphite, Matte Black Evolve. Each frame color comes with a unique set of bright conditions lenses. Beyond this, you'll get a set of RC30, Yellow, and Clear lenses. RC30 a universal conditions tint that provides excellent vision in a wide variety of light. It enhances depth perception, increases contrast, and sharpens visual acuity. It's an ideal choice for overcast conditions. The Yellow lenses are ideal for amplifying available light in flat and low light conditions. Switching between lenses is a total breeze, and can be done in a matter of moments without tools.
Share your thoughts
What do you think of the
Smith
Threshold Interchangeable Polarized Sunglasses
? Share a...
Awsome Glasses
Familiarity:

I've put it through the wringer
I love my Threshold's. They are a great fit and Smith make great products. The only problem I had with them was the rubber on the arm's came unglued. Smith replaced the no questions asked within a week. Their customer service and warranty is the best in the business. I highly recommend Smith and their products.
Great fit, earstem rubber tears easily
The last of the great Sliders? I like these better than the interlock style of interchangeable lens frames from Smith, but the metal underneath the rubber on the earstems can poke through very easily so don't plan on exerting a lot of force on them or using Croakies that might torque the rubber to where it tears.
These would have been great but the lenses keep falling out. Had to return them :(
Functional and practical.
I bought these for cycling and was impressed with the fit. No wind issues while racing downhill. I look forward to skiing with them next season.
Lense replacement is quick and easy (and the lenses never popped out on me).
The optics are high enough qualilty that I use them for golf. They are extremely light, and durable. And the polarized lenses are great for water sports. I would recommend these shades even at suggested retail, so pick up a pair on SAC.
Lenses fall out too easily
I am all for interchangeable lenses but these lenses fall out way to easy. Set them down on the counter upside down and pick them up without lenses. Put them on top of the head and have the lenses plink down beside you with others to remind you to collect the lenses. Sorry. Love the idea but the application doesn't work.
Just got back from a tropical vacation. Love the functionality of these glasses and being able to change lens based on differing light conditions. This is my 2nd pair lost my originals a couple years back, so I'm glad I found my way back to them. Great fit for my face and a cool look.
Bring the Catalyst back!!!!!!!!!!!!!!!!!!!!!!!
Love this line of Smith glasses. I have been getting this line since 2002. So I have seen altot of changes in the design. Just cant leave a good thing alone. In my opinon the Catalyst were the best. The Threshold frames are to big. I wish they would bring the sleek design of the Catalyst back. I give these glasses two thumbs down. This will most likely be the last pair of this line i ever get from smith.
Great lenses, fit and ventilation...
Great stuff. See title.
I've had these since spring '09 & could not be happier. Plus you gotta love a lifetime warranty, that Smith will cover practically anything on a return. Smith has taken care of myself pretty good. These are great for when I'm doing any kind of active sport.
Real Nice Glasses in wrong case
These sunglasses are great! They came with 4 sets of lenses that are easy to change and fit with confidence in the frame. The frame has some give to it and would probably withstand a blow without breaking.
No complaints about the sunglasses BUT the case provides no easy way to stow the extra lenses. There is a provision for storing lenses but it is the wrong size; it's as if the case was intended for a different pair of glasses.
The Pros: The lenses for these shades are amazing and Smith makes a set for virtually all lighting conditions. The lenses are quick to swap out so your friends aren't waiting as you dork out and change them. Nose and ear pieces are comfortable for all day use.

The Cons: They ride very close to the brow line which is great for wind but causes them to fog easily especially while being active. The lens holder in the case could use some help.... something seems to have changed. The 1/2 drop of glue that holds the velcro inside the case seperates almost instantly, the corners get pinched in the zipper, and I'd have to stretch it with a team of horses to actually get the lenses in.

Overall these are great shades for any activity! My only recommendation is that you invest in GOOD croakies to keep them out of the river!
I've never been happier with a pair of sunglasses
I rocked a pair of Smith Serpicos in the gold & brown for a year or so before going over to a pair of Smith Thresholds. The Serpicos now sit in the glove compartment as my backup shades, never to see the light of day again, as long as the Thresholds are in one piece; they are that good.

I cannot say enough about the quality of Smith optics; I prefer them over all other brands, including Oakleys.

The Serpicos are a very fun style, you will get comments from everyone about them, and you might even get a little flirtatiousness from a cute little waitress in Mammoth...just sayin', but the Thresholds are the best hiking shades I have ever owned.

They stay on my face, vent well, come with multiple lenses, and a protective hard case. The lenses are just so clear and distortion-free, and the shades themselves are so light.

I've never been happier with a pair of sunglasses, even when I dropped big money on Oakleys or Maui Jims...
I've had several pairs of these now because I tend to be on the forgetful side. I really , really like these shades! They're a larger fit and they fit my larger face and noggin well. They are so comfortable that I forget I have them on. The Polarized lenses are super-high quality and worth every penny.
These are the best sunglasses ever! Lightweight, durable, good shields from the wind. I bike, ski, kayak, play tennis, and play golf in these. Polarized grey lense excellent for sunny day, while ignitor lense perfect for everything from sun to shady overcast. Also have yellow lense for night. It cuts glare when playing tennis under light. Also, Smith warranty great. A wire began to stick through the rubber arm pad. Sent them to Smith and they sent me back a new pair. Would highly recommend.