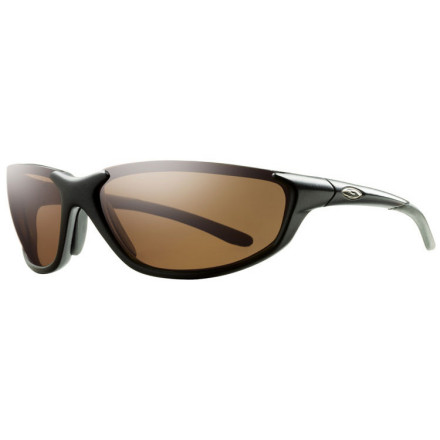 Community Images
The Smith Threshold has a sleek, wrap-around design to provide full coverage for a wide variety of faces. Smith's patented Interchangeable lens system utilizes distortion-free lenses to provide precise optical clarity and maximize coverage while minimizing peripheral exposure to sun, wind, and glare.
Smith's Tapered Lens Technology (TLT), gives you a distortionless view of objects -- something that gives you optical quality you'd expect only from glasses that cost twice as much. As you might've already experienced, visual distortion occurs when light waves hit an aggressively curved lens causing them to refract. This refraction causes a prismatic effect, or distortion. TLT corrects the distortion by progressively tapering the lens thickness from the optical center toward the peripheral edges. With TLT, light waves travel directly to your eye to generate precise vision and reduce potential eye fatigue. Objects are clearly defined and seen in their exact position.
Beyond TLT technology is the fact that your lenses are Carbonic -- the most impact resistant lens material money can buy. Smith treats them with an anti-scratch coating to keep them as new as possible, as long as possible. They're light, they exceed ANSI Z80.3 specifications, and they protect your eyes from 100% of the UVA, UVB, and UVC rays out there.
The Grilamid TR90 frame provides you with maximum comfort, maximum flexibility, maximum toughness, and maximum resistance to sweat and sunscreen. And the hydrophilic Megol nose and temple pads keep them locked in place on your face. They won't slip. They won't slide. They won't fall off.
The Smith Threshold offers a great degree of coverage and is considered a Large Fit. It's available in three colors -- Black, Graphite, Matte Black Evolve. Each frame color comes with a unique set of bright conditions lenses. Beyond this, you'll get a set of RC30, Yellow, and Clear lenses. RC30 a universal conditions tint that provides excellent vision in a wide variety of light. It enhances depth perception, increases contrast, and sharpens visual acuity. It's an ideal choice for overcast conditions. The Yellow lenses are ideal for amplifying available light in flat and low light conditions. Switching between lenses is a total breeze, and can be done in a matter of moments without tools.