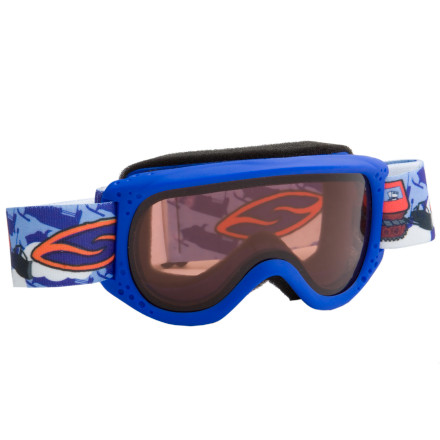 Detail Images

Community Images
Fantastic helmet, easily adjustable. Great customer service and advice, fast shipping, very impressed
These were great for my 5 yr. old daughter who is very small, they fit well with her her Smith helmet and we never had an issue of them fogging up. Not the most durable but they did the trick!
Great goggle for infants/toddlers. I bought my 7 month old these, and they still fit him at almost 4 years. Great for skiing/sledding/playing in the snow.
There is a area near the top of the goggles made of soft fabric. Within 5 minutes of wearing the goggles my son's finger went right thought the fabric and tore.
Bought these for my 5 yr old daughter and they fit nicely and are comfortable enough for her to keep them on her face.
The short answer is yes. The long answer: these goggles feature what Smith calls a thermal lens. A thermal lens is actually two lenses, one outer and one inner, with dead air space in between them. That dead air creates a thermal barrier that keeps the inner lens warm and dry. (This is pretty much standard on goggles nowadays, BTW.) There isn't any additional tech to ensure fog-free that I'm aware of, but my son has these goggles, and so far, he has been fog-free.
My nephew loves dinosaurs and I bought the Neon Green Dinomonsters to go with his blue helmet. They look good, the cost is just right and they will last him for a few more years.
Bought 3 of these for 11, 9 and 7yr olds. The price was right, shipping was quick, and they're all pleased.
My 5 yr old loves the cool goggs, snocats & all. They're definitely on the small side for him though; more of a kids goggle than a "junior" size.