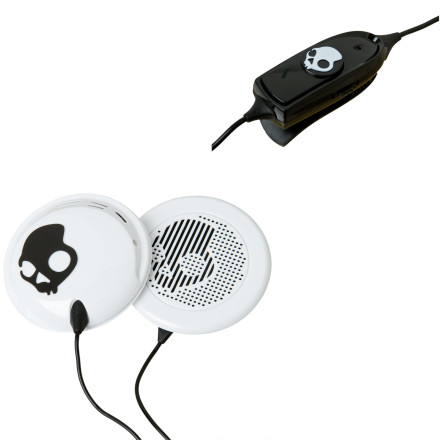 Detail Images
If you need music and phone capabilities when you ride, but you're not sure about all that magic wireless mumbo-jumbo, Smith and Skullcandy have you covered. The Skullcandy Twin-Tip Link Helmet Audio Kit hardwires your music and cellular straight to your brain. Well, straight to the included ear pads, anyway. An in-line microphone and adjustable volume control keep you from being the obnoxious guy yelling into his phone and complaining that he can't hear anything.
Compatible with all Smith adult helmets
3.5mm audio jack for music and phone devices
Share your thoughts
What do you think of the
Smith
Skullcandy Twin-Tip Link Helmet Audio Kit
? Share a...
Comes with a Phone Jack and a 3.5mm Jack
This is worthless if you want to hook it up to your iphone or Android phone. It has a Phone jack and a 3.5mm jack cord that are not removable and the 3.5mm jack doesn't work well with an iphone. I returned it the next day. I'll stick with my Icon 2 headphones.
typical chinese made garbage
Glad to have them in my earpads.

Rode them for about 12 outtings. Control has stopped and now there is crackling. I've only taken about 3 decent spills this year and have been careful not to yank these giving them plenty of slack. I know how to take care of cables and give them excessive length for excessive strain events such as that which occurs during a spill.

The whole idea is to be able to control music rather than pulling out the device and using it.

Might as well just throw a button based ipod like my old shuffle, which is lighter and produces actually better sound at least on these headphones.

I wish people buying products would stop and do some quality assurance on their products. Isn't anyone getting sick of buying stuff only to have it break within the warranty period? I guess companies figure out we arent goign to go through the effort and its much more profitable to create junk.

SOMEONE make a company that ONLY sells quality stuff, even if it is twice the price, once people learn that you sell quality, stand by it, and it will work right - is intuitive or at least common sense and will at least work until we get bored with the tech!
Not the best compatibility with iPhone and Spotify
These phones sound good and are much more comfortable inside a helmet all day than ear buds. The only problem is that the twin tip system is not 100% compatible with the iPhone and Spotify music app. I found myself constantly switching between the two tips, depending upon whether I wanted to make a phone call or listen to tunes. There is no doubt a certain degree of user error involved here but I'm of the generation that is spoiled by Apple's ability to make intuitive products that "just work" right out of the box. This product is not intuitive.
Affected by colder temperatures
I was pretty excited to try these out and picked up a pair last week. They worked well with my iPhone 4 in the shop using the little control on the cable (play/pause/FR/RW/VoiceControl) but once I got up on the slopes the control cease to operate. I had it clipped to my helmet where I could easily reach it with my gloved hand and think the cold (~0 deg at the top of the Snowbird Tram) must have affected it because it became finicky and then stopped working altogether once I reached the mid mountain lodge. Once I warmed up, the control began to function once again. Thinking it was a faulty item, I swapped it out for a new one but had the same problem. Kind of a bummer since I really liked the sound and was hoping they would work out. Oh well, I'll return 'em and keep looking.
how do you install them too your helmet
how do you install them too your helmet
They zipped right into the ear flaps on my Smith Variant helmet
is this compatible with my smith holt?
is this compatible with my smith holt?
I think you don't get what you pay for here! The cable that comes with the headphones doesn't work at all. It's cheaply made. Button doesn't work with my HTC EVO. I got rid of the cable and rigged up a more streamline solution: LG Optimus 3.5mm Noise Cancelling In-Line Mic Headset (I just use the 3.5mm w/ mic adapter, $11) and another 3.5mm Male to 3.5mm Male angled 1' cable ($2) from ebay. The LG module button works ...pause...play...skip...skip folder. This item should cost $10-$15 ... for its quality..not $49.95!
These guys have been great! The sound quality is good and the volume control is big enough to use with gloves on but not so big that it's in the way. I have only used the headphones with my Ipod so I'm not sure how well they work with a phone yet. The only thing that I would want to change would to be able to control the pause and play with the remote.
Good for a lesser phone???
Sound nice with the iPod but the phone controls do not work with my Droid X. Can only control the volume of one of the units.
If I buy a barnd new I pod Nano will these...
If I buy a barnd new I pod Nano will these control the mute and skip functions?
they will pause play skip. but you will have to use the volume dial to mute.
I got these about a week ago and have been able to ski with these a few times. These beat the hell out of wearing earbuds under your helmet. The fact that they insert right into the earpads of your helmet make them incredibly comfortable, way better than wedging an earbud into your ear under your ear pad. The sound quality is great but at the same time since there is a little space between the speaker itself and your ear you can still hear what is going on around you on the ski hill, which is helpful whilst navigating/avoiding the gapers around you. I usually dont crank the volume up all the way, I just like to have my current playlist playing in the background making me feel like i am in my own ski movie segment while i ski sweet delicious utah powder. These are sweet, if you have a Smith helmet and still want to listen to music while you ski this is the way to go. It also has the sweet phone attachment and built in microphone so that you can answer and talk on your phone while on the mountain if thats your kinda thing, i personally haven't utilized that function yet and im not sure if i will... These are the same price as the skullcandy helmet audio kit without the phone adapter cord, so why not just get this one and keep your options open.
If you are an iphone 4 user these headphones are an extreme pain in the butt. especially when your used to the controls that already come on your cheap white headphones. I have such a hard time saying this because i had such high hopes. heres the problem.....the double shot gives you two cords....unfortunately the controls on the wire dont account for this. If i use one cable, the volume control is amazing and super easy to use...but the pause/play/skip does not function. If the other cable is used, i can pause and play my music.....but i have no control of volume. The controls could be awesome but they simply dont work. All that said, the sound quality on the headphones is great and they zip in perfectly to my helmet. I just wish i could control my music
Great headphones. Sound is clear and the interface is easy to use. Would spring for the bluetooth if I had the extra cheddar. That said, the single-sided cord coming out of the helmet is not as cumbersome as I anticipated. This is so much better than wearing earbuds that fall out every time you turn to check out the girl next to you on the lift.