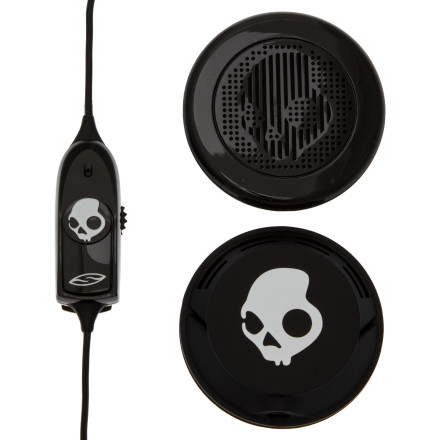 Plug the Skullcandy Singleshot into your Smith helmet and rock out to anything you have on your MP3 player, CD player (seriously?), Cassette deck (really?), or iPhone. The volume control on the cord lets you turn down the music when a tourist asks you a question on the lift so you can laugh at them.
Awful
Familiarity:

I've put it through the wringer
If you like being severely annoyed and having your music cut-out or stop completely at random, then these are the headphones for you. I think it is some combination of the cheap cord and/or the overly sensitive button the cheap controller. Whatever it is, these aren't worthy your time and money. Go with Outdoor Tech.

Tip to fix problems
Familiarity:

I've put it through the wringer
Hey, everyone that is having problems, 98% of the issues are caused by the cheap cord. I switched it out for my Beats by Dre cord and it works great. Any headphone cord should work, and you will get the functionality the cord has (mic, volume, skip songs, etc.). I like the speakers, the sound is decent for what you'd expect, but if you're going to purchase, be prepared to use a different cord.
Piece of Crap
Familiarity:

I've put it through the wringer
Stay away from this. It simply doesn't work. If I could give it minus stars I would. Skullcandy should be ashamed of continuing to sell a product they probably know is bad, just to make some money.
Terrible, useless.
Familiarity:

I've put it through the wringer
How this is even on the market is mind-blowing to me. It is completely un-usable - the button is so sensitive it makes phone calls when you make any upper body movement while this thing is under/near a ski jacket. I had to buy a separate M-M cable on amazon to give me any option of having sound in my Smith helmet. Does anyone know of any other options for audio for a Smith Helmet?
From Skullcandy themselves
Familiarity:

I've used it several times


companies ask Skullcandy to collaborate with them for audio for their helmets and the helmet company is responsible for the warranty of these items. Usually comes with 1 year. Contact Helmet Company or look online to purchase audio products. Skullcandy allowed them to use the Skullcandy trademark and have never sold the item on our website. Contact Smith- Burton -Giro helmet companies directly.
1-Star at Best
Familiarity:

I've put it through the wringer
Skullcandy's products have historically kicked ass in my mind. Solid cabling, great sound, ease of use...not these. Granted the sound quality is still solid. And it should be - that's their wheelhouse. But all else falls incredibly short. The location of the mute/volume toggle switch is odd. It forces you to clip it to your ear drop liner or your jacket collar, thus leaving the fragile switch out to deal with the elements. This brings me to the switch quality itself. The mute button functioned for the first 10 days MAYBE. Shortly after that failed, (luckily stuck in music on mode) the audio would cut in and out based on the lateral rotation of my head. It took about 2 days of that nonsense before I stopped using them altogether. My previous wired connector with Boeri eventually did this, but after multiple seasons of use.



My suggestion is skip right over these if you are considering helmet audio. By far and away the best units on the market are the Bern/Outdoor Tech Audio Chips. Great sound, durability, ease of use, and bluetooth. And while it may be a small plus, their packaging/product delivery is great. Additionally they fit in 90% of current helmets on the market today.
Really? What spice of crap
Familiarity:

I've used it several times
Smith, skull, backcountry? Ur brand is at risk from this crap. I have had Bette equality and performance for the free airline headphones. Horrible performance. Mute button never worked, volume control spotty, audio sucks, mostly never get two ears of music. Really?
Ended up not using them much
Familiarity:

I've used it once or twice and have initial impressions
They don't really fit great in Smith helmets, even ones that are made for them. Music quality alright... Basically it's built with very poor quality but there aren't many other options and they work.



I upgraded to the Bluetooth setup and was much more satisfied. No wires made it nice and the controls are easier to access and use..
Should have listened
Familiarity:

I've used it several times
I read the reviews about how cheaply these are made and how they cut in and out but got them anyway. Only used them for a week and very disappointed! I had to turn the music off, yesterday, because the breakup of sound was so bad. Would have rather paid more for a higher quality product.
Used them for the first time
Familiarity:

I've used it once or twice and have initial impressions
I bought these on 11/8 and just used them first time yesterday. The were crackling and cutting out already. Sucks now I have to send them back. I did buy two though and the other one is ok so far. You literally cannot touch the cable, controller or where the wires connect to without them crackling. It's a shame because there isn't much out there and these can pause music/take phone calls vs my Giro ones that just mute the music.
Remarkably low quality
Familiarity:

I've used it once or twice and have initial impressions
Purchased these despite reviews explaining how the speakers frequently break as a result of the poor quality wire connections. Anticipating this issue being in my future, I took the time to tape and secure all of the electrical connections in advance of use, but to no avail. Didn't even get the chance to put these through the wringer before they broke. The speakers started turning off and on erratically on my 6th run of the season. Needless to say, these are going back. Unfortunately, so is the awesome Smith helmet I purchased (Transport) as I want music when I ride but I don't want to deal with these speakers. Great product in concept but absolutely terrible execution. I recommend against purchasing this item.
Work pretty well
Familiarity:

I've used it several times
I dropped these in my RED Hi-Fi helmet a couple years ago, and so far I think they're doing a great job



They put out some great sound and are pretty easy to operate if you find a good spot for the control
Finicky but Functional
Familiarity:

I've put it through the wringer
Like a few of the other reviews have said, it cuts in and out sometimes, one ear will be playing and the other not but then comes back on for no real reason, it's finicky. I wear them all the time, speakers in the helmet are much preferred to headphones. easy to talk with others. They have problems but I like them, would never buy them full price so make sure to get a deal. way better then RED's audio system. they also fit in RED helmets. i use them in my RED Mutiny helmet and I wouldn't doubt they fit in the new Anon stuff as well.
Not great but not a ton of other options
Familiarity:

I've put it through the wringer
I have gone through 2 of these already then last season/this season I have the Gryo ones. Gyro just mutes music, the Skull Candy ones pause and I can answer phone calls. Both are cheaply made, crackle, where the volume control is when you touch it too much it will crackle and cut out. BUT again, not a ton of options so i'm stuck with the lesser of two evils. Sound is good (when they work).
does it comes with the ear pads for the...
does it comes with the ear pads for the helmet ?? I need the ear pads as well
Best Answer
No, these go inside of the ear pads.
Good sound. AWFUL build quality.
Gender:

Male

Familiarity:

I've put it through the wringer
Wow, sounds great just don't fall down...music stops. Fist bump your friend? Music starts again. Hit a mogul? It stops. Turn your head? Lose one ear. Turn it the other way, lose both ears. Do nothing for 10 minutes...music mysteriously returns, then pauses, then returns, then crackles...



Everything I have ever bought from Skullcandy is crap. They have some crazy marketing machine convincing everyone they produce a quality product, but I have never been impressed.



The volume knob on this is awful. When you adjust it the sound goes in and out and brings static. In some positions it stays that way and you have to readjust.



There is a breakaway connection to the control knob and one to each headset. So, 3 junctures in total. None of them are solid connections. The main one above the control is the worst and needs to be taped up and tucked inside your helmet.



When everything is working, though, the sound quality of music and calls is very good.



I bought this in 2013 from Smith, so it looks slightly different than the one pictured but is the most recent available.