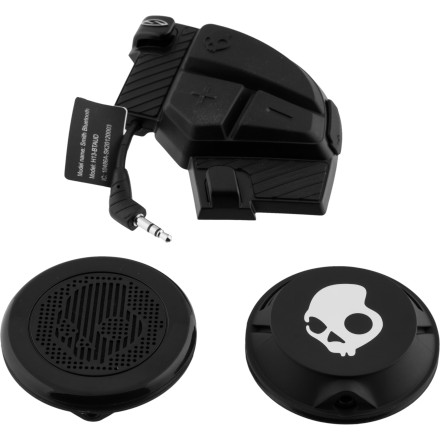 Smith teamed up with Skullcandy to bring wireless connectivity to your MP3 player and phone while you shred the slopes with the Skullcandy Bluetooth Helmet Audio Kit. Yeah, you read it correctly: wireless. That means no more random unplugging, abrupt silences, or your headphones flying out of the pads while you play in the halfpipe, cruise through trees, and drop down powdery peaks. Glove-friendly ear pads bring versatility to your fingertips with the ability to change songs, control the volume, and switch from rocking out to calling your friends with the press of a button at your helmet. The kit also contains a direct connect cable and a USB charging cable.

Works with all Smith helmets that have the Skullcandy Audio System capability
Direct connect and USB charging cables included
AWESOME
Gender:

Male

Familiarity:

I've put it through the wringer
See it all.
I purchased a Smith Skullcandy Bluetooth unit that worked great last year. I brought it out, charged it, but when it blinks blue to try and connect, my phone (which is new) cannot seem to detect it. Any ideas?
This is kind of a weird question because the headphones are made by Skullcandy, but distributed by Smith - BOTH companies have awesome warranty policies and they both like to handle those claims directly. I would go to Smith about this one first! Here is a link to their warranty page:

http://www.smithoptics.com/customerwarranty



They may send you over to Skullcandy... Here's their warranty page:

http://www.skullcandy.com/customer-service/skullcandy-audio-warranty/skullcandy-audio-warranty.html



But yeah, I would get in touch with Smith first!
Sea,

I am wondering if you have found a solution. I am experiencing the same problem.

Thanks.
I want to use it mostly for dealing with phone calls. Where can I get a user manual that describes how the buttons work for phone calls?
There is a manual included with the packaging! I'm having a hard time finding that anywhere online, sorry. But basically the +/- controls volume. The top button with the Skullcandy logo controls other functions - press once to play/pause or answer/hang up the phone. Hold that button down to activate Siri. Press twice to skip to the next song. Press 3 times to go back to the last song.

Hopefully that helps!
Unanswered Question
Has anyone tried to use these in combination with a 2-way radio? I'm a ski patroller, and it would be great to be able to listen to background music (via bluetooth android phone for instance), yet have the music interrupted when a 2-way radio and/or phone call comes through.
We lost charging cable and user manual. We have another chord attached to an iPhone charger - the receiver has a soft, red light lit. Does this indicate it's taking a charge or there's a problem? If a charge, will the light go off when it's fully charged?

Thanks,

Jamie
Soft red light means it is charged. I uuse my cell phone charger .
When not using a bluetooth device, and using "direct connect" method, do the buttons on the control panel work to skip tracks, change volume, etc.? Thanks.
Yes they do. If you are using a bluetooth device without the direct connect, that would be true as well - those buttons control calls, volume, etc.
Thanks for the response Laura, I appreciate it. I really don't need access to my phone on the hill and would solely be using this prodect to listen to my non-blue tooth mp3 player. The ability to pause or mute the mp3 player with an easy to use and access button is very important to me. So that's why I was looking at these but wanted to make sure I would still have function of the ear pad buttons when using the direct connect. I also looked at the Skullcandy Single Shot, but those haven't recieved favorable reviews. Thanks.
How Easy
Familiarity:

I've used it several times
Incredibly easy set up! Took me about 3 minutes to get this paired with my smartphone and seamlessly installed in my Smith helmet. The sound quality is awesome and the massive buttons and simple commands make it a breeze to answer the phone, change songs, change playlists, adjust the volume, etc, without even removing my gloves or taking my phone out. I don't know how I have been using uncomfortable ear buds all these years! Now I will never have cold hands or risk dropping my phone answering it on the lift ever again... MUST OWN.
Rock out to your favorite tunes!
Familiarity:

I gave it as a gift but have feedback to share
I got one of these as a gift for my dad who loves having the newest helmet-audio technology. He loved it so much, I got one for myself. Installation is easy. As long as your helmet is a Smith Audio compatible helmet, the speakers just drop right in.



Sound is just as you'd expect from Skullcandy: Plenty loud and good quality, just not superb. My favorite part is the Bluetooth functionality. I always hated having the wires get it my way and losing the controller deep in my jacket so I can't mute or pause. Now, you always know your controllers are on your ear and the buttons are big enough to push without taking your gloves off.



My only qualm is about the actual speakers... they should have some sort of padding or soft material because sometimes they get to be uncomfortable... I can feel them on my ears if my helmet is too tight or something. This would also help limit movement inside of the ear pockets as well...



I have had no problems with the wires shorting out yet, I will update if this becomes an issue.. Otherwise, if you have the money to spend, this is very worth it.



4 stars instead of five because of the high price mixed with mediocre quality headphones.


a totally worthwhile purchase, and here's why:



(1) fit seamlessly into my smith vantage helmet (the ear flaps even have a zippered slot for the earpieces)



(2) plenty loud



(3) buttons are large enough to use with gloves on



(4) nice skip song feature (hold down on + or - volume button)



(5) battery life has never been an issue (i've gone a few full days without charging them), and charging them is simple



(6) comfortable, i.e., the speakers inside the ear flaps aren't really noticable.



(7) no wires prevents any helmet hassles (big-time plus)
Replacing older skullcandy bluetooth
I bought these to replace my older skullcandy bluetooth for Smith setup- it wont pair with my new iphone5 no matter what. Forget the lifetime warrenty- you need to get through to someone first..... But when I got these I realized that I dont have any earpieces to put them in. My last set of earpieces ( I have a Smith Vantage) were thrown out when I installed the last Skullcandy setiup, that had the earpieces included. Now where do I get replacement earpieces. I really feel like this is a skullcandy thing, but I couldn't get support.
will it work with ipod & android phone
will it work with ipod & android phone
Nicci,

Yes, the Smith Skullcandy Bluetooth Helmet Audio Kit will work with MP3 players and most any phone. It will definitely work with an iPhone or Android device.
Keep in mind that the Bluetooth will only work if your MP3 player has Bluetooth capabilities, which most don't. You'll have to use the direct-connect cable for that.
I have a Smith helmet with Skullcandy Audio...
I have a Smith helmet with Skullcandy Audio System except that I would like to convert it to Bluetooth. Can I do that?
Absolutely, that's just what this is for. You'll be able to take the audio system out of your helmet and replace it with this. Same attachments and everything.
Could you put this in a Giro helmet?
Could you put this in a Giro helmet?
Love the Cord Free
Familiarity:

I've used it several times
It is worth it if you want to upgrade your audio in helmet.

Pro's :

Hands Free {Blue Tooth}

Battery lasts for days on stand by ,

You can go corded or non corded ,

Skull candy speakers can really put out ( Big Smile Here ).

Can increase or decrease volume with no problems { gloves on }.

Also can skip a song by holding the <<< or >>> buttons.

Cons : Have to charge the device occasionally {no worries though}