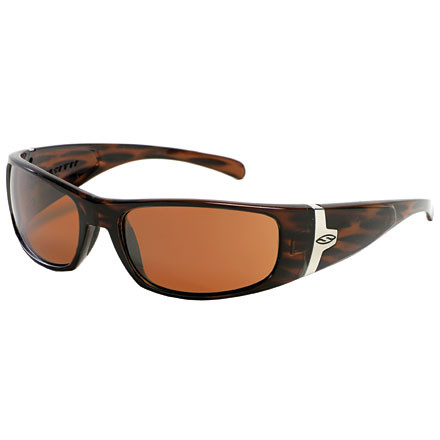 Detail Images
If you're into the wrap-around look, wrap the Smith Polarized Shelter Sunglasses around your peepers to block UV and fight glare. Tapered Lens Technology keeps things distortion-free, while polarized lenses keep surfaces glare-free. These shades' Grilamid TR90 frame stands up to the trail, water, or road while Hydrophilic Megol nosepads keep these Smith sunglasses in place, even when you work up a sweat.
My girls Loves these shades!
I had a pair of these previously and loved them. I wore them to death.
Ordered a new pair in the black matte pair -- now made in China. Screw that. I am sending them back. If I wanted cheap, Chinese made sunglasses, I would have got some at the drugstore.
At least my Oakleys are USA made.
I love Smith sunglasses. My previous pair that was similar to these got eaten by the puppy, otherwise they are very durable. This pair is a larger frame. I will have to get them adjusted a bit to fit my head - I have a probably medium sized head/face, definitely not small. Comfortable and tough, the world looks really good through these.
The first pair broke with in three days of wearing them. They were Smith's which I have worn for years so I think it was just a manufacturing issue. I have been checking the mail daily for my replacement pair and they are not here. Thought they would have been here Monday. Heading to the mountain this weekend. Pretty bummed. Can you check the status?
I have left Oakley for Smith pretty much. When Oakley wouldn't replace some nose guards, I started buying Smith's and haven't looked back. Their lifetime guarantee says it all. Their shades are rugged. I work in 'em and play in 'em. I have a large head so these are a great fit and the wrap-around style keeps the peripheral glare down. This pair can dress up or down, a real style hybrid!
So I read all the reviews about a large fit. I am a small woman with a fairly small head and these glasses are perfect for me. They are a large frame with an all-over fit.
I wear them for boating, driving and casual sports.
The polarized lense is great!
How does a person know what size there...
How does a person know what size there face is? if its large or medium?
I would go by hat size for a general fit. I have a large head and these are perfect for me. I wear a large hat and helmet. About 23 inches for circumference. Hope this helps some.
So my buddy said they look Gangsta, I just think they are sweet. Love em, get lots of compliments. My kid knocks them off my head a few times a week, they take a beating and have been great.
Smith Shelter Sunglasses - Polarized
Once you go to smiths, it's hard to go to anything else. this site has everything that I need. Thanks.
These sunglasses are awesome. Smith has some of the best lenses out there and they are so clear. I also have a bigger head and these fit me perfectly. They also have really nice rubber nose pads that keep them from sliding off your face if you get really sweaty. The polarized lenses are great for cutting down on the glare as well. These are really great glasses.
These sunglasses are well crafted and rugged. You can tell that Smith cares about the quality of their product much more than some other manufacturers. The lenses are crystal clear, the polarization reduces glare efficiently, and the peripheral vision is minimally compromised. The frames are pretty large so you should like the bigger style or have a huge melon. The patterning on the frame is sweet (think translucent green jaguar) unlike like anything I have seen. Definitely one of my favorite sunglasses in the quiver.