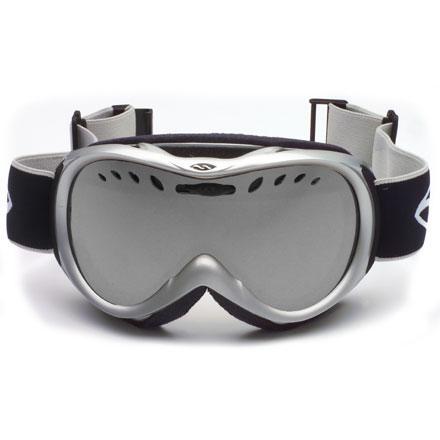 Detail Images
they fog up pretty good, most of the time i just take them off when hiking or when working. the slider feature isn't what its cracked up to be, it is just an additional piece of plastic that sits between the lenses and covers over the vents. i always had to open the vents as they always manage to work closed. they are pretty small too, probably good for a teenager or those with smaller faces/heads. the strap is a bit cumbersome and really not that helpful. A good bargain vs. "value" priced Oakley's, not for the core rider.
as Tony the tiger would say "Their Great!"
these are good strong goggles for any skill of snowboarder or skier. They even come with a carrying case that i clean the goggles with. now thats a good deal
These goggles fit great, felt comfortable, and the adjusting vents worked great to keep them from fogging up. All in all I would recommend them for anyone for winter activities.
it did everything it said it would and more!!!!!!! great buy!!!
I'm really happy with these goggles. I have contacts so I need something that has some air flow so my contacts don't dry up. I'm used to having to flip goggles up onto my forehead between runs, but I left these on all day no problem and even forgot they were there. They are very comfortable and didn't fog up at all. Also, great peripheral vision on these. I got the rose lenses, which are supposed to be good in the widest variety of conditions. I have had them out on a day that went from very sunny into a snowstorm and they were great. The band is not one continuous loop. It has a plastic clip which doesn't seem like it would be super strong, but i've wiped out a number of times and never lost the googles. The clip does make it easy to take them on and off.

Overall, great price, very comfortable, great peripheral vision, and amazing with contacts, especially if you have trouble wearing contacts for extended periods of time.
Smith Regulators Reviewed
I received these Smiths for this past Christmas as a gift. Already owning a pair of sunglasses from the company(Factor Max-which I also highly recommend) and an old pair of entry level snow goggles, I decided to go for the Rhythms for their price and features. After visiting the Rockies for a week period, these goggles were put to the test. They performed flawlessly, as the ventilation system worked as promised, and the sensor mirror lenses were perfect for most low light as well as sunny conditions. If you are able to buy them for around $60 than I would highly recommend these.
I had some help from this site's online customer service helpers in picking out my goggles and these ones work wonderfully. They do fog up when my breath gets blown up towards them but they clear so quickly that it doesn't hinder my sight for more than a split second. They fit my small face nicely and they are so clear that I often forget I'm wearing them. Great for fog or sun!
I had no problems with fogging and such. Very good for the price. They are slightly larger looking than other googles, but it does it's job well.
I bought these goggles for my girlfriend. We took them on a trip to Jackson Hole, and she had absolutely no problems with them fogging up. A good buy.
Great goggles at a great price
I did a lot of research regarding which goggles I would buy for the upcoming snowboarding season. These goggles fell within my price range perfectly, and they had every feature I was looking for or needed. These goggles do not fog up at all, and there is a nice flow of air you can feel. The RC36 lens is also the perfect lens for all conditions. If you are in extremely dark conditions, I'd recommend a clear or brightening lens, but for the Southern California/Mammoth type conditions, they are perfect. I definitely recommend.
Maximum comfort and a maximum field of view. I never experienced fogging with these. They were so comfortable that I seriously forgot I was wearing them.