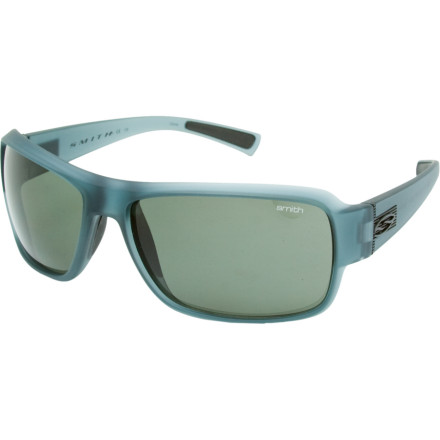 Detail Images
When running from a gigantic killer robot, the last thing you need is your sunglasses slipping off your sweaty face. Enter, the Smith Rambler Sunglasses. Thanks to hydrophilic nose and temple pads, your shades will stay secure during the most stressful situations. As Killbot-7500 takes out an entire city block with his plastic-explosive-launching arm cannon, the large-coverage lens protects your peepers from the blinding blast.
Nice Sunglasses!
Familiarity:

I've used it several times
I saw these on Cheap and Steep and they were a great price. The lenses are good. The style is cool. They are between sport glasses and ultra trendy glasses. My only small gripe is that they fit a little loose towards the back where they wrap around my head. They stay in place well so far due to the rubber ends and their light weight, but I would like it if they felt a bit more secure. The coverage is good. I wear them out on the boat and polarized lenses are great when on the water.

Overall, for the style and lense quality you can't go wrong with the price.
Nice Shades
Familiarity:

I've used it several times
My dog ate my Super Method sunglasses that I was very fond of. These were the closest model to them that I found, and currently cheaper than the discontinued Super Methods I was finding around the interwebs.



At first I didn't like them, mainly because they were so much lighter than the Super Methods. Now that I've had them for several weeks, I've grown to like the lighter weight. I think the lens shaping/optics and lens coloring are an improvement over the Super Methods as well. A little more clarity, and slightly lighter tint, maybe with a bit more green in it. I've got the Brown/Brown, the lens tint is great for casual wear and mountain biking.



Quality shades and currently a great price.
I am not a fan of the "active" style sunglasses and these are a great compromise for biking. They are large enough that they keep dust, bugs, and wind out of my eyes but small enough that they don't get in the way of a hat or helmet. They seem to ventilate fairly well since I haven't had any issues with fogging. They are definitely my go to sunglasses for anything sporty.
The glasses themselves are sweet, but they just didn't look right on my face. As I have a narrower face, they looked too wide and big. I had my dad try them on and he looked pretty cool, so I gave them to him and ordered the Lockwood model instead. Lockwood's are more my style.
Had these for about 4 months now, use them for work (fish biologist) and play (backpacking/fishing). You can't hardly tell you have sunglasses on, lightweight and comfy. Also for those who have trouble finding glasses that will sit down far enough on your nose (wide bridge), these are the glasses for you (and me).
These are the perfect shades! They're super comfortable, not too big, not too small, and the polarized lenses are great! You'll dig them!
These are big and thick and cover the eyes fully but they are not beautiful or sleek or cool. They'll probably do a good job with protection from uv light.
I just recently purchased these shades in the matte smoke/gray green frame/lense combo, and am super stoked on them. The color is darker than shown on the website so take that into consideration before buying. These fit people with medium/large heads, and seeing as how my head is about a 7 3/4 i'm stoked to find a pair of shades that fit well, but don't look huge at the same time. smith optics!
These shades are great, light weight keeps them in place while mtb'n. the eye coverage is also awesome, but these are not that big, similar in size to the smith super methods (if that helps). They look sweet. pretty sick for any and all uses.
My boyfriend tried them on in Australia and he looked super hot in them ;-) so I ordered them from backcountry online because it worked out cheaper.. and he loves 'em!
This is a great new style from Smith. Super light weight comfortable fot and a great shape that fits a lot of different head shapes. One of our top sellers.