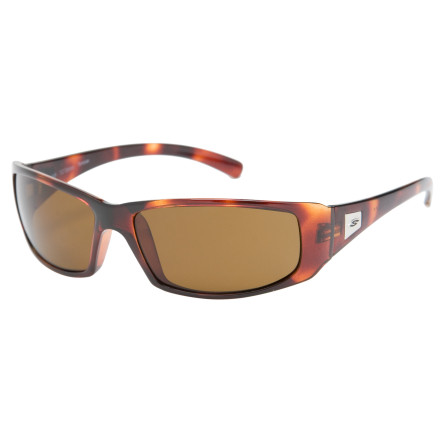 Detail Images
Slide on the Smith Polarized Proof Sunglasses and go for a glare-free afternoon ride in your boot or for a full ski day on the mountain. These casual shades come with polarized lenses that keep glare at bay. Smith gave the Proof Sunglasses super durable TR90 Grilamid frames, so they won't bust if you accidentally drop them. A medium fit makes these shades comfortable on most faces.
are there replacement lenses availible for...
are there replacement lenses availible for the Proof sunglasses?
yes. from the manufacturer.
Great sunglasses for a small face
Best pair of sunglasses I have ever owned! They fit my small face great, they dont leave indents on my nose after extended wearing and they look great! I never have to worry about them slipping down or falling off. Smiths rock!
Just bought these glasses when they were on sale two months ago. I have a small face for a male, but knew what I was getting into with these glasses. The description clearly said they were for medium to large face sizes. Typically, I prefer the Smith "Vices", I have two pair. But this time, I wanted to go big, and have glasses that wrapped my face a little more for motorcycle riding -- thus buying the bigger size. I'm not big on the "Camo" look (probably why they were so cheap, but these look black regardless) I can't complain, polarized sunglasses for under 75 bucks....
One star for SAC, the glasses were framed!
GRRR! This web site is pissing me off. I'm giving Steepandcheap/ backcountry.com a one-star rating for misrepresenting gear. These things do not fit a medium face, they fit a large face. Sorry I got my comment in the wrong place, the web site doesn't let me expunge it, and sorry it got duplicated, the web page was so slow that I thought I hadn't hit "send."
This is not the first piece of gear I've gotten on from SAC that was misrepresented. Beware!
I've been wearing Smith sunglasses for 10+ years and the Proof's are the most comfortable yet. Some of the other models can be a little tight, or don't sit right...these are perfect. I actually bought 2 identical pair.
Are these mens, womens or both?
Are these mens, womens or both?
, ☃bcs_badge_alumni_label☃
They are mens, but a woman can wear them fine.