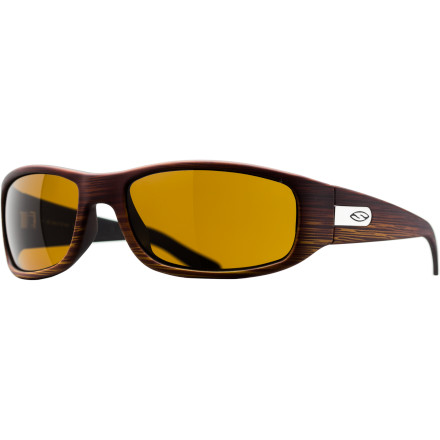 Detail Images
Watch your friend wakeboard, or just be able to relax your eyes while driving with the Smith Projekt Polarized Sunglasses. When light bounces off flat surfaces and overloads your retinas with too much information, after awhile it simply wears you out. Smith made their Projekt lifestyle shades with an 8-base polarized lens that filters out excess light so you can concentrate on your buddy in the water. The slim Projekt Sunglasses have a low profile and a sleek design.
smith projekt sunglasses-polarized
I actually bought a pair from REI a couple years ago. I love the wood look;absolutely awesome. The piece that sits on the nose is perfect for anyone (I usually have a very difficult time trying to find shades because my nose is a little small. If you are looking for a casual and dress up type of shades they are awesome. Great for the beach, regular sunny days,cloudy days, and most inpotant to me for boating(there is no glare). I would highly reccommand them to anyone looking for that type of woodie style; they are insanely awesome
These sunglasses were damn nice, but the fit was a bit wide for my rather narrow head. Guess the "face size: medium" tech spec is correct :)
I've had a few pairs of this model over the past few years. The wood grain looks cool, and the fit is great for medium to large heads.
I grabbed these in the woodgrain color because I was looking for something polarized with a copper lens and similar to a tortise shell frame but not. The good: the optics on these shades are great - I really like the brown lens for being in the mountains and the polarization is very good. The only thing I don't love is that the woodgrain looks a bit chintzy. It doesn't really look as natural in person as in the pictures above - more like a fake woodgrain dashboard on an oldsmobile.
Love the woodgrain and the fit. These are great, great glasses. Maybe the best I have ever owned apart from my Hello Kitty ones circa 3rd grade that someone stole (I am still bitter, but these glasses help to heal that wound)
I'm not a big lens kinda guy. I actually kind of against the whole hollywood, oversized glasses fad because, well, I remember what we looked like when we wore oversized glasses in the late 80's, not pretty. But these glasses rock. They look stylish without looking too L.A., but where they really shine is in the lenses, the clarity is awesome, without being too dark to wear into the dusk hours.
I have the woodgrain color, and like them a lot. These glasses are unique enough that when I left them at a friend's house, she knew just who to return them to. They're sturdy, and polarized for good vision, even in high-glare situations.
They fit great, don't fall off, look awesome, and cut glare famously. All you could want.
Smith Projekt's are Dope!
These sunglasses are dope! I got the black ones, and they fit nice and snug on my nogg'n. I'm never worried that there gonna fall off when I'm boating. And the polarized lens' are a nice plus for the price you pay.
I was looking around for these in some local brand name stores and couldn't find them anywhere aside from small surf shops. Getting a polarized lens at this price is awesome. Fit tight and look sick.