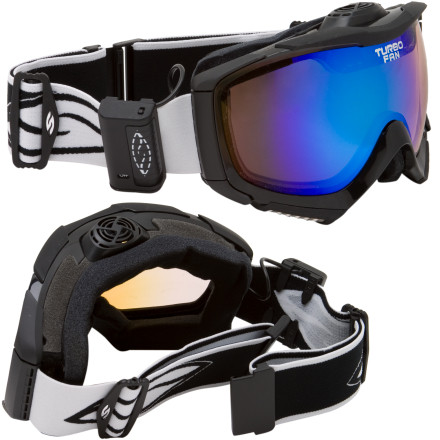 Detail Images
The Smith Prodigy Turbo Fans were great goggles for the first half of the season. However, after three or four hard crashes (none of which I specifically hit the goggles) the fan got loud and made odd noises and the switch did not work properly. Yesterday, I fell and the fan came completely off. these goggles are junk!!
Purchased the goggles late in the season so I did not get the extreme cold that Utah can see.
However they have worked great in the few days I did get out touring, so good as a matter of fact I never turned on the fan.
One of my most memorable days on the slopes was last year at Kirkwood on a storm day. I was so bundled up for the lift that when I was ripping down 2ft of fresh, I got so warm that my goggles fogged. I kept having to stop and wipe them or change goggles, and it put a hamper on what otherwise would have been my best powder day ever. I never wanted that to happen again, so I purchased the Turbo Fan Prodigy's. They are big, but perfect peripheral vision and absolutely FOG-FREE! First pair of Smith, and will buy again.
I bought these for my husband - he always has problems with fogging goggles and Smith Turbo Fan goggles are the only solution that works for him on storm days. With the sensor mirror lenses, he's mentioned that they let in too much light for bright days, but they're excellent for storm days, so it's a good combination with the anti-fog fan. Excellent quality optics, as usual.
This is a second set of the goggles for me. They have improved the design with a semi-hemispherical lens instead of the flat one. They have designed off the detachable battery door so it does not fall off like the other (Smith was really nice and sent me a replacement FOC last time). The new one only has a single battery. This could be enough because I got the prescription lenses. The old one was using my glasses.
These goggles are HUGE. I got them for my husband and he looked like the Fly. They were so big we took pictures. Too bad because he gets really hot and the technology is cool.