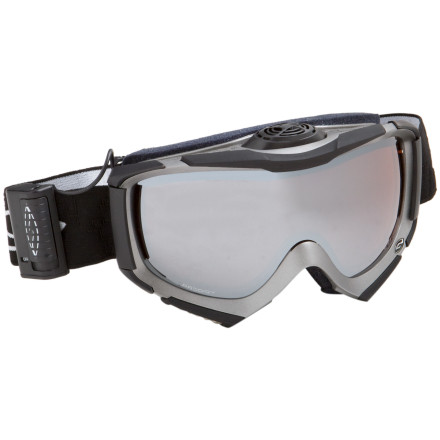 Detail Images
Unanswered Question
Can you get a quick strap for these goggles?...
Can you get a quick strap for these goggles? I am a snow mobiler so I am not really worried about noise.
Do these goggles work well with the Smith...
Do these goggles work well with the Smith variant peak helmet - does the fan get in the way of the peak?

Also, are you better with the r36 lens for all round use or is another lens more versatile?

finally, my mrs want to know if there is a good version for a small face.

thats about it.

cheers

Stew
Well if by Variant Peak you mean Variant Brim, then yeah it works pretty well. Sucks the air right from the gap between brim and goggles and provides enough fresh air that it keeps the fog down.

The RC36 is a legit lens for all conditions, cuts glare, and increases depth of field. The Ignitor Mirror is very similar, and I find better. Your mileage may vary, but in BC with the flat light and constant clouds, the Sensor Mirror is ideal, making it my favourite and most used. The Platinum Mirror is good for slight overcast to full bluebird, and is my second lens. Depending on your hills/areas normal conditions, check the Smith website for the lens tech they have listed, it shows what each is designed for.

For the Turbo Fan series, the Phenom Turbo Fan is for smaller faces, and has less internal volume. It should work for your wife, and I know many a female ripper that rocks them.

Cheers.
Keith must be doing something wacky or is just being hyperbolic. That said, I haven't found these to be the panacea I was hoping for with freaking $170 goggles. The fan is loud (though I can live with that), and I can still fog them up when skinning, even with the fan on high. However, they work loads better in terms of not fogging than any other goggles or even glasses have worked for me. In fact, I can be dripping sweat inside the goggles and though the edges are fogged, I can still see. It'd be nice if it were enough air to move out all that sweat, but I guess that's my problem and not Smith's. A vast improvement over squinting (i.e. no eyewear is the only thing I've not managed to fog up).
These goggles are a pile of crap ! The 'turbo' system is loud and annoying .If anything it causes more fog than not !Not to mention the thing comes off dangling on the side of your head ! These goggles stink ! Anyone want mine ?You can have em ! They are in the pantie tree in vail !Happy Hunting...
I've been using the same pair of Prodigy Turbo's for 4-5 years now. I ski 100+ days a season...all in Alaska. If these goggles can handle 4+ years of harsh Alaskan weather, they can work anywhere. They work so well, I rarely have to use the fan.

The only problem I ever had was the fan grille came off, and Smith was happy to send me another one within a week. Fits great with my Boeri and Smith helmets.
Do these goggles work well with the Giro...
Do these goggles work well with the Giro G10 helmet line?
They work with the G10s. The MX means less (marginally) air gets sucked in while hiking, but that clears up fine on the downhill. The gap between the fan and the brim is actually quite large. The regular G10, well, that fits with these as good as any other helmet really.
Best Ski Gear Purchase I've Ever Made
I was always plagued by foggy goggles and after a weekend of dealing with it more than usual, I decided to see what an internet search would yield to help and I came across these and bought them immediately.

I can't say enough good things about them - if you have a problem with your goggles fogging up give these a try. I don't know of another fanned goggle, so I can't compare, but I have no reason to. They are comfortable, work great and have held up well to the abuse I've put them through (now in use for a second season) I will not ski without them ever again.
This is the second pair I have tried , first thing is they are the most comfortable googles, the foam is soft and con forms well.
They work great in the cold. seen these used on a Everest expedition so I tried them out and wow they are amazing , if your in the bitter cold you dont want to take of your googles and expose your fingers so these are perfect for that ! fan has a low and high speed! really sucks out the fog , lenses are super nice as well.
How does this google do the stuff with an...
How does this google do the stuff with an helmet ?
Looks like fan is on the top of the google where the helmet is supposed to block air flow...
It doesn't actually block the air flow too bad for most helmets, but there are some that don't work. Most of the Smith line works great though.
i've got a Giro G10MX helmet, do you think it will fit ok ?
I got these straight from smith after having fogging problems with the regular prodigys. I have taken my share of diggers and headers this season and the fan seems like it has developed a type of short. The fan runs slower, even on high, and sometimes would just stop. They did work before they "shorted". I have never had a pair of goggles that would not fog and the turbo fan worked when it was working right. Guess they are no that durable
Does Smith make a replacement Polarized...
Does Smith make a replacement Polarized lens for this goggle?
they arent the same lenses...these have no vents, i assume the turbo fans performance would be hidered by exterior vents on the lenses
, ☃bcs_badge_alumni_label☃
No, Smith does not have a Polarized replacement for these.

http://www.smithoptics.com/Prodigy-Turbo-Fan_19_296.html
are these goggles designed to wear over...
are these goggles designed to wear over my glasses?
Not specifically, but they're pretty big so they should work. Search for Smith's OTG (over the glasses) line to find ones that are designed for the purpose.
Oakley makes an OTG version of the Crowbar.
The Knowledge OTG in the Turbo Fan series is ideal for wearing over the glasses. Still has the fan, large volume interior for your specs, and standard Smith awesomeness.
Write your question here... Where can I...
Write your question here...
Where can I get a Smith presricption insert for Smith goggles?
Best Answer
You would have to go directly through Smith and they would be able to get everything set up. I would just give them a call. Here is there number 800-635-4401
I got these after my I/O's fogged up consistently, ruining a day at Alta. I sweat a bit in all conditions, so I think that led to it. Got these, they took care of that problem.

The good: no fog ever, good fit for my huge melon, mirrored lens works well.

The bad: lenses scratch easily, expensive, if fan breaks you're back to square one, you can hear the fan even on low.
These goggles worked great until I was eaten by a back country snow drift that sank me over my head. After that, the fan never worked again, which is not the worst thing. Getting the POWDER out with my hand, just like I had done frequently with an older, cheap pair of goggles, left these Smiths unusable - totally scratched up over half the lens where I had picked out little slush chunks.
Can you buy spare parts for the fan guard?...
Can you buy spare parts for the fan guard? As I crashed while I was skiing and the fan guard is now missing off my goggles. Cheers
Smith has a limited lifetime warranty, so your best bet would be to shoot their warranty department an email. They should be able to hook you up, but they might charge you if they think that it was due to "normal wear and tear"
what are sensor mirror lens
what are sensor mirror lens
The Sensor mirror is a light rose base lens tint with a multi-layer mirror that totally maximizes color definition and increases depth perception in varying conditions. It has a 70% VLT.--------------And it's the best flat light lens ever.
Smith Lenses are not durable.
skiied them 2 days under the snowguns of northeast the lense scratched. Called Smith and they were no hope and lenses are not under warranty pretty much under any circumstances. Unfortunetely Smith Goggles don't hold the same standards of the sunglasses. At least, Oakley, Bolle, Spy are customer service friendly.
I need gogles to fit over eye glasses,...
I need gogles to fit over eye glasses, what model is best.
any smith goggle that has "OTG" in the name...made specifically for glasses
Knowledge will work with glasses. My son is far sighted 1,000 and now have clear vision using the Knowledge Turbo Fan!!!
p.s. The Knowledge will work for me, an adult as well with a much bigger face. Nonetheless, Knowledge does not work for my younger son, 9 year-old boy with a small face.
I use these goggles for eye protection for outdoor winter work, like snow blowing & wood chopping. I've tried several other brands of industrial work goggles, tactical goggles, & snow goggles, all claiming to be "fog-free." In reality, this is the only pair I've found that actually stays fog-free after more than a few minutes of work. And they do fit over my eyeglasses. I wish I had found these sooner, because I've wasted far more money on past goggles that fogged up than I spent on these.