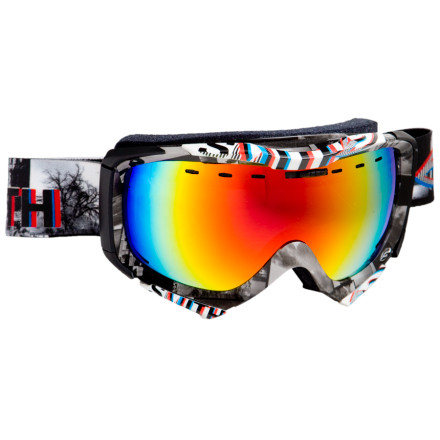 Detail Images

Community Images
Goggles are pretty comfy on the face, and the look is really nice. However, on the 3rd day riding these, the lenses developed a fog in between them. Almost ruined an amazing pow day in UT. They seemed to work fine above 20F, but any colder than that seemed to fog up. I had a spare pair of Scope Pro's that did the exact same thing today....
I got these last year and wore them in Pure Sun and Cloudy Conditions. They worked great in the sunny conditions, I had a little bit of a depth issue in low light but nothing that caused me to wreck. But they never fogged up, the fit was great (even on my big noggin) and I really like they way they feel. My wife says they look good, so they pass that test as well! I would buy them again for sure.
No complaints regarding the lenses - the sensor mirror is great for low light and the platinum mirror does the job on bluebird days - but the sizing may not work for most. I believe they would be better suited for a large-xlarge face, but the frame still seems over-sized as they protrude forward quite a bit (They do have a large visual field). Also, the foam started separating from one my pairs after only 20 days of use with a helmet.
Ordered these off SAC for a great deal, but they just didn't fit my face (I have a medium-sized face). They rode a bit high, too far up my face. They also left a slight gap around my nose. Other than that, they seem to be a great quality goggle - I liked the style and the lens (ignitor). I tried the Phenom next, and they fit much better.
I picked up the Prodigy to reply my aging Phonemes. I was a huge Phoneme fan, but I have to say the Prodigy is my new favorite. I wear them with the Holt helmet and the overall fit between the Phoneme and Prodigy is about the same. The difference really comes from the pressure on my nose. I have a big dome and a big nose so nearly every pair of goggles I've owned puts pressure on my nose. I can still feel the pressure with the Prodigy, but it is much less than anything else I've worn. The range of view is a little broader with the Prodigy, but not significantly. Overall a great goggle for those of us who have a less then petite face.
Well, maybe not the best ever but definitely the best I've had. The wide frames fit my face perfectly and the perfect compatibility with my Smith helmet cannot be beat. I give them 4 stars out of 5 only because the foam around the lens tends to tear easily but it does not seem to affect the performance factor. They never fog but if they do (on seriously wet days in Tahoe), a brief dryer session works everything out. The trick is to take the lens out of the frame and force the air through the two lenses. I'll continue to buy these until I find something better (something I highly doubt).
Does exactly what it says on the tin, provided you follow the instructions. I left them on my forehead whilst on a chair lift and just as the manual said...they fogged up, it wasn't bad but it did take the rest of the day to clear. Didn't impair the vision though.

Get the mid strength lens as the palest is no good for going into the sun.

Love the SMITH lettering on the elastic, half the reason I chose this brand is becuase of my surname.

The lining on the inside of the lens could be a bit more durable, got a few scratches on mine after only a week and I was exactly kicking them down the street. Oh well, its not the end of the world, I'm pretty sure they do replacement lenses.
I just got done using these goggles skiing for a week in Colorado. They are awesome in all light conditions and they fit my large-size face rather well. I have the Red Grandstanding/Platinum Mirror edition. They never fogged once. Awesome goggles, I would recommend them to anyone.
i have the matte black with the sensor mirror lens. I have used these goggles snowboarding, hiking 14ers in Colorado and even when i'm just walking around outside when it is windy. these goggles have gone through rain, snow, sleet, and tree branches. I have put these goggles through some of the worst conditions possible and they still look brand new!

The sensor mirror lens works great for bight sunny days and dark nights! during the day it turns everything kinda yellow-ish and really blocks the sun, and during the night it brightens everything up...i sometimes forget its dark until i take them off. You will never have to worry about these goggles fogging up! I have TRIED to get these to fog up and couldn't. Not once have the fogged!

When they are on the feel like are part of your face, like they belong there.

They have small vents along the top of the lens that you can open and shut that really help to keep you cool on hot days. the clip on the back of the strap is nice to have but i think i could do without it. I find myself always checking to make sure they haven't came unclipped and fell off. So far they haven't fallen off so don't let that deter you from buying them.

These goggles are great! Don't hesitate on buying them they are worth it 100%!!!
Excellent in style and lense quality,,,perfect fit to my Giro Omen helmut. I've never had them fog up on me in any conditions. I use the sensor mirrors on all my goggles...I find them to be the best in all mountain conditions...get some...you'll be stoked!!!
I have used these Prodigy's for two straight days in not-so-great condition. Using the Sensor mirror lens. The first day it was rain at the bottom of the hill, wet snow at the top. They worked pretty well. Too bad they don't have windshield wipers, but heck, you cannot have everything. Visibility was an "A".

Second day, foggy as pea soup. Put them on and they were foggy too, double fog! That is no good. Why were they foggy? I'm not sure. It wasn't the inside or outside of the lens, but the internal? Perhaps the wetness from the day before got into the very middle? My fingers are crossed that these lenses have not been compromised. I'm thinking, get them 100% dry before I judge them completely. I could have used the best visibility today, instead I had worse than okay, and the goggle performance was a part of it. I really wish they hadn't internally fogged.

Has anyone else experienced this problem?

Weird enough, inside they chalet: no fog. Once outside it the elements: fog. But it wasn't anything I could wipe away.
Got these goggles for xmas, and they are so sweet. They haven't fogged on me once and they are extremely comfortable. all around great pair.
wanted a goggle with a good field of vision, great in flat light and solid fit with my helmet (smith variant)it meets all of these expectations and also fits well with just a beanie toohighly recommended!

oh..., and fog clears very quickly..., bonus!
I've got a huge dome, sweat like a (insert catch phrase) and these goggles (paired with Hustle helmet) are all I need. What would usually fog up any other goggles I've owned simply appears then disappears on these goggles.

I've had a number of Oakley goggles before and always felt that they were wayyy to small, and that the lenses were too finicky but more importantly the fogged up horribly.

Only thing I need to change or would change is the option for a longer strap. When I've got these with the helmet, they are as loose as I can get them and still slightly tight. Not uncomfortable at all, but noticeable when you take them off. I'll add to the review when I start getting face shots this next week (hopefully). . .