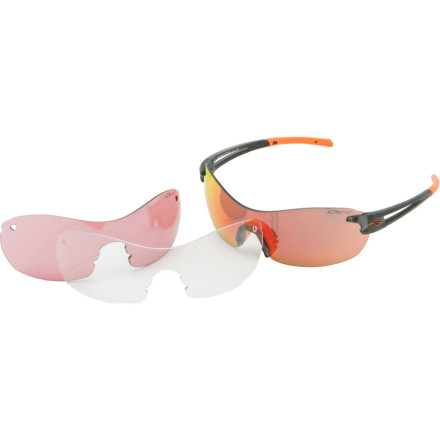 Detail Images

Videos

Community Images
Description
Almost as lightweight as they are versatile.
Smith crafted their sports glasses reputation on replaceable lenses. Remember Smith Sliders? These Pivlock V90 glasses are a natural evolution, though they use an entirely different system. The one piece lens has specialized slots where the temple/hinge inserts, then pivots into a locked position. The nose piece also snaps in with little effort. The Pivlock system is at once easy, quick, and secure. And since they're designed for high energy activities, the grippy Megol rubber on the ends of the temple and on the nose piece are a welcome addition to help hold the frames in place, even with your forehead on the stem chasing a breakaway.
Smith Optics is known for just that, their optics. So it comes as no surprise that they've figured out how to build sunglasses with such a sweeping, curvaceous lens, yet retain the clarity at the periphery you need for high speed sports. The lens on the Pivlock V90 series is what Smith calls their Carbonic TLT. The TLT stands for Tapered Lens Technology, and this means that the thickness of the lens tapers from the optical center, towards the edges. This thinning allows for less refraction and therefore less distortion for the light waves passing through the lens. The Carbonic lens is also highly resistant to impacts. This is a great thing to know when you think about the myriad objects that could threaten your eyes on a bike ride -- gravel from car tires, tree limbs, birds (seriously, we know from experience).
The Grilamid TR90 frame provides you with maximum comfort, maximum flexibility, maximum toughness, and maximum resistance to sweat and sunscreen. And the hydrophilic Megol nose and temple pads keep them locked in place on your face. They won't slip. They won't slide. They won't fall off.
The Smith Pivlock V90 is available in Black w/platinum, Matte Smoke w/red mirror, and Smoke Crystal w/platinum. You'll get two extra lenses. The Ignitor lens is great for overcast days as it increases definition and depth perception in low light. The Clear Mirror lens is best for very low light conditions. The lenses are interchangeable with the larger profile lens on the Pivlock V90 Max as well. The Pivlock V90 offers medium coverage, and Smith considers them a small-medium fit in terms of sizing.
Please note: no extra lenses included for Gunmetal/Ignitor, Ice Blue/Blue Mirror, Ivory/Bronze Mirror, Violet/Pink Mirror; check variants carefully before ordering
Share your thoughts
What do you think of the
Smith
PIVLock V90 Sunglasses
? Share a...
Worth it
Familiarity:

I've put it through the wringer

Fit:

True to size
Use them mostly for mountain biking.

I swap the lenses all the time for bright days (amber), overcast (rose), or night rides (clear).

The lenses are SO easy to change. I rarely changed the lenses in previous interchangeable lens systems because it was just easier to have multiple sunglasses with different lenses. These honestly make the change so easy and convenient.

I also thought the large bulky case was overkill at first, but have grown to love it. I actually use it (unlike other cases) to keep the lenses sorted and scratch free, and just keep the whole kit in my riding bag or the back of my car, so they are always on hand for a ride, and harder to lose.

I have a medium sized head, these fit great.

And I didn't think i was cool enough to wear this style, but at least with a helmet on, I can pretend I look like the cool kids. ;-)

My only small complaint is that my hair gets stuck in the rubber on the ends of the glasses, where the rubber meets the plastic. But I also appreciate the rubber for keeping these securely on my face while riding. So kind of a draw there.
Smith Pivlock
Familiarity:

I've put it through the wringer

Fit:

True to size
Love these glasses, have used them a ton. I've changed out the lens several times for varying light conditions, and it's super quick and easy. The fit is great, even on my small face.
there is a reason so many wear these
Familiarity:

I've put it through the wringer
After I bought mine I started realizing half the people around me had my glasses. This was kind of a bummer but I guess it shows you that they really are a great product. They fit very nice on my smaller head/face, feel very comfortable, come with 3 lenses to cover almost any circumstance, very light. I wear contact lenses so coverage is very important and these do not disappoint. Highly recommended.
Do people like this make of the pivlock...
Do people like this make of the pivlock or the newer ones more? pivlock v90 or pivlock v2?
I prefer V90 for my tiny face and pin-head.
looking for replacement (black) hinges for...
looking for replacement (black) hinges for PIVLock V90 sunglasses
Hey Dan,

We unfortunately do not carry replacement hinges by themselves. Specialty parts might be best looked into directly through Smith.
Best Glasses Ever
Familiarity:

I've put it through the wringer
Hated using my regular drive around town shades to ride. always seemed like the top rim acted like a gutter funneling sweat right into my eyes. I actually started using tinted safetly glasses from work until I was lucky enough to win a set of these a couple seasons ago. Typically use the platinum lense for most riding and tuck the clear into my bag for commutes. Started using the Rose lenses recently and they are awesome one overcast days so they are my new go to is overcast to slightly rainy. Just replaced the ear pieces with new one's supplied directly from smith and need to pick up a new platinum lens after an opps tossing my mini pump into my helmet on top of them and made a small scratch in theo worst possible place. Have had no issues that were not my fault. Highly recomended.
Great value, great performance
Gender:

Male

Familiarity:

I've put it through the wringer
I got these a few weeks ago to replace my aged Giro Havik. I really needed a clear lens for the early morning rides now that the sun is getting up much later than I desire. If it was not for being able to see the edge of the nose peice with my peripheral vision I would not think I was wearing glasses. Incredibly light and I would say unsurpassed clarity - which ever lens I use; clear, smoke or ignitor. I like not having the top rim like the Giro have. Don't get me wrong, the Giro were a great upgrade from my last pair but the Smith Pivlock V90 just topped them. Road riding generally in the morning between 5 am and 10 am depending on the day of the week. Anywhere from 20 - 75 miles. I have a medium size face so went with the standard size - but could probably wear the Max. I can see past the bottom of the lens but not a big deal. Cannot have anything touch my face. It also pairs well with my Niterider Lumina 650.
Favorite Cycling Shades of the year...
Familiarity:

I've used it once or twice and have initial impressions

Fit:

Runs small
Coming from Oakley Radar shades...I didn't know what to expect from the Smith PIVLock V90 Sunglasses. I was pleased to find that they are actually quite a bit more comfortable as well as lighter. Optically, they are on par with their higher priced competition, and they come with 3 lenses and a nice full size case...I have yet to beat the crap out of these yet but I surly will soon so I'll update my review when I know how scratch resistant the lenses are and weather the frames are tough enough for the sunglass crusher that I am. I once smashed a pair of Rudy Project Radons in to 30 pieces. Oh, if you have a big face or like MAX coverage...Get the Smith PIVLock V90 MAX option...
Bronze for sun and Ignitor for shade
The bronze mirror is my favorite lens and they stay in the PIVlocks for 90% of the time. The ignitors work well for shade. These are the lightest glasses I've ever owned.
Which lens color is best for low light...
Which lens color is best for low light conditions? I have the bronze mirror lens only and although I love the glasses overall, the bronze mirror is too dark for very shady or late-afternoon/evening rides. Thanks!
Best Answer
Well, the clear lens is going to let the most light through. So that's the way to go for low light conditions.
Yellow also works really well in low-level light environments and offers better protection from UV than clear lenses.
I agree with Lexi, I usually don't like clear lenses for low light conditions especially sking. I usually will pick a yellow or light green lens, which seems to improve contrast slightly.
Oakley offers a type of persimmon photochromatic lens that would probable be the ultimate best of both worlds. Offering higher contrast when needed, and clear when not needed. You can "see" these in a simulated view of all the different lens options, and also, in simulated environments. Check them out next time! www.oakley.com
Smith's yellow mirror lens (17% vlt) is not going to be a good bet for low light. It is much more similar to your bronze mirror lens (15% vlt) than what you might expect if coming from an Oakley yellow lens. I'd recommend the Ignitor (32% vlt) if you're not just looking for (or in addition to) a clear lens. That's the lens I use 90% of the time for commuting and mountain biking. I came from Oakley glasses and it was a bit of an adjustment from their yellow and persimmon (basically orange) lenses, but I wouldn't go back now. I love the Ignitor lenses.
great shades
Gender:

Male

Familiarity:

I've put it through the wringer
when they say changing lenses is easy, they mean it. i cant say ive ever used the clear option, but the red "ignitor" lens works wonders in overcast skies or for late afternoon rides. dont move on your head, PHENOMENAL field of vision
LOVE these sunglasses. They're very lightweight, stick to my nose when I run or bike and have great coverage. I have a relatively small face and these still look great on. I have zero complaints. They're awesome.
I know there is a newer version of the is glass but for me, this has been a winner all along. Super lightweight, great coverage and I love the Ignitor lens (rose color). This is a great lens for afternoon rides and even all day.
These sunglasses are great for almost every active endeavor. I really enjoy essentially having half a dozen pairs of sunglasses in my arsenal.

My only gripe is how easily the frame seems to unlock from the lens after a few weeks of use. At first you had to put a little effort into snapping them into place, now they slide in - and out - effortlessly, a fact that has seen me fumbling to catch the pieces as it fell apart on me mid-stride after moving them from the top of my head back down to my face.

Otherwise great glasses, though.
smithpivlock V90 sunglasses
SOOOO cool.i bought a pair of Smiths about 14 yrs ago in Colorodo,for cycling and running,but I ive in Ohio.They are fantastic as far as changing lenses,although I've gone through many dark lenses(like 4) as they scratch a lot.I've also lost and found them a dozen times. I needed a new pair since my Oakleys( a yr old )are not interchangeable lenses.Anyone who cycles knows you need those kind of lenses since we go out in all kinds of weather.It makes a huge difference when your out for hrs. and it's overcast,being able to pick lenses according to the weather.
I just wore them for the 1st time yesterday and they were great.They were a little snug with my head warmer
and helmet on ,but hopefully I won't need full face mask in about a month!
Smith PIVLock V90 Sunglasses
Love these! These have no distortion, and they did not fog up in the cold! I do prefer a non-mirrored lens due to less 'finger print smudges'. They stay on your face and don't cause any discomfort around temples, or nose. Very comfortable. The best thing about this pair of glasses is that they are rimless! It is as if they are not even there. I had to return first pair purchased due to a scratch in mirrored finish, replacement sent promptly. Every time I have dealt with any customer service reps at Real Cyclist they have been excellent, going above and beyond to help out.
I bought these after reading the description as being good for women's face size and being described as small/medium. I previously had the Toaster, but felt they were a little too small and I wanted a bit more coverage.

The stems wrapped halfway around the back of my head and they were much wider than my face making me look like an alien. The carrying case is also impractical for taking along on the ride, its huge!

The glasses themselves are lightweight and looked like good quality lens.

Guess I'm back to the Toasters...not as stylish, but better fit for my face.