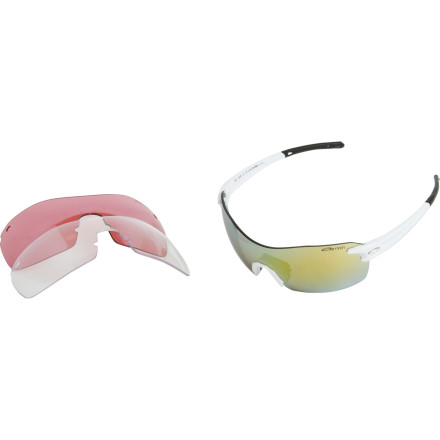 Detail Images

Community Images
Smith touts the lightness of their Pivlock V90 Max, and at 27 grams, they're among the lightest sunglasses we've ever worn. What is just as remarkable is the optical clarity of the one piece lens. Smith Optics is known for just that, their optics. So it comes as no surprise that they've figured out how to build sunglasses with such a sweeping, curvaceous lens, yet retain the clarity at the periphery you need for high speed sports.
The lens on the Pivlock V90 series is what Smith calls their Carbonic TLT. The TLT stands for Tapered Lens Technology, and this means that the thickness of the lens tapers from the optical center, towards the edges. This thinning allows for less refraction and therefore less distortion for the light waves passing through the lens. The Carbonic lens is also highly resistant to impacts. This is a great thing to know when you think about the myriad objects that could threaten your eyes on a bike ride -- gravel from car tires, tree limbs, birds (seriously, we know from experience). They exceed ANSI Z80.3 specifications, and they protect your eyes from 100% of the UVA, UVB, and UVC rays.
Smith has crafted their sports glasses reputation on replaceable lenses, building on their original Sliders, and these Pivlock V90 Max lenses are a natural evolution. It's one piece with specialized slots where the temple/hinge inserts and pivots into a locked position. The nose piece also snaps in with little effort. The Pivlock system is at once easy, quick, and secure.
The Grilamid TR90 frame provides you with maximum comfort, maximum flexibility, maximum toughness, and maximum resistance to sweat and sunscreen. And the hydrophilic Megol nose and temple pads keep them locked in place on your face. They won't slip. They won't slide. They won't fall off.
The Smith Pivlock V90 Max is available in Black w/platinum, Matte Smoke w/red mirror, and Smoke Crystal w/platinum. You'll get two extra lenses. The Ignitor lens is great for overcast days as it increases definition and depth perception in low light. The Clear Mirror lens is best for very low light conditions. The lenses are interchangeable with the smaller profile lens on the Pivlock V90 as well. The Pivlock V90 Max offers large coverage, yet Smith considers them a medium fit in terms of sizing.
Great Glasses
Familiarity:

I've put it through the wringer

Fit:

True to size
I purchased the PIVLock V90's about a year and a half ago. They are one of the better pair of glasses I've used. The rimless frames are great for cycling as there is no obstruction while looking through the upper section of the frames. However, on long descents, my eyes get a bit dry due to the wind. My thought was to purchase these to see if it made a difference, and it does, even if only at times, slightly. My eyes feel better and my contacts aren't as irritating.



The weight is light and very easy to take on and off while riding
Nothing but good things to say about any pair of PIVLocks from Smith. I've owned these glasses for 3 years, using them for everything from cycling, trail running, x-country skiing, backcountry touring, or just cruising in the car on the way home from the mountain.



My favorite features are the easy to use interchangeable pivot lens system, large lens for eye protection when cycling, comfort-ability and durability.



Every now and again you come across a piece of gear that just goes everywhere with you, lasts forever and is something you just couldn't survive without. For me, these glasses fall into that category. Seriously couldn't do what I do without them!
Perfect for cycling, a bit large for casual wear
For their purpose, these shades are perfect. Like all (most) of the other reviews, I bought these primarily for cycling. I was initially turned off by the super-large lenses (compared to my last shades) and the rather noticeably bright orange color, but I have since grown to love these and use them exclusively. While too large and sporty for casual wear, they are IDEAL for riding both road and dirt.

Key points:
- Humungous, unobstructed field of view for complete protection and easy visibility when in the drops
- Incredibly lightweight, major comfort benefit
- Secure but not-too-tight fit, I initially thought these might be too loose for me (large head) as they don't have a vise-like grip, but they haven't budged even when downhilling some pretty rough routes. It's a good balance of squeeze and friction that is almost unnoticeable, but extremely comfortable
- Good range of lenses have you covered for sunlight, dusk/overcast, and night/any other time you want clear lenses for protection
- Easily swappable and cleanable lenses - the lack of frame makes them easier to wipe clean, the pivlock tech is actually not a gimmick, works super well.
- Unexpected plus - very nice case, albeit quite large

Highly recommended as long as you're not going for casual style. I even think they look pretty slick on the bike. Also, for the Chainlove price, these are more than worth it.
I used these frames all season last year whether I was training on the road or in the dirt and found I often forgot they were even on my cranium. Excellent coverage from wind, dirt, and dust when on the trail (especially following other riders). I found that the are durable and comfortable for all day riding. I really like the interchanging lenses for varying light conditions and the fact that the mechanism locks the temples to the lenses without scratching them and they are solidly secure. The frames with lenses are super light weight and come with a couple of different nose pieces to fit various face shapes. GR8 design here. Get them and you will never wear another set of riding shades.

Ride ON
I have a few pairs of these and I love them. The range of view is amazing and they are all lens so there is no frame to get in your way. Great coverage, light weight, multiple lens options, what more could you want?
Great product, just which they were more moisture resistant. Sweat and rain dont bead off very well.
Can they put prescription in the lenses....
Can they put prescription in the lenses. I ride a H_D motorcycle and I finally found a pair of glasses that match my bike.
There is indeed a prescription adapter to the Pivlock v90 http://www.smithoptics.com/products/#/Accessories/Accessories+Sunglass/Pivlock+Rx+Adaptor/view/
I was skeptical about the durability of the frames at first, but once I realized that they are actually quite durable my skepticism is gone. They are great for rides. The lens selection is great, especially the clear option for darker rides or if there are rainy conditions. They stay in place and once you get used to the frameless lenses, its real tough to go back to glasses with frames in your field of vision.

Highly recommend them.
Best pair of frameless I've owned
Superb clarity in all 3 lenses - clear / rose / dark-tinted. The rose lenses are really something special...now I understand where the term 'rose colored glasses' came from....they do make the world a warmer place to live. Rose lenses are good for dawn, dusk or cloudy rides. I had bad experiences with Bolle frameless glasses due to cracking around the nosepiece & earpieces (after the 4th warranty replacement, I quit), so I was hesitant to try these. I've owned the v90max for 2 months, ride daily, and so far nothing ill to report...minimal fogging, ideal coverage for my larger face, very good at blocking the wind so I can focus on the road, complete stability and light weight. So easy to swap lenses, once you get over the worry of snapping the lens or earpieces. Time will tell if lens cracking problems develop, but for now I am very satisfied with the Smith v90max
I have been looking for a set of glasses like this for a LONG time. I've owned a variety from most major sport optic manufacturers, and this is the first pair I've been totally happy with. The biggest thing for me is the rimless design above the eyebrows. When descending in the drops, I don't have to compensate for looking around the usual rim that you find on sunglasses. In the past, I would either slightly pull down the glasses or have to really kink my neck to get a full field of vision. The lack of rim on the Pivlocks is a fricken miracle. The lens swap out is so fast and there is no worry of scratching the optic like on other designs. These vent exceptionally well and the only time they fog is in the elevator after my commute...but as soon as I start walking, it clears up. Highly, highly recommended. Especially if you have a big fat face like mine!
I see a lot of great reviews for the V90...
I see a lot of great reviews for the V90 Max when it comes to riding, but how are they for running? I spend most of my time running trails. Do they stay in place with the added movement of running?
Yes, they do. I use mine primarily for running, and I have never had a problem. They have a really good wrap-around fit that holds them in place.
Great riding shades! Really easy to use the PIVlock system, makes for a fast easy changing of lens. The max are a little to big for most. I prefer the smaller lens.
Use this for mountain biking and road biking. Being in the Pacific Northwest I really appreciate the range of lenses - night rode with the clear lenses, used the rose in the winter and switching (finally) to the sunny day ones. Probably the simplest lens change system I've used.
Smith Optics PIVLock V90 Sunglasses - Realcyclist.com Pro Team - Video Review
These are awesome sunnies. The Lenses are fantastic, and you get THREE pairs of them! Clear, pink, and dark. They are so light, and so clear to look through, that you often forget that you are wearing them. I have often started to look for my sunglasses, then realise I am wearing them already. There is no frame to obstruct your vision, so I would say they are a perfect pair of sunglasses for on the bike.
Very innovative way of interchanging lenses too, to minimise frame and maximise vision.
Do these sunglasses come with the case?
Do these sunglasses come with the case?
Hey,

Yup, hard and soft case.
These took me a bit of getting used to, but after a few rides with them on I love them. Im normally the guy that take his glasses off mid-ride, but these stay on the whole ride. Sleek looking, super light weight, and perfect ventilation.
The pivlock v90 are my first Smith...
The pivlock v90 are my first Smith sunglasses.... I don't want to put too mush pressure on the temple hinge piece. What are the best steps to swapping lenses out?
Rick, you can watch a Smith rep change out the lenses in an online video, link below.

http://www.youtube.com/watch?v=6gTOak83kQE&feature=related
I wear the Oakley Flak Jacket. Anyone know...
I wear the Oakley Flak Jacket. Anyone know how big the Smith lenses are compared to the Oakleys? I like the frameless concept---it'll save my neck. I'm not sure how these Smith's would be on a woman. Thanks for the help.
The smith lenses on this model are larger without a frame to hold them. They come in 2 different sizes. The v90 max and the regular v90. For a females face, I would recommend the regular v90 over the max. They will provide you with plenty of protection and of course without the neck breaker over the shoulder look!