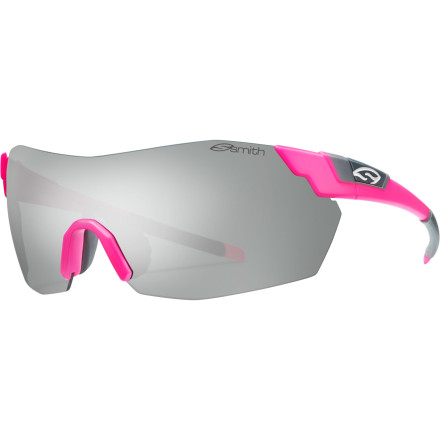 Detail Images

Videos
Building on the simplicity and hugely versatile lens-swapping technology of their legendary Sliders, the Smith Pivlock V-system of lens interchangeability is a natural and elegant optical evolution. The merits of this design allowed Smith to go blow-for-blow with some of the most entrenched optical sponsors in the pro peloton in 2010 and 2011, and got their then-new Pivlock V90 on the heads and helmets of pro teams all across the domestic and international circuits. Smith used all of those saddle hours to further polish and fine-tune the Pivlock design, resulting in the radical new Pivlock V2 -- which is getting put through the ringer this year, by our own Competitive Cyclist Pro Team riders.
At first glance, the biggest difference between the new V2 and the first-generation V90 is the absence of the split arms. The V2 features slightly chunkier, albeit still fantastically lightweight (the V2 Max only adds a gram or two from the V90 Max), and expertly branded arms that create slightly better leverage when swapping out the lenses. A closer inspection reveals several other subtle design changes that give the V2 a clear advantage over its predecessor. The first is the adjustable nose piece. Rather than simply flexing, the piece has three distinct set widths, allowing you to ratchet the pads open or closed depending on how low or high you prefer your frames to fit. A small detail to be sure, but it removes a lot of the ambiguity or imbalance found in nose pieces whose pads adjust independently of each other. Smith also went with a new slide-on Megol temple tip that terminates several millimeters from the end of each arm to keep the tips gripping only the sides of your head, without hanging up on the sides of your ear. Again, a very subtle detail, but a comfort-enhancing improvement. Aside from the arms, the V2 also boasts a dramatically different lens. Granted, it follows the same dramatic horizontal sweep and tight pantoscopic angle of the V90, but the old lens' soft lines are now significantly more aggressive and angular. This ensures maximum coverage in both sizes of the V2, a better overall helmet fit, and an even wider peripheral range. Plus, it's hard to deny how it also looks exponentially more awesome.
The lens on the Pivlock V90 series is what Smith calls the Carbonic TLT. The TLT stands for Tapered Lens Technology, and this means that the thickness of the lens tapers from the optical center to the edges. This thinning allows for less refraction, and therefore, less distortion for the light waves passing through the lens. To prevent any additional lens distortion while being worn, the frame arms are extra flexible to prevent the shield lens from flexing outward and changing the optical quality. The Carbonic lens houses a deep 8-base curvature to hug your face, and protect it from impact. This is a great thing to know when you think about the myriad of projectiles that could threaten your eyes on a bike ride -- gravel from car tires, tree limbs, or wayward insects on a mach 3 descent. They exceed ANSI Z80.3 specifications, and they protect your eyes from 100% of the UVA, UVB, and UVC rays.
The entire sunglass is essentially three separate pieces that effortlessly snap on to the lens. The arms quickly affix by aligning the temple slots on the lens, and vertically pivoting into specialized slots on the lens where the temple/hinge inserts and pivots into a locked position. The nose piece also snaps in with little effort. The Pivlock system is at once intuitive, quick, and secure, and thankfully, doesn't require a flowchart to understand. More importantly, it allows for swift lens changing without risking fingerprinted or scratched lenses. Standard for Smith Optics, the V2 is constructed from a tough Grilamid TR90 frame for maximum comfort, flexibility, and resistance to corrosion or fading from sweat and sunscreen. And the hydrophilic Megol nose and temple pads keep the frame confidently locked in place on your face, even as you traverse rough cobblestone sectors or jarring downhill trails at high speeds.
The Smith Pivlock V2 is available in Black, Blue, Orange, or White. Each frame ships with the standard Platinum lens for maximum glare reduction on really sunny rides. You'll also get two extra lenses: an Ignitor lens which increases definition and depth perception in low light or on overcast days, and a Clear lens for night riding or in exceptionally bad weather. If you'd like to ride with a smaller lens (sold separately), the lenses are all interchangeable with the arms and nose pad from the current-generation Pivlock V2 Max, as the only difference between the two is the lens size -- not the attachment points. The Pivlock V2 offers medium coverage (not unlike Oakley's ubiquitous Radar "Path" lens), and a highly flexible medium fit in terms of temple sizing.
Includes three colors of super-durable, crystal-clear Carbonic TLT lenses
Evolve frame material is over 53% bio-based, created from renewable castor beans
Hydroleophobic lens coating repels moisture, grease, and grime
Three-position adjustable nose pads gets the fit to fit your face
Megol temple and nose pads give you a no-slip fit, even when you're pouring sweat
riding glass
Familiarity:

I've put it through the wringer
My favorite smith sun glass for biking, I use mostly the clear, or photo-chromic lens in the forest and love the interchangeability for the desert rides.
Great for cycling
Familiarity:

I've used it several times
With the lack of frame, there is no longer an obstructed view. Now I can ride with my head in a very comfortable position, and have great visibility of the road. And it comes with three total lenses for all conditions.
Changing lens on V90 or V2
Perfect for my face, especially in TT
Familiarity:

I've used it several times
I was using a pair of Tifosi rimless(?) shades that I had for a few years and was starting to get tired of looking through warbles and scratches in the lens that built-up over time. I chose the V2s because of the lens interchangeability and the lack of an upper rim. I wanted shades that I could use in a time-trial position (triathlon); nearly all shades with an upper rim do not work for me because the rim always lands perfectly in the middle of my field of vision (ie, not good) since my head is facing a little downwards when in aero position. The V2s aren't the most stylish shades on my face mainly because they sit a little high, but that turns out to be a great thing for aero position; the lens completely covers my field of vision where even with my rimless Tifosis, part of my field of vision was above the lens itself because they sat lower. The V2s also sit a little further from my eyes compared to the Tifosis which results in an improvement (reduction) in lens fog (usually happens to me when stopped at a light, stop sign, etc.).



These shades are a little spendy and I thought about giving 4 stars vs. 5. But at the end of the day, I've realized that these are hands down the best shades I've ever owned and so 5 stars reflects that.
Slightly Big
Familiarity:

I returned this product before using it
I lost my favorite pair of Smith PivlockV90 (I am still super sad), I ordered the V2s as a replacement. I have a small face and the V2s are just enough bigger/wider/etc than the V90s that it doesn't look quite as awesome. The poppy color was more of a red red than an orange/pink/red than I was expecting. Smith lenses are amazing, but I think I am going to send them back and get another pair of V90s.
Sweet Shades
Familiarity:

I've used it several times
The look is great and the functionality is unparalleled. They fit on my face a tad high for my liking, covering my eyebrows but not the lower part below my eyes. This can cause some fogging on the tops of the lenses in certain conditions. Very comfortable though. Adjustable, configurable, and an excellent case.
Finally, my search is over
Gender:

Male

Familiarity:

I've put it through the wringer
Like a lot of the reviewers, I needed a multi-use pair of sunglasses. I cycle 3-5X per week, and race sailboats 2-3X per week. I really needed something that was ideal for both. Since I wear contacts, protecting my eyes from wind was paramount.



Most of my cycling group wear Oakleys, but I wasn't ready to spend $250 on sunglasses that could get banged up on the boat. Another cyclist recommend the Smith Optics, and I did a little research. There was a sale at my LBS, so I tried them out.



I loved them instantly, and when the days got shorter, easily was able to change out to the amber lenses for dusk rides. They fit well with both of my helmets, and I even adjust the nose piece depending on what I'm doing - riding/sailing.



I've taken them hiking in Colorado, on multiple fondos, and they've been through some abuse with no problems. These lenses seem to be a little more scratch resistant than some others I've used, so I'm ecstatic with the results so far.



Couldn't be happier!
so versatile
Familiarity:

I gave it as a gift but have feedback to share

Fit:

True to size
I gave them as a gift to my step father, and he loves them.

The interchangable lenses are the best feature as you can use them pretty much 24 hours a day... they are good for all conditions
Smith PivLock V2 Sunglasses
Best ones so far!
Familiarity:

I've put it through the wringer

Fit:

True to size
I bought these for mountain biking and trail running after fighting with heavier less sporty glasses. They are awesome!! Super lightweight and the adjustable nose piece makes the fit dialed in for your face. With 3 lenses to swap out (changing them takes 30 seconds) all your basses are covered. I now use them for everything and can't seem to put my other glasses on.
I've worn these on a few rides and overall have been really impressed. Right off the bat the rubber nosepiece was much too narrow and the glasses fit way to high on my face. I was bummed, but they realized that the nose pads are adjustable, which is pretty rad. Now they fit great and I've been impressed with the quality of the optics.



Probably my favorite feature is the ease of switching lenses. I am always switching between lenses before a ride depending on the weather, and I love how quick and simple it is to just snap the arms off and take off the nose pad.



My only gripe: the ends of the arms aren't flexible like some cycling glasses, and they interfere a bit with my helmet. It's not a huge deal, but I wish I could curve them around my ears like other glasses I've had.
These glasses are perfect for running, biking, fishing, anything! Lightweight and durable and stylish with easy to change lenses. Smith has it figured out.
Great buy!
Gender:

Male

Familiarity:

I've put it through the wringer
Those glasses are amazing. I use them for biking or running. They are pretty light weight and durable.



The glasses are easy to exchange and I've been using them for a while and haven't got problems with them.



They come in handy for different weather conditions because of the different colors.
Perfect for running or biking
These shades fit great, stay on my face, and give me a clear perspective of what is on the trail ahead of me. I love how easily the Pivlock's arms and nose piece changes out to switch lenses so that I can see whatever the conditions may be. I would also agree with Julian Carr's statement that you don't really notice you're wearing them; they are the first pair of sunnies I haven't had to repeatedly push back onto my face when playing.
Whether getting your sweat on Mountain Biking or Trail Running - these shades do not slip, provide great optics for protection from wind and sun - and you really don't even notice you're wearing them. A great pick up for your outdoor activities. Or wear them to the club, and tear up that dance flo!
These glasses are the best riding glasses I have ever owned. First of all the adjustable nose piece is the most innovative feature I have seen in a sunglass in years. It clicks into three positions ensuring a perfect fit. It comes with three lenses that are super easy to change out and a hard case to store them in. The Ignitor lens (rose tint) is my go to lens for most conditions. Especially those afternoon rides in the trees. Love these glasses!