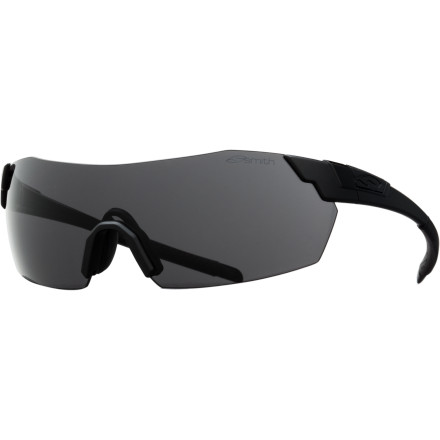 Community Images
Description
See the road like you never have before.
Building on the simplicity and hugely versatile lens-swapping technology of their legendary Sliders, the Smith Pivlock V-system of lens interchangeability is a natural and elegant optical evolution. The merits of this design allowed Smith to go blow-for-blow with some of the most entrenched optical sponsors in the pro peloton in 2010 and 2011, and got their then-new Pivlock V90 on the heads and helmets of pro teams all across the domestic and international circuits. Smith used all of those saddle hours to further polish and fine-tune the Pivlock design, resulting in the radical new Pivlock V2 -- which is getting put through the ringer this year, by our own Competitive Cyclist Pro Team riders.
At first glance, the biggest difference between the new V2 and the first-generation V90 is the absence of the split arms. The V2 features slightly chunkier, albeit still fantastically lightweight (the V2 Max only adds a gram or two from the V90 Max), and expertly branded arms that create slightly better leverage when swapping out the lenses. A closer inspection reveals several other subtle design changes that give the V2 a clear advantage over its predecessor. The first is the adjustable nose piece. Rather than simply flexing, the piece has three distinct set widths, allowing you to ratchet the pads open or closed depending on how low or high you prefer your frames to fit. A small detail to be sure, but it removes a lot of the ambiguity or imbalance found in nose pieces whose pads adjust independently of each other. Smith also went with a new slide-on Megol temple tip that terminates several millimeters from the end of each arm to keep the tips gripping only the sides of your head, without hanging up on the sides of your ear. Again, a very subtle detail, but a comfort-enhancing improvement. Aside from the arms, the V2 also boasts a dramatically different lens. Granted, it follows the same dramatic horizontal sweep and tight pantoscopic angle of the V90, but the old lens' soft lines are now significantly more aggressive and angular. This ensures maximum coverage in both sizes of the V2, a better overall helmet fit, and an even wider peripheral range. Plus, it's hard to deny how it also looks exponentially more awesome.
The lens on the Pivlock V90 series is what Smith calls the Carbonic TLT. The TLT stands for Tapered Lens Technology, and this means that the thickness of the lens tapers from the optical center to the edges. This thinning allows for less refraction, and therefore, less distortion for the light waves passing through the lens. To prevent any additional lens distortion while being worn, the frame arms are extra flexible to prevent the shield lens from flexing outward and changing the optical quality. The Carbonic lens houses a deep 8-base curvature to hug your face, and protect it from impact. This is a great thing to know when you think about the myriad of projectiles that could threaten your eyes on a bike ride -- gravel from car tires, tree limbs, or wayward insects on a mach 3 descent. They exceed ANSI Z80.3 specifications, and they protect your eyes from 100% of the UVA, UVB, and UVC rays.
The entire sunglass is essentially three separate pieces that effortlessly snap on to the lens. The arms quickly affix by aligning the temple slots on the lens, and vertically pivoting into specialized slots on the lens where the temple/hinge inserts and pivots into a locked position. The nose piece also snaps in with little effort. The Pivlock system is at once intuitive, quick, and secure, and thankfully, doesn't require a flowchart to understand. More importantly, it allows for swift lens changing without risking fingerprinted or scratched lenses. Standard for Smith Optics, the V2 is constructed from a tough Grilamid TR90 frame for maximum comfort, flexibility, and resistance to corrosion or fading from sweat and sunscreen. And the hydrophilic Megol nose and temple pads keep the frame confidently locked in place on your face, even as you traverse rough cobblestone sectors or jarring downhill trails at high speeds.
The Smith Pivlock V2 is available in Black, Blue, Orange, or White. Each frame ships with the standard Platinum lens for maximum glare reduction on really sunny rides. You'll also get two extra lenses: an Ignitor lens which increases definition and depth perception in low light or on overcast days, and a Clear lens for night riding or in exceptionally bad weather. If you'd like to ride with a smaller lens (sold separately), the lenses are all interchangeable with the arms and nose pad from the current-generation Pivlock V2 Max, as the only difference between the two is the lens size -- not the attachment points. The Pivlock V2 offers medium coverage (not unlike Oakley's ubiquitous Radar "Path" lens), and a highly flexible medium fit in terms of temple sizing.
Share your thoughts
What do you think of the
Smith
PivLock V2 Sunglasses - Photochromic
? Share a...
Best Mountain Biking Sunglasses ever
Familiarity:

I've put it through the wringer
I've been a huge fan of Oakley for quite some time. That said, I picked up a pair of these on sale and have been amazed at the quality. They are very light, very comfortable, and the rimless optics are perfect. I've swapped out for the Photochromic lens as late fall early winter sun angles are very low and I can simply put one lens in and it works in all conditions. Given that Northern Cal and Tahoe Sierra riding has a lot of sun / shade scenarios this has been perfect. They are the first pair of sunglasses I've ever worn where I've simply forgotten that I'm wearing them. They even saved my left eye from a branch in downieville and flying mud this past Sunday. They've been a great purchase.
Great pair of sports glasses
Familiarity:

I've used it several times

Fit:

True to size
I lost my other pair of glasses just at the start line of 150 mile bike race. Had to buy a cheap replacement pair at the very first rest stop. But when I got back home I purchased a new glasses from Backcountry.com. These were on sale and boy, I was so happy with my choice. They sit really tight on my face, I love the nose piece that adjusts in three different positions to fit any kind of shape. Great for cycling as well for running and just any outdoor activity. I even wore them for motor boat trip on the lake. Have not tried the photochromic lenses yet as the weather currently warrants full sun protection. I am going to CO for MTB rides next month and there I am pretty sure the photochromic lenses will become handy. The glasses are very light although they do seem to be pretty robust, the plastic is not cheap and overall look is very sleek. And looks good on women too!
Is this frame compatible with ODS2 rx...
Is this frame compatible with ODS2 rx insert?
Just saw a couple similar comments under the other V2/V2 max pages and saw that others have mentioned that the ODS2 rx insert DOES come with the pieces for both the v2 and the v90 frames.

I like the coverage and aggressive look. Photochromic ignitor lens works really well.
I use these for biking and couldn't be happier with them. From riding roadies to switching up the lenses on shady/bright mountain bike trails, they work for everything. Plus they look really fast, which makes your friends automatically think your fast so then they lay off your tail cause your so fast.
Great Fit and Excellent Optics
Worn for cycling, rock climbing, and running. favorite pair of sport glasses.
Pros:
-great fit and protection
-easy lens change
-nifty carrying case
-Light weight
Cons
-fog if I'm not moving (almost a pro because it means they have good coverage)

Really Ridiculously Reactive!
I just picked up the Photochromic Clear lens for my Pivlock V2 Max shades and man o' man does this lens change fast. It took about 30 second in sunlight to go to full tint. Maybe a minute or two to go back to clear. They were a little darker than the after photo when I was outside. Really impressive.