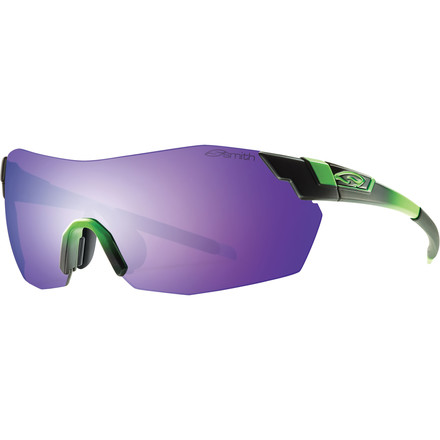 Colors

Detail Images

Community Images
Description
Lock in and go.
We've come a long way since the days of the massive Oakley Eyeshade, made famous by Andy Hampsten as he triumphed over Mother Nature's frightful wrath during the 1988 Giro d'Italia. Granted, his fateful trip over the Gavia Pass couldn't have been done with much less than a full goggle like the Eyeshade. But under more palatable riding conditions, the Eyeshades fogged too easily, and weren't compatible with then-evolving helmet technology. The same necessity for maximum coverage with minimum interference still exists today in the sunglasses we wear, but luckily, our modern shield lenses have advanced a great deal since '88. The Pivlock V2 Max from Smith is one such evolutionary leap.
At first glance, the biggest difference between the new V2 and the first-generation V90, is the absence of the split arms. The V2 features slightly chunkier, albeit still fantastically lightweight (the V2 Max only adds a gram or two from the V90 Max), and expertly branded arms that create slightly better leverage when swapping out the lenses. A closer inspection reveals several other subtle design changes giving the V2 a clear advantage over its predecessor. The first is the adjustable nose piece. Rather than simply flexing, the piece has three distinct set widths, allowing you to ratchet the pads open or closed depending on how low or high you prefer your frames to fit. A small detail to be sure, but it thankfully removes a lot of the ambiguity or imbalance found in nose pieces whose pads adjust independently of each other. Smith also went with a new slide-on Megol temple tip that terminates several millimeters from the end of each arm to keep the tips gripping only the sides of your head, without hanging up on the sides of your ear. Again, a very subtle detail, but a comfort-enhancing improvement. Aside from the arms, the new V2 also boasts a dramatically different lens. Granted, it follows the same dramatic horizontal sweep and tight pantoscopic angle of the V90, but the old lens' soft lines are now significantly more aggressive and angular. This ensures maximum coverage in both sizes of the V2, a better overall helmet fit, and an even wider peripheral range. Plus, it's hard to deny how it also looks exponentially more awesome.
The lens on the Pivlock V90 series is what Smith calls their Carbonic TLT. The TLT stands for Tapered Lens Technology, and this means that the thickness of the lens tapers from the optical center to the edges. This thinning allows for less refraction, and therefore less distortion for the light waves passing through the lens. To mitigate any additional lens distortion while being worn, the frame arms are extra flexible to prevent the shield lens from flexing outward and changing the optical quality. The Carbonic lens houses a deep 8-base curvature to hug your face and protect it from impact. This is a great thing to know when you think about the myriad of projectiles that could threaten your eyes on a bike ride -- gravel from car tires, tree limbs, or wayward insects on a mach 3 descent. They exceed ANSI Z80.3 specifications, and they protect your eyes from 100% of the UVA, UVB, and UVC rays.
The entire sunglass is essentially three separate pieces that effortlessly snap on to the lens. The arms quickly affix by aligning the temple slots on the lens, and vertically pivoting into specialized slots on the lens where the temple/hinge inserts and pivots into a locked position. The nose piece also snaps in with little effort. The Pivlock system is at once intuitive, quick, and secure, and thankfully, doesn't require a flowchart to understand. More importantly, it allows for swift lens changing without risking fingerprinted or scratched lenses. Standard for Smith Optics, the V2 is constructed from a tough Grilamid TR90 frame for maximum comfort, flexibility, and resistance to corrosion or fading from sweat and sunscreen. And the hydrophilic Megol nose and temple pads keep the frame confidently locked in place on your face, even as you traverse rough cobblestone sectors or jarring downhill trails at high speeds.
The Smith Pivlock V2 Max is available in Black, Blue, Orange, or White. Each frame ships with the standard Platinum lens for maximum glare reduction on really sunny rides. You'll also get two extra lenses: an Ignitor lens which increases definition and depth perception in low light or on overcast days, and a Clear lens for night riding or in exceptionally bad weather. If you'd like to ride with a larger lens (sold separately), the lenses are all interchangeable with the arms and nose pad from the current-generation Pivlock V2, as the only difference between the two is the lens size -- not the attachment points. The Pivlock V2 Max offers extra-large coverage (not unlike Oakley's Radar "Range" lens), and a highly flexible medium fit in terms of temple sizing.
Includes three colors of super-durable, crystal-clear Carbonic TLT lenses
Evolve frame material is over 53% bio-based, created from renewable castor beans
Hydroleophobic lens coating repels moisture, grease, and grime
Three-position adjustable nose pads gets the fit to fit your face
Megol temple and nose pads give you a no-slip fit, even when you're pouring sweat
Share your thoughts
What do you think of the
Smith
PivLock V2 Max Sunglasses
? Share a...
The perfect glasses
Familiarity:

I've put it through the wringer

Fit:

True to size
I picked up a pair of these for cycling. They are my favorite, go to glasses. My favorite aspect is the lack of a frame, which always seems to be right in my line of sight. These glasses feel like you are looking out of a big window, unobstructed!

I like them so much, I decided to get a pair for my son, who races in the Utah NICA league. He loves them just as much as I do.

I did have an issue with the mirror finish that was coming off after a cleaning. A quick call to Smith and the issue was taken care of. Great company to deal with and a stand up product. If you can get these on sale, jump on them. The retail price seems a bit high.
Best There is for Riding
Familiarity:

I've put it through the wringer

Fit:

True to size
I have owned multiple pairs of these sunglasses. They are great for riding road or dirt. Multiple lenses that are easy to change in and out for all riding conditions. Get yourself a pair, you'll be happy you did.
wowie
Familiarity:

I've used it once or twice and have initial impressions

Fit:

True to size
I just got these glasses but I am really impressed so far. The adjustable nose piece is great and the glasses are really light. I also bought the photochromic lenses and they are awesome. The glasses are super comfortable and there is no frame in your peripheral. These are replacing a pair of Oakley Jawbones (Racing Jackets.)
From snow to dirt, use them for just about any activity.
theyre grrrrreat!
Familiarity:

I've used it several times

Fit:

True to size
so far no problems with these. they fit well and i dont feel like they are getting covered in sweat. lightweight and decently stylish. the nose piece could look a little better but thats not the end of the world.
best sport shades around
Familiarity:

I've put it through the wringer
These things are the best. With an adjustable nosepiece, the extra-wide coverage of the max lenses blocks out wind during descents and tends not to fog when stopped. In Seattle keeping rain out is important and these do a great job plus the water that does accumulate actually beads in such a way that it doesn't impede your vision as much as others do. They come in a sturdy storage case that's bounced around my car and race bag with no trouble. Highly recommend!
V2 Max accepts the Smith OSD2
Familiarity:

I've used it several times
I needed some quality sunnies to keep the wind & sun out of my eyes. Sunnies that could use an adaptor for my prescription lenses. I found the perfect answer! V2 Max does accept the Smith OSD2 prescription lens adaptor. These work great and is money well spent. Thank you C Cyclist.
Disappointed
Familiarity:

I've used it several times
I was super psyched to get these after reading the great reviews & I wanted to like them? if they would just stay on my face. The lenses & changeability were great, but I'm a bit of a heavy sweater and as soon as my face got sweaty the glasses would start falling off. I even tried putting an Oakley nosepiece on which helped a bit, but in the end the combination of the adjustable nosepiece & wideish side arms just didn't cut it. Can't go wrong with my Oakley Radar XL's.
Good product, strange color.
Familiarity:

I returned this product before using it
I have a pair of the pivlock V2 frames in white and they are great. I wear them when I ride and sometimes on a run. I bought the acid yellow frames and was disappointed when I opened them. The color was more of a chartreuse, rather than the bright yellow shown in the picture.
I've used these for a season of riding, and they come out any time I'm not using my full face helmet. The lenses are easy to swap in and out, but the most impressive part is how lightweight the whole package is. You can barely feel them on your face, yet the lens covers about 98% of your peripheral vision. Come to think of it, maybe that's why you can forget you are wearing them.... Anyway, they never seem to fog up, even in slow climbing situations under a hot sun, but my helmet will drip sweat on them from time to time. For "ENDRURO!!" riding, these are a great bet, as even when you are following some chargers down a dusty trail, you'll be able to see about as well as you can with goggles.
Smith PivLock V2 Max BEST SUNNIES!!!
Familiarity:

I've put it through the wringer
I have been riding with Smith PivLock V2 Max's for two years now, and they are by far the best sunglasses I have ever used. The interchangable lenses are very simple to change in and out. I have never broken a pair which makes these sunnies that much better. The sizing for the V2 MAX is not over whelming for my face (normal size head), it has good coverage and protects the eye's perfect.
Perfect biking shades
Familiarity:

I've put it through the wringer

Fit:

True to size
These are perfect biking shades for so many reasons. They have awesome coverage without any blind spots,(super important), adjustable nose piece for optimal fit, 3 lens shades for perfect coverage no matter the light conditions, and installation of lenses is a snap, it literally takes less than a minute to change out lenses. I own mostly Smith brand eyewear and helmets as their customer service/warranty is unmatched, product quality is top-notch, and price point beats Oakley and other competitive brands. Get these, you will not be disappointed!
This is a set of three lenses do?
This is a set of three lenses do?
Yes they come with three lenses. The color before the "/" is the frame color, what is after the "/" are the 3 included lenses.
Does the V2 Max accept the Smith OSD2...
Does the V2 Max accept the Smith OSD2 prescription lens adaptor?
Best Answer
Yes the ODS2-RX comes with 2 nose pads (for the V90 and the V2) so it is compatible with both.
Grab a pair for biking!
Familiarity:

I've put it through the wringer

Fit:

True to size
PivLocks give you a great peripheral view. They are PERFECT for biking because they really don't blind spots like a lot of glasses.

One issue is changing the lens. If you wrench the lens too much in the wrong direction while swapping them out it will break the frame.

They come with three lenses so you have no excuse for getting junk in your eyes at night or during the day.
Great for cycling
Familiarity:

I've put it through the wringer

Fit:

True to size
This is a shield for your eyes. Not having a rim at the top or bottom is really key in cycling eye wear. You can forget these things are on, they're that good. Great sun blockage, great wind blockage, unlimited field of view. Get'em!
Stellar performance
Familiarity:

I've put it through the wringer

Fit:

True to size
I often wear more casual sunglasses that are decent for athletic endeavors because, well, I think I look cooler. However, now when it comes time to go for a real ride, you can't deny the performance of some top of the line V2 shades. I really enjoy the orange lenses for busting in and out of shade and sun, but the simple clear lense absolutely kills it later in the evening or a stormy day.

Swapping lenses is very straightforward and quick. They're light, good coverage (no eye watering) and I forget that I have them on...until my sweaty head starts dripping onto them. They can't help with that! The adjustable nose piece also helps dial the fit to your face.
Smith PivLock V2 Max Great Coverage
I've been using the Smith PivLock V2 Max for about a year now and they are great for mountain and road biking. I like the extra coverage that the "Max" version provides compared to the regular V2 and the adjustable nosepiece is a great feature to allow the perfect fit for a number of faces.
PivLock V2 Max
Gender:

Male

Familiarity:

I've put it through the wringer
These are my favourite sunnies. I often forget I am wearing them. That's usually the defining point for me. Full vision coverage, and sharp lens to look through. Great colour options available too. Stand up well to a flogging too!