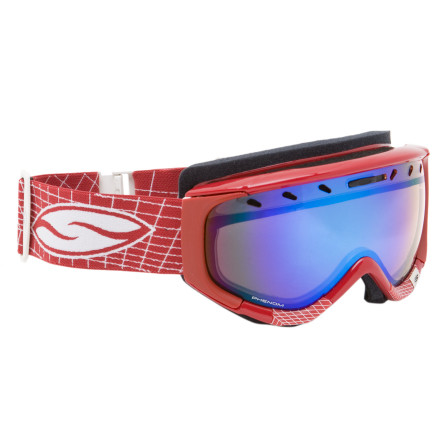 Detail Images
I love my Smith Phenom goggles!

They fit great, are really comfortable and look great. I recommend the Smith Universal Helmet Helper if you use a helmet in the slopes like I do.

Never had any fogging problems, ever!

It is super easy to change the lenses and I switch between Ignitor mirror and yellow lenses. The Ignitor mirror lense, however, is not very good for slightly cloudy days (distorts the visual acuracy somewhat, thus reduces my board experience), so I have ridden mostly with the Yellow lense unless the sky has been totally cloud-free.

I'd recommend the Smith Phenom goggles anytime!
From a technical stantpoint these rock! I have a light and dark lens for day and night skiing. It takes 15 seconds to change the lens.

They dont fog because of the adjustable vent on the top of the lens.

Good optics no distortion

Best part is Smith's customer service: Got right into a real person, and they sent me small parts for the goggles that i needed (i lost them 100% my fault) with no problem!

Couldn't be happier with Smith as a company!!!
wat about the smith hustle helmet will it...
wat about the smith hustle helmet will it have a snugg fit?
Do you mean how the goggles will fit on the helmet? They'll be snug, but not insanely tight. They actually fit very well.
Get 'em with the Holt helmet
I usually think Smith goggles are too small and truth be told I'd like the Phenom to be a spot larger. However, I picked up the Holt helmet too and the combined fit is awesome.
With the new Porex Filter lens these rock!
I used to have some fogging issues with these. Now with the new lens, these are great goggles in any condition. They have a great peripheral vision in them, and you can really see every line while you are up top. Even good on low visibility days, which is important so you don't go flying off something unexpected. Great goggle, highly recommended.
Excellent visual acuity, great peripheral vision, no fogging whatsoever. I am Asian and have issues with there being a gap between the bridge of my nose and the goggle foam. It's especially bad with Oakley and Spy goggles. On the flipside, I also have a pretty broad face, so there's not a lot of goggles that can accommodate both... this and the Smith Prodigies do the job. I prefer these because they are much, much lower profile than the Prodigies which are HUGE. One word of warning, there is a small valve in the goggle called the "Porex Filter" in the upper left. You can kind of see it as a small white spot in the upper left of the field of vision, but only if you are looking for it. This was not on the 06 Prodigies I owned, so I don't know if it's a recent feature on Smith's spherical lenses or exclusive to the Phenoms. Don't know how much it actually does... these goggles don't fog on me, but neither did the Prodigies. I hardly even notice it, but neither Dogfunk nor Smith mentions it (they actually seem to airbrush it out of photos) so I figured it warranted mentioning. If you are picky about things like that, I would look elsewhere.
Does anybody use these with a Giro G10 MX?...
Does anybody use these with a Giro G10 MX?
I use it with the Giro G10. It has about a 3mm-5mm gap in the centre of the helmet, but looks fine. If you want s seamless fit with your helmet don't go for it, but otherwise, sweet goggle!
"Very Nice" -Borat
These are sweet goggles. There are a plethora of lens tints and frame colors for every lighting condition and outfit (if that's important to you). The tint descriptions are in the sizing chart, I think that's the most important thing to checkout. The venting system, (I leave it open all the time) works great, any fogging that happens is gone in no time. Great perif. vision, no distortions at edges as advertised. Love the Mirror lens (have the Platinum lens) the only thing that's better is the face shield worn by Cobra Commander and last time I checked they don't sell those. Works great with my Giro Fuse brain bucket i.e. no gaps. I have a smaller face and the Phenoms fit great. I bought the Smith Prodigy goggles as well just for comparison. They are a similar lens design but the Prodigy frame engulfed my face, they have a bulky, funky, edgy look but not for me, returned them. As far as shape and size Phenoms have a minimalist look but if you're looking for a more eye catching look the diff. frame colors make up for it. The Platinum Mirror lens is great for sunny days and bright overcast days but when light goes really flat they def. suffer or rather you do and you need to turn on Jedi powers. I was told by a Smith rep. the Sensor Mirror lenses are great for Flat light and the Ignitor Mirror lenses are for all-around goodness. Happy-times!
I researched goggles quite a bit and learned that it is all about proper fit and these fit my husband's face perfectly. We also bought the high intensity yellow lens for low-light conditions, which worked beautifully on cloudy days. They didn't fog at all and the mirror lens worked well as a general purpose lens. It was easy to with out the lenses too. Great goggles!
I used these with a helmet, and they were not so good. the strap has no grip, so they immediately slipped off and turned into a ponytail.

They hit the "guest pile" on the second day. Not so good.
These are the best goggles I've found yet. They fit great, especially with my Smith Variant helmet. Great peripheral vision. No fogging. The "Sensor Mirror" lens choice is great for low or flat light conditions, making it a great option for skiing in Vermont where seeing the sun can be a rarity.
d to return them because my daughter did not like the way they matched my ski outfit, Like I really card if I matched. It turns out they she actually purchased the Phenom Siam Chow goggles for me and that was the real reason she wanted me to return them. Bottom Line I simple LOVE my Phenom goggles I have paired them up with the Smith Variant helmet w.Skull Candies and I could not be happier. I recommend these to anyone who likes quality options.
The phenoms rock! i used them hiking and they didn't fog the least bit. The vents work really great and let in a ton of air. I have the Giro Omen helmet and there is no gapper gap to speak of. I've got the sensor mirrors which are great for flat light but don't do much for blocking out direct sun. The best goggle i have every used.
This jacket is really a great jacket, it's 5 out of 12 on the burton thermal index, which means you'll almost certainly need to use layers to keep warm in the coldest of conditions.

It's really lightweight and has some excellent pockets and vents...not much else to report, except it's made really well and is just what i wanted.
what can you say, these totally rival Oakley now. they look cool, they are well made, love the features- get them!
, ☃bcs_badge_alumni_label☃
These have great peripherial vision.
You can see with these goggles on without too much over the shoulder action when heading down the hill. With its Patented Vaporator lens technology with Porex filter tech this season, these goggles are better than ever.
, ☃bcs_badge_alumni_label☃
like the style
I love the style and colors of these goggles. But they just do not fit my face. I get gaps between my cheeks and nose. I did try the fuse and those fit me perfect and have some of the same color/style choices. I wish these fit my face those, I love this style a lot. All my friends love their smiths and have nothing but good things to say about them.