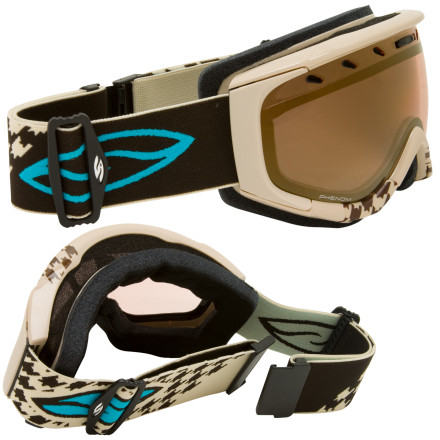 Detail Images

Community Images
Phenom Goggles - Snowbird, UT
Not my first pair, and as far as fit, style, and lens quality I have never owned another pair of goggles that even compares. Only because I hate making something sound perfect I would say that the foam could be better. The triple padding from Oakley is a little better as far as durability, but to be honest once these are on your face you probably wouldn't notice a difference.
I purchased these goggles because of my difficulty in low light. I got the lenses that are nearly clear to assist. It does improve the situation for me, however, I'm not sure how much better it would be for an someone with "normal" eyes. I don't think that the fit is work the extra 100 bucks: my 30 dollar glasses fit just as well. Also, I fog up just as much as with my cheap glasses. They'd probably be nice for people with a helmet, but I don't wear that.
This goggle fits awesome, super comfy. All around vision is good, very little blind spot.
Kept my head from splitting in two
I used to never wear my helmet because my goggles were not comfortable to wear with it. I tried on some friends Phenom's and decided to buy some for myself. I started wearing my helmet again because the Phenom's were so comfortable and never fogged up. Two days after I bought the goggles, I ran into a tree and cracked my helmet completely in half. The goggles broke in the collision with the tree, but Smith was awesome and replaced them for me at no cost! These are all around great goggles to wear with or without a helmet, and Smith is an awesome company with great customer service!
Smith Phenom Spherical Goggles
The best goggles I ever had, they never fogged up and they had the best view.
I purchased the phenom with sensor lens after years of using primarily rose colored lenses. This goggle has exceeded my expectations - in all but the brightest light I'm able to leave them on all day. The contrast is great in the variable light conditions we get in the north west. I have not experienced any of the fogging issues some of the other reviews have noted and the field of vision is great. The only issue I had was that for the first 2 - 3 days wind would blow up under the nose piece into my eyes. A few adjustments/compressions to mold the foam and no further problems. Definitely worth the money if your eyes have difficulty adjusting to the light like mine do.
Wore these goggles in -25 degree weather @ Jay Peak. Didn't freeze or fog. Ventilation system works like a charm. Definitely buy these goggles
I have finally sound some goggles to replace the goggles that I used for years. They are really comfortable. The only problem that I had was that the plastic piece that connects the strap to the goggles broke. I sent them back to Smith and they repaired them immediately.
I am a non-helmet wearing skier that has tons of trouble with low-light. The phenom spherical goggles are a true improvement during low light, but not a miracle. The peripheral vision is great. They fog up just as much as my $30 goggles. Recommended: buy if peripheral vision is very important & if you are desperate for help with low light. Steer clear if you are short on money: not sure they are worth it.
, ☃bcs_badge_alumni_label☃
This is the goggle!
Very comfortable, and the peripheral vision is amazing. These in the Gold/Mirror not only handled the flat and low light conditions, but also were great for night riding at Brighton too. These are my favs, hands down!
Best goggles I've ever had. Sensor lens isn't the greatest on the sunniest of days, but probably the best on flat light and all around conditions. These goggles have the best fit with helmets, better than Oakley.
For someone like myself who has purchased both the Smith Prodigy and Smith Regulator goggles in the past- only to discover that the Prodigy was slightly too large and the Regulater a bit too small- the Phenom is now my #1 goggle choice. The Phenom's medium fit works perfectly for my face, and I would expect it to work extremely well for almost everyone out there. The spherical lens is completely distortion-free, and the Gold Mirror lens brings unrivaled clarity and confidence in all low and flat light conditions. If you like to see what you are skiing, when you are skiing- and don't we all?- this is a no-brainer. Get the Smith Phenom goggles, you won't regret it!
Awesome goggles -- subtle, but distinct design. Fits my face perfectly. I have a somewhat small face & nose, but not so small as the Smith Anthem. But the Smith Prodigy was very large on me so this is perfect. I used to always wear the smith cascade, and these are the ideal replacement. Fits perfectly with Smith Holt helmet.
I fianlly got my Phenoms this winter. I got the houndstooth with the gold mirror. They fit so well with my Giro Nine 9. A lot of companies say "helmet compatible" but with Smith it is a fact. I have not tried any custom straps but I will. The best goggles on the hill.
, ☃bcs_badge_alumni_label☃
i hear they are rad
I hear so many great things about these and i wish they fit my face right! they don't sit right on my nose so i get wind up them and makes my contacts water. They are so cute though! They fit small up and down on the face and normal from side to side. I have a pretty small face and have a rough time with goggles. But if they fit, they are rad!
Phenom more like Phenomenon
I cant say how stoked I have been for the last two years hearing about these goggles. Smith finally released a Spherical goggle that is fitted for medium to large faces. Look at the Fuse for a smaller fit and the Prodigy for a large fit. The Phenom fits prefect with the Smith Holt Helmet and does not fog, if you take care of the goggle properly. The spherical shape also allows for the best peripheral vision.
These are the best goggles I've ever tried. They fit awesome, even with a helmet. Peripheral vision is awesome, visual clarity rocks. No fog whatsoever.