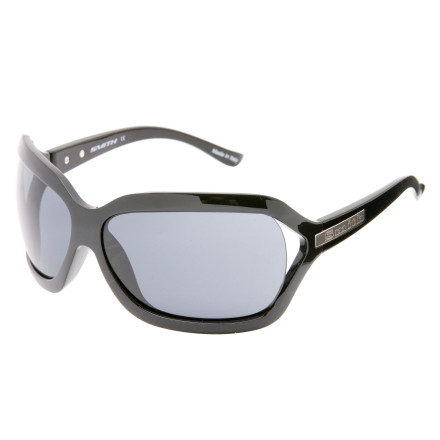 Are these Smith Melrose sunglasses the...
Are these Smith Melrose sunglasses the polorized version?
No, these aren't the ones. Looks like BC might be out of them, but you could hop on livechat and ask somebody if/when they'll get more in.
If you like to look like a Hollywood star check out these glasses! Big frame and nice coverage!
How are the optics, any distortion?
How are the optics, any distortion?
I had the white ones I won, they ROCKED, the vision clarity was amazing, no distortion at all! They were so good, so good they got stolen :( Bastards!
fabulous, lightweight, great style, lines and coverage. well made and flexible.
Great wrap-around coverage and great fit for a smaller face. The lenses are a bit darker than they appear on the photo but are great quality.
nice feminine style, wrap-around provides good sun protection... sassy with Smith functionality / quality
These glasses are awesome! Very comfy, not too tight or too heavy. I have the Audrey glasses too, and I like the Melrose much better. They are so light I forget they are on my face. And they make me look like a rockstar.
Love these!!!I only wear smith glasses, and these are my faves. I love the way they hug your face, and harlly any sun gets close to your eyes because of the extra large frames. A very cute girly pair of sun glasses.
these are big but not too big. the quality is great, the lenses are awesome. super clear. its an overall the simple design make these a timeless pair of shades imo. it even comes with a hard leather case that fits perfectly in my car's cup holder.
Somehow these fit my tiny face and look great! They're very comfortable, keep the wind out of my eyes on high speed bicycle descents, and they don't fall off my face! They're lightweight and stylish without being too flashy.
Ahh the melrose, so melrose... They are the bigger type but sooo stylish and H.O.T! Not super tight fitting on the face but light and comfortable.
Wish the lenses where just a tad more reflective...
A little Melrose in Chicago
These sunglases "Rock". Smith makes the highest quality of sunglasses at a affordable price.
This sunglasses are well made and fit well. I also think this is an excellent company and would buy from them again. The customer service was excellent!!!
These glasses are so cute! I have the black/gray and wear them all the time. They are very comfortable and are so fun for summer.