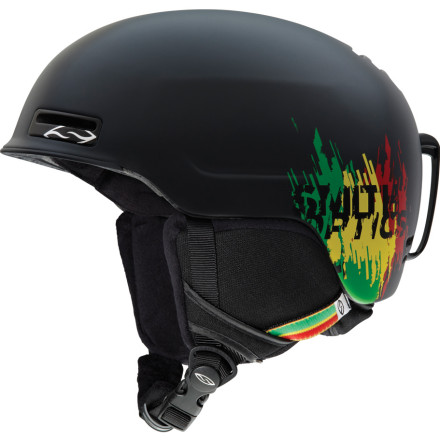 Videos

Community Images
Description
No maze of features to distract you from the mountain's features.
The Smith Maze Helmet doesn't have a bunch of fit dials and doodads sticking out all over—this helmet is simply an ultralight, clean, minimalist brain bucket designed to protect your head so you can think about the next big drop, deep line, or S-rail ahead.

In-Mold construction features ABS plastic with an EPS liner to provide lightweight protection
Airflow Climate control utilizes 9 vents placed on the front, top, and back of the shell to draw cool air across your head and push warm air out
Lifestyle Fit system is an elastic band at the back of the helmet that adjusts to fit your head
Snapfit SL ear pads remove easily for washing (compatible with the Skullcandy Audio System—sold separately)
Removable goggle lock keeps your goggle strap in place
Share your thoughts
What do you think of the
Smith
Maze Helmet
? Share a...
This is a high functioning, lightweight ski helmet that has served its purpose very well for me. I have been using my maze helmet for 2 ski seasons, and taken it camping and on mountaineering trips. The part I like about it is that it is a full on ski helmet, but it weigh's less than any other helmet I've tried. Because of the weight, it is easier to carry in my backpack, but also easier to wear while hiking up couliors when it is warm. It is also super comfortable, and is designed to fit perfectly with the smith I/O goggle, so it fits perfectly.
Fits like a glove
Familiarity:

I've used it once or twice and have initial impressions
Surprisingly corfortable considering the minimalist padding. Well designed. Lightest helmet I could find. I was tired of wearing helmets that had many options and weighed a pound or more. The removable integraded ear pads are quick release. The padding is designed to plug the airvents to keep the cold out or can be flipped and folded to let the air in. The price for the design can't be beat. I've owned many different styles and brands of helmets over the last 15 years and this one is my favorite so far.
Smith Maze going for a tumble
Ryan and I's follow-cams always seem to end like this one way or another. Smith Maze protected his dome on this one.
Solid fit
Familiarity:

I've put it through the wringer
One of the best fitting helmets i have ever had doesnt stay overly hot in the winter, and keeps you cool in the spring, nice plane and simple helmet.
The Perfect Piece
Familiarity:

I've put it through the wringer
For a few seasons, I had a Smith Vantage. It had a lot of vents and I loved it for that. But After I tried the Maze, I couldn't get away from it. It's so light and simple and still keeps the head cool. Everything you need. Nothing you don't.
Maze. A perfect on hill helmet
LIGHT
Familiarity:

I've used it several times
Great, protective and light helmet. Not my choice of a daily brain bucket, but I will wear this helmet almost exclusively when riding park or when the weather gets warmer, though many still wear this lid every time they shred. Smith keeps this helmet around for good reason.
Is it better to size up or down? My head...
Is it better to size up or down? My head is 22 inches/55 cm. This seems right in between a small and a medium.
Hey Vertical,

If you are right on that 55 cm then I suggest you go with the Medium over the Small.
I would personally opt for the small. I'm was in the same situation as you, except deciding between the M and L. My head is right at 59, so I could have gone with M or L based on the size chart, but chose the medium and was glad I did...still comfortable and absolutely no "loose" feelings that you would want in a helmet.
first helmet I've actually enjoyed
Believe you me, when it comes to helmets, I was the worst at thinking every single one was too heavy, bulky, or just made my head look 10x bigger. This one is the most low-profile one I've come across, and the lightest too. I wear it with Anon M2 goggles, and there is maybe 1-2mm of space between the helmet and the goggles. I also tried it with the huge Dragon APXs, and surprisingly they fit perfectly. Keeps your head warm, and as a bonus, it keeps your skull in one piece too. the ONLY down side I could nitpick on is, it seems to enhance the wind noise a bit...or maybe that's because I feel like I can go even faster with it..
Smith Maze - Excellent
Familiarity:

I've used it several times
I have used the Smith Maze in temperatures from 0F - 32F and it has performed quite well. At 25-32F (thereabouts), the helmet does get warm, especially if you are working hard. for these temperatures, I had no need to cover with the hoodie nor was I wearing any other head cover. The wind was moderate and I did not see any issues with wind penetrating other than my face which was partially covered by the goggles.

Size L for me, pretty snug, but not tight. The Helmet appears to be well designed, the Goggles did not slip when I rested it on the front of the helmet, and the sweat dried out overnight when left to air dry. Overall an excellent buy and I would highly recommend. I used it with an Anon framed Goggles, but may step up to the Smith I/OX next season.
What helmet?
Familiarity:

I've put it through the wringer
Honestly, I forget this helmet is on my head some times, this has to be one of the lightest helmets on the market. I have a pretty big head, so I ordered a Large and it fits really well and does not sit up too high. I use the Oakley Airbrake goggles with this and have not been caught with a gap yet.
Protect ya noggin
Familiarity:

I've put it through the wringer
For a more than reasonable price and a stylish look, protecting your dome with the Smith Maze is worth every penny! Vents keep you cool when trekking around or on a warm spring day, and the strap is easily adjustable. Works great with almost any goggle
My measurement: 58cm head size. I have size M and it fits comfortably, even with a beanie or Balaclava underneath. I also wear my goggle band (Electric EG2) underneath and there's enough room. I switched over from POC because of the sizing and comfort of the Maze even though my POC's are very high quality, indestructible, and I liked my look; I have the receptor bug adjustable (M/L) and fornix(M/L) and I was always between the M/L (fit too snug, couldn't wear much underneath) and XL/XXL sizes ( way too much room, really big) and I could never get the fit I wanted. The Maze feels lighter than the POC receptor bug and the padding on the inside is more comfortable. The Maze also feels like it's above your ear more when the ear pads are out which I liked a lot. I've never noticed overheating in the Maze, so the venting must be doing it's job. The fleece on the ear pieces is pretty plush. The elastic band that allows for the comfortable fit could be a little more burly, I'm a little worried about it surviving (not getting stretched out) more than a few seasons. I haven't checked if Smith offers band replacements, that may be worthwhile to check into.

With the lightweight feel and shape and most of all the comfort, I am very fond of this helmet and I hope Smith doesn't change it after finally finding my perfect fit.
Hi guys

I won the scott stevens (vice)...
Hi guys

I won the scott stevens (vice) goggle, and a maze helmet. Now smith optics told me I could pick a color for the helmet, but I have trouble deciding what color would match with the goggle.
Can someone give me any advise?

cheers
Best Answer
Hey Jeff,
Congrats on winning the helmet and goggles. Since the Scott Stevens colorway features a purple graphic I would recommend the white colorway or the darkness/black colorway since they are simple colors and will work with the purple. If you like louder colors check out the green as well.
Would the bobby digital work with the purple?
Hi helmet appears on sale but link redirects...
Hi helmet appears on sale but link redirects to standard price. please advise. thank you.
Hi,
If you are having trouble with a different price listing, I would recommend giving us a call at 800.409.4502 or using our live chat feature to speak with one of our representatives immediately!
Great helmet!
Familiarity:

I've used it several times
I just picked this helmet up and have used it a few times. I wear the smith I/OX goggles and they fit perfectly flush with this helmet and look really good. I wear a balaclava under the helmet for extra warmth and so wind does not bother be down my neck, with the balaclava and the helmet I haven't even been close to being cold and I was riding in about 5 degree F weather. The helmet is super comfortable and is super lightweight so you don't really even notice it on your head when riding like a lot of other helmets. I would recommend this helmet to anyone!
Unanswered Question
Hey,
Does anyone wear this helmet with...
Hey,
Does anyone wear this helmet with the Zeal Fargo Goggles, or something very similar?

If so how well do the goggles fit with this helmet?