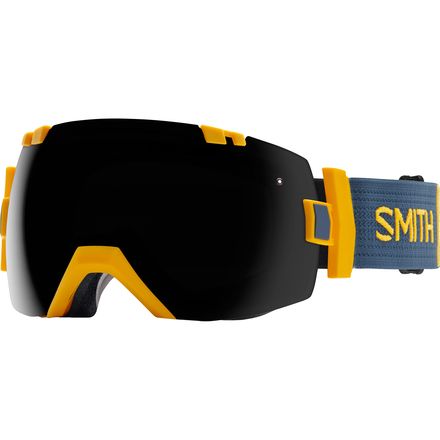 Colors

Detail Images

Videos

Community Images
Description
Limits are made for pushing.
The Smith I/O X Interchangeable Goggles push the limits of what goggles can do. Huge peripherals and fog-free vision are packed in with unique space-age style. When you're dropping from the summit, these techy lenses auto-adapt to altitude changes to stop fog ups. Plus, when you're chatting up that hot thing at the midway bar, the I/O X are sure to mesmerize.

Seamless helmet integration makes your helmet and your goggles one streamlined unit
Spherical Carbonic-X lens with TLT optics are individually molded to offer you a clear, distortion-free view
Vaporator Lens Technology uses a Porex filter and a silicone seal to adjust to air pressure and prevent fogging
Quick-release lens system lets you swap out lenses at lighting-fast speeds
5X anti-fog inner lens has a hydrophilic, micro-etched surface to stop fog before it can even start
Frameless design throws down with wide, unrestricted peripheral vision
Triple-layer DriWix face foam with fleece lining creates a smooth seal with your face and is insanely soft
Ultra-wide silicone-coated strap with QuickFit strap adjustment holds these goggles to your head
Microfiber goggle bag has a replacement lens sleeve to safely get your goggles to and from the mountain
Smith seems to be the ladies choice!
3 ladies, all using Smith goggles. Left is the Smith I/OS and then the 2 right are the Smith I/OX.
Best I ever had.... and still have
Familiarity:

I've put it through the wringer
These things are everything to me when I am skiing. I have one of the original models and I know most brands have caught up to the interchangeable lens design, but I don't see these ones failing for long time. Once you get a hang of the method, it can be done in seconds and wont have seal or fog issues. I have trashed both lenses it came with, but haven't needed to replace them yet because the clarity is still high. I love the field of vision, the big on your face look and the murdered out look of the blackout. Others might argue that they don't look good, but I love the look. And the Red Sensor that came with mine is a great low light lens. I'm sure my next goggles will blow me away too the way new technologies are going, but these will always have a place in my heart.



You can even catch me making datass face (pic) while skiing pow cause the goggles are so good
The Perfect Goggle
Familiarity:

I've put it through the wringer
I've had and used these goggles for the past 3 skis seasons and have absolutely put them through the ringer. I initially was attracted to them due to somewhat of a limited field of view on my previous Oakley goggles. The Smith I/OX was hands down the right choice for accomplishing this. I didn't realize how much that I WASN'T seeing around me until I started skiing with the I/OX.



The fit is fantastic as well. I wear these along with my Smith Variance Helmet (also available on Backcountry) and it has created a great setup for my noggin. One of the largest benefits of keeping it all in the Smith family is that all of the venting for the goggles and the helmet line up perfectly which equals a fog-free day of skiing.



The ease of changing the lenses is perfect for a quick swap out on the chair between runs. Think: you believed the forecast for a bluebird day but after a few runs cloud cover moves in and those obvious bumps become not so obvious. You easily swap out the Red Sol X lenses for the Blue Sensor lens (included for free) on the lift and then you're on your way.



All in all, these goggles are a must purchase from my perspective when you consider the price, features and Smith's great warranty backing them. These will be my goggle of choice for years to come!
Need a bigger helmet.
Familiarity:

I've used it once or twice and have initial impressions
I got these goggles after purchasing my helmet, a K2 Rival Pro, in medium. The goggles came a week ago, and they fit fine on me, as does the helmet. The problem, however, is that the helmet and goggles don't integrate well. Either the goggles push the helmet up so it sits awkwardly on my face, or the helmet pushes the goggles down so they almost cover my nose instead of my eyes. Even though they fit me fine, the goggles are made for a large helmet, and they don't work with anything smaller. Sadly, I can no longer return the helmet and even if I could my head is a bit too small for a large. Ugh... I love these goggles and they're the bomb, but I'm going to have to get a new helmet for them. Any suggestions? (I don't want something with a huge brim, like a sandbox or the K2 Thrive; basically, I need a helmet with a brim like the Smith Holt, but with an adjustable fit system. A large K2 Rival pro would do, but I can't find one with the right color anywhere.)
anyone know what helmet these goggles would fit best with? the smith maze or the holt?

They will work with the Smith Maze or Holt just fine. As long as your face is big enough, the I/OX is their biggest goggle meant for big faces!
The fit on my small-ish face
So know these will integrate with my Medium k2 rival pro helmet, but I don't know if they will be too big for my face.... Bought some a week ago and still don't have them... sorta nervous but we'll see
How do these integrate with a k2 Rival Pro helmet. I really want/need a pair of these but I want to have them sit well with my helmet. Any info would be super helpful.
Best Answer
Jacob,



The Smith IOX will definitely work with their Seamless helmet integration designed to make the helmet and goggles streamlined as one piece and is compatible with your K2 Rival Pro helmet. A Smith Helmet may be the best fit for the goggle being that smith makes their products to fit their goggles, but you should be sittin' good and comfortable with these with the current helmet you've got.



If you've got any other questions feel free to hit me up on my direct email : mburnett@bcountry.com or my direct extension at 800.409.4502 ext 4789 and I'd be stoked to help get you dialed in with the right gear for you.
Hello I'm 15 and have a pretty large head bigger than my 17 year old brother, would these be ok for me or should i go with the I/O.?
Hey Mitchell,



I'd say you'd be good to go with either pair of Smith's that you'd choose. Sounds like your brother may have a smaller head than you do, which means you'll have a wider variety of choices for goggles and helmets.



If you have any other questions feel free to hit me up on my direct email at mburnett@backcountry.com
Hey Mitchell,



I agree that you would be good with either of these. In my opinion, if you want a little bit wider field of vision I would go with the I/OX. They've been a dream for me!
Solid Choice
Familiarity:

I've used it several times
I have used these several times in windy, snowy conditions. I like the contrast and definition these goggles provide in flat light. They are a huge improvement over my previous less expensive pair. My favorite feature of these lenses is the lack of fogging while hiking uphill. I recently had them on a 14er and, they performed well.


Great Goggle!!
Familiarity:

I've used it once or twice and have initial impressions
Seems like a well made google. Can't wait to use them next season
I/OX
Familiarity:

I've used it once or twice and have initial impressions
Black with blackout lens. Great googles. This is my first new pair in about 18 years. I was able to use them on two bluebird days at PCMR and Canyons. I really liked the black tint as opposed to the amber I've always had for bright days. The colors seemed more natural to me which I prefer over other lens colors. No fogging issues in 35-50 degree spring skiing weather and the lenses are fairly easy to change once you get the rhythm down. Unfortunately I didn't get to test the extra red sensor lens.
Smiths Goggles
Familiarity:

I've put it through the wringer
I won't ever get another brand of goggles. Smith is where it is at. Super comfortable goggles and the added bonus of a changeable lens.
I definitely recommend these
How its fit with K2 thrive helmet?
These are massive
Familiarity:

I returned this product before using it
Returned immediately, these were massive.
Comfortable Powder Protection
These I/OX's are the cat's pajamas. In fact, I think these are so comfortable that you could wear them to bed. I wear these with the Smith Maze helmet. If you are looking for a perfect helmet goggle combo I would grab one of the Smith series helmets. In the photo is the Smith I/OX with the Smith Maze. This combo offers great ventilation as they are designed together to optimize air flow to your goggle lens. I have had no problem with fogging at all. This goggle comes with the bonus lens. I purchased the black/ignitor/extra red sensor. This is the black strap with the ignitor lens and the extra red sensor as the bonus lens. In the photo is the Extra red ignitor lens that I use for low light/overcast days. To top it off, these have a huge field of view. The only hang up to this goggle is that the lens takes a few tries to get quick with the lens change. I was expecting a seamless, easy change out and found that I had to work with it for a while to get it to sit right in the frame. Other then that this is an amazing goggle! Highly recommended.
Hot, but check for helmet integration
Familiarity:

I've used it several times
These work (and look) great with my Smith helmet but I get some push-down with my POC helmet (conversely, my POC goggles work great with the Smith helmet, my Oakley Airbrakes as well). The lens exchange works but is a bit fiddly with fitting the lens into the groove of the rubber-like frame, I found the Oakley Airbrake mechanism easier. Both have great field of view and perform well (no fogging).
Been riding for 18+ years, best product I've ever bought besides my board!
It's like wearing a windshield
Familiarity:

I've put it through the wringer
I bought these last year and love them to death. I am a part time snowboard instructor and put in about 50 days a season on the slopes in all types of weather. I love the ease of changing the lenses and that it came with bright sunny day and low light lenses. I have only had a lense fog up on me once and it was from a hi moisture storm weekend that turned cold before the lense could dry out for the next day.
I can see everything!
Familiarity:

I've put it through the wringer
I love the IOX's... i had previously used the IO goggle and i loved those for many reasons. well the IOX is the same thing, but more! i can change lenses just as easily, i can clean them just as easily and the work just the same, but i can see more! where all goggles have a cut off on what you can see in all directions, the IOX allows you to have a larger sight zone than other goggles before it. because of that, it has to be a little bigger, which makes it a little more breathable when you have the cold stuffy nose days.