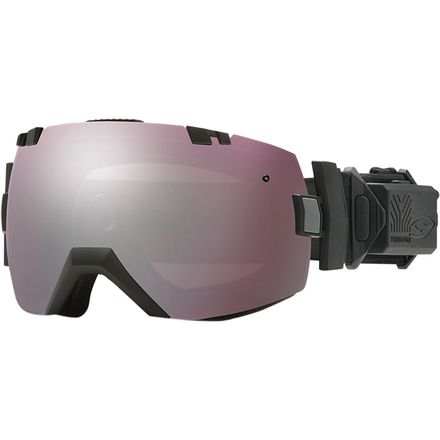 Colors

Detail Images
Description
Vision rules.
Welcome to the next evolution of over-the-glasses snow goggles. The Smith I/O X Goggle combines the latest frameless styling with every anti-fogging technology in its arsenal, including the redesigned Elite Turbo Fan. That means your goggles don't fog and your glasses don't fog so you can see all the ladies checking out your fancy modern style. It also means you won't spend another season slamming into trees. The folks at the local ER will miss you.

Silent 2-speed anti-fog fan for the ultimate in fog-fighting
Medium to large fit for medium to large faces
Quick release lens system for easy changes with no scratches
Spherical Carbonic-X Lens for clear, distortion-free optics
5X anti-fog inner lens stays clear even during a backcountry hike
QuickFit Strap Adjustment system makes it easy to fix the fit on the fly
Patented Vaporator lens technology with Porex filter eliminates water vapor before fog can form
Ultra-wide silicone backed strap is comfortable and won't slip off your helmet
3-layer DryWix foam for all-day comfort and moisture management
OSD2 and eyeglass compatible
Includes microfiber goggle bag with replacement lens sleeve
Includes 2 mirror lenses
Great when they work
Familiarity:

I've put it through the wringer
the good: easy to switch lenses, comfortable, fit well over my helmet and glasses.
the bad: whats with the batteries and the battery pack connections? the most success i've had is to not overly stretch the goggle strap when putting them on and to use energizer ultimate lithium batteries which work well in cold temps.

when the fan works, the googles are awesome.
Great Goggle for Sale Price.
Familiarity:

I've put it through the wringer
Really like these googles. Coming with two lenses is fantastic. I ski a lot in the cascades and the blue sensor mirror works great in the low light. The red sense is great for bright sunny days. For ski touring I have no complaints whatsoever. The fan keeps the fog out after you've been hot and sweaty on the uphill skins. I used them once in heavy snow for the uphill and they were great even in a high sweat activity. My only complaint is that when I wear a helmet for resort skiing, when you stretch the strap to move the googles from face to helmet or vice versa it tends to unplug the battery pack from the fan and you are left trying to feel your way around to get it plugged back in. Not sure I would have paid full price but definitely worth the sale price of ~$175
Read the reviews before you buy
The battery pack connection KEEPS unpluging EVERY time you pull the goggles over your helmet.
Fan stopped working one the first day of using ,also switch was a bit strange to work out but after reading reviews got that sorted. Goggles themselves were perfect to fit over my glasses and even though the fan was not working had no fogging problems.
How do these get 5 Stars???
Familiarity:

I've put it through the wringer
They simply DO NOT work with a helmet. The battery pack connection on them is a terrible design that unplugs EVERY time you pull the goggles over your helmet. Not to mention the connection stopped working after one day, now they are completely useless. They fog up immediately on storm days without the fan working. Overall...Great google...Terrible execution. If the battery pack connection was designed correctly they would be awesome. These are going back to Smith for a refund.
Great fan and frame, lens not so good
Familiarity:

I've put it through the wringer
The fan does a good job and is very quiet. I've had trouble with them turning off, but I suppose I have a bad switch. With Smith's warranty, I am confident this will get fixed. My complaint is the Smith lens. The photochromic lens does not have enough VLT range (50%-20%). In bright sunlight, they hurt my eyes. In low flat light there is not enough contrast. Their sunlight lens works well in sunlight, but at no other time. Their low-light lens is just adequate. I compare their lenses to the Zeal lenses which are all polarized. The Zeal photochromic range is 45%-12%. Ski with them both and you can tell the difference. Now if I can install a micro fan into the Zeal frame.....
So I just got a pair of these Smith IOX...
So I just got a pair of these Smith IOX Turbo Fan goggles in the mail and the instructions say 1st button press turns fan on and to high mode, 2nd button press to low fan mode, and holding the button for 3 seconds resets and turns off the fan. Im assuming that means with button presses you could switch between low and high mode and hold the button to turn off? My goggles don't act that way, 1 button press goes high, 2nd low, and 3rd button press turns them of, and 3 second hold doesn't do anything. Is this a defect of my goggles or is this how they all work?
that is how mine works as well
Have had fogging problems the last several years with other goggles, and hope these perform as advertised. Got them off season on sale, so have not used them as yet.
Great pair of goggles
Familiarity:

I've used it once or twice and have initial impressions
Worked like a charm - no fogging
Loved the gogles
Familiarity:

I've used it several times
Just used them once, next week in Kitzbuhel, Austria, but they worked, like a charm, fit perfectly over my glasses and best of all no more fog-up!
OSD2 adaptor & I/OX fail?
Familiarity:

I've used it once or twice and have initial impressions
Some of us can't wear contacts and we don't want to wear glasses under our goggle (because they fog up and it's uncomfortable). We want prescription inserts! Unfortunately, the options for us are extremely limited. I also must sweat tremendously out of my eyeballs, and have terrible problems with fogging. The only goggle that does any good for me is the Smith Turbo fan goggle. I have a non-I/OX Smith goggle and the lenses are nearly impossible to change without great difficulty. My other Turbo fan goggles also use the Smith adaptor available prior to the OSD2. That adapator sucked! I ended up having to wire it into the goggle so it wouldn't fall out, and I bought a second goggle so I wouldn't have to change lenses. Hauling around two goggles is a pain, though. I thought the OSD2 adaptor would be the solution, since it seemed to be a much better design and I could use one prescription adaptor with both my Smith Pivlock V2 Max sunglasses and my Turbo Fan goggles. But the I/OX goggles sounded like the way to go, since the other Smith goggle lenses are very hard to change. Today the I/OX goggles arrived and the lenses are much easier to change. But the OSD2 adaptor must not fit in the goggle without yet another adaptor. A chat with backcountry said Smith should have that additional adaptor. If not, I guess I'll have to return the goggles. I bought them because of the OSD2 adaptor compatibility (supposedly). I don't understand why someone doesn't make a very simple adaptor that can easily be moved between a solid line of sunglasses and fan goggles. Probably only those of us that can't use contacts and don't want to wear glasses under our goggles understand. But I'd pay big bucks for a system that was truly functional.
The IOX is the next in series from Smith Optics. Easy interchangeable lenses and the Turbo Fan keeps you happy and clear on the slopes.
Any idea when this goggle will be...
Any idea when this goggle will be available??
Best Answer
Hey there! Thanks for your question. It's really hard to give a date of when the item will be available for purchase again on the site. Please check back around September 1st for a better estimate, we hope to have the item back in stock in early September. Hope this helps!
Is the turbo fan removable?
Is the turbo fan removable?
the fan itself is not - integrated into the frame. However, if you wantted(say to shave weight or what not when not needed), you could remove the battery back from the strap and disconnect it from the google. The fan is virtually weightless and tiny. The battery pack is where all the weight and bulk is (and even then, it isn' t much - just two AAA's)
This is the Mack Daddy Of All Goggles
This I/OX Turbo has a fan that comes from Smith's Elite Military Division. It runs so quiet you cannot hear it. It will exhaust all steamy air that builds up inside of a goggle to keep it fog free. Fits over glasses too!!