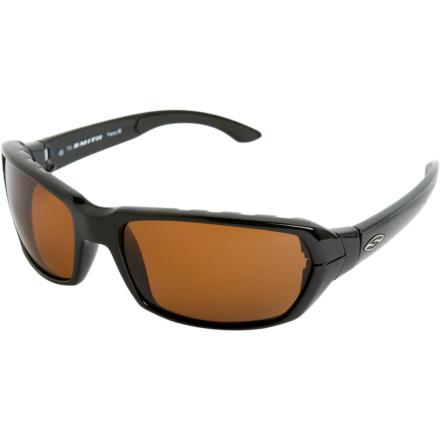 Detail Images

Community Images
With polarized carbonic lenses, Smith's Interlock Trace Sunglasses make a day out on the water easier on your eyes. If you're not water-bound, change your lenses using these shades' new INTERLOCK Interchange system. Simply twist the temple arm to open the frame a crack, switch lenses, and twist the arm back for a secure close. The Interlock Trace Sunglasses' strong, flexible frame survives your bike rides and summer hikes, and comfortable temple pads won't create a brain-squeeze. The Interlock Trace's rectangular lens shape provides coverage on bright, sunny days. *See sizing chart for list of interchangeable lenses.
Mixed emotions
Familiarity:

I've put it through the wringer

Fit:

True to size
While the construction is solid and lens change system works really well, these have a strange fit. The frames have a diamond shaped pattern when worn and looks kinda funky. But they do come with backup lenses and a nice case so overall I would recommend.
can i just get lenses??? do the glasses...
can i just get lenses??? do the glasses come in brown??/
You can get these glasses in different frame colors and replacement lenses directly from Smith Optics. These come with three lenses included. Good luck!
How do I change the lenses?
How do I change the lenses?
The temple pieces twist to open the frame. Pop the lens out, make the switch and twist the temple piece back to normal position. Much easier than other interchangeables I have used.
Had these for 5 years and running, very durable frames, I've sat on them, stepped on them etc. They stay on very well even in active outings like running, biking, and kayaking, (stayed on when I rolled!) The lenses can get scratched jsut as easily as any other, but luckily replacements can be had for quite cheap, so its almost like getting a new pair.
I bought these primarily for motorcycle riding fishing and sport shooting glasses. I purchased copper lenses(fishing) and yellow lenses(shooting). Great eye coverage...interlock lenses...plenty of lense choices available...fit great..fit under my helmet great...stylish...They are Smith's. Don't get caught up in all the hype of other brands. My third pair of Smith's...I lost one in the ocean...still have the other pair and when I purchase another in the future...they will be Smith's.
I've been a Smith sunglasses guy for as long as I can remember--though I used to rock sliders only as sport glasses. The Trace Interlock is not only an incredibly functional pair of interchangeable lens sunglasses that I use year round for ski touring, fly fishing, mountain biking, hiking and climbing--but they are actually really good looking. These guys have become the only pair of sunglasses that I wear. The Trace is the first fashionable lightweight sunglasses that I've owned, and I love them.
Whenever I would do any sort of physical activity they would fog right up. That makes mountain biking all the more fun because you can't see where you are going. It might just be my face shape, but either way I would recommend them.
Versatile, Functional, Comfy, and Stylin
Interchangeable sunglasses I've used in the past have typically suffered from one of two shortfalls; either you have to nearly break the frame to pop the lens out, or the body is too flimsy. These shades make a good compromise; the twist-lock allows the lens to pop out super easy, and needless to say the optics are fantastic. I typically use the rose lenses for anything from climbing to cruising around town, and slap in the darker ones for particularly bright days.

Good to note that these are designed for a larger face.
I bought these because my other gas station shades didnt have interchangable lenses :D. The interlocking system is just great. I can easily switch from dark lenses for the day to clear lenses for night shift. The clear lenses that I get from the Forest Service are definitely NOT up to par. If I could say one thing about these shades I dont like is they squeeze my head really hard right next to the ears. And I have a really small head.
I actually have two pairs of these due to the loss of one pair in the snow last year, that I miraculously recovered in the spring. I don't even feel bad for having two sets I like them that much (plus I tend to lose shades). As everyone says, you can't beat these glasses and the interlock system is hands down the best unless you have sunglasses that are half jackets. Since most people have already commented on the greatness of these shades, I want to stress that if you are at all wavering over any Smith glasses, their customer service is top notch and so far (for me) has only ever been rivaled by Rudy Project. Also if you break your glasses and they don't carry your style anymore, you will get a credit voucher for the retail price of the out dated pair towards a new set of glasses. Can't say enough good things about Smith. Even their gawdy glasses are awesome.
Great pair of shades, love the shape of the lenses. Durable as just about anything, even lost them momentarily in a river while tubing and they came out looking grand. One issue though, the frame is tight on the lenses when not worn, but when I put them on, the slight tension on the side arms of the frames opens the frame around the lenses on one side just a tad. Not so much as the lense could fall out, just a bit. I only notice it when adjusting the glasses on my face, as I can squeese the frame tight around the lense and it makes a little popping noise.
Write your question here...I have a pair...
Write your question here...I have a pair of smith interlock trace sunglasses with clear, pink and amber lenses, but what I'd like is some gray-green lenses. Can I get a set of such lenses?
Yes. http://www.swingsomewhere.com/swingsomewhere.cfm/product/175/5628/36767?g=1
Versatile and look pretty good too
I use these shades year round...summer biking and alpine climbing, winter ski touring. The mix of lenses are great, with a polarized sunglass lense, a clear one, and a rosey goggle type lens. I find myself using the rosey lens almost all winter in flat light skiing and in the trees as goggles are just too warm for me. But in the summer you can swap into the clear lens to keep the mud and grit out of your eyes for the coastal mountain biking I do. I found these things pretty darn durable, and even when I did manage to beat them up a bit too much, Smith replaced them no questions asked!
Are these ever sold on steep and steap?
Are these ever sold on steep and steap?
never seem them but a good way to find out what might be on the steep is to look in the backcountry.com outlet. Only outlet stuff is put up on the steep.
I really enjoy these glasses. They are comfortably and stay on my face skiing or bending down in the stream. One thing to consider they do have interchangeable lenses, but to buy other polarized replacements can get pricey. I bought the traces with the polarized grey lenses and they don't work great for fly fishing as they are too dark. The photochromic copper replacement lenses are $70.00 retail. So when buying these glasses make sure you get the lenses you want the first time.
I live in these shades during the summer bike season. they are light, tough and easy to swap out lenses which is critical during bike riding when your dealing with different weather, forest cover, and trail conditions.
If I was a castaway on a deserted island and could only bring a single pair of glasses these would be them. Super versatile, great for anything active but still stylish enough to fit in around town. The interlock system makes changing lenses a breeze and the polarized feature is always nice. I wear mine (the wood tort frame) trail running and they stay put even when I work up a sweat. Just another fantastic pair of glasses from Smith.
The interchange system with these shades is great. It is so easy to change lenses I find myself actually changing lenses a lot, which is a good thing since I paid the extra cash to get an interchange system.