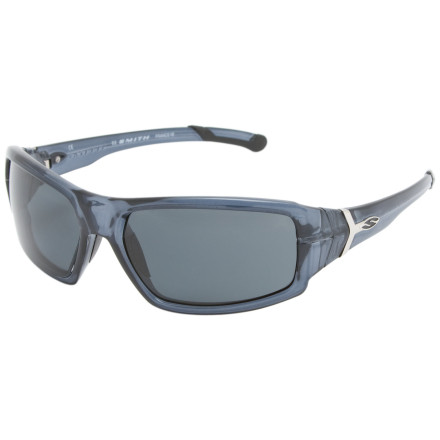 Detail Images

Community Images
The Smith Interlock Spoiler Polarized Sunglasses combine sleek stylings with easily interchangeable lenses to create a perfect blend of form and function. Smith's polarized TLT Optics provide crystal-clear views and eliminate glare, and the Interlock system makes changing the lenses as easy as a turn of the arm. The medium/large-fit Spoiler comes with two extra pairs of lenses for changing light conditions and metal accents to keep you looking sharp.
These are killer shades with a medium size frame. Get the polarized option, then pick up either the non-polarized (it is better deal than getting non-polarized then picking up the polarized, means more money for beer) blue mirror (I have these) or orange mirror interchangeable frame & you lens for everyday no matter the conditions. The polarized option with obviously the mirror polarized lens but also the clear & amber interchangeable lens as well.

Smith has lifetime warranty, they hooked me up with a pro-form after I broke my old four year old Smith Threshold Sliders in four pieces when I fell on the when I did not have them in the hard case (that I lost) that comes with the sunglasses. No matter what, Smith will hook you up.
These shades rule!! I love them with the polarized lens, easy to change, a bunch of extra style to choose from. I myself torn between getting the red mirror or blue mirror for the less sunny days in the winter, decisions, decisions. Plus Smith hooks you up in case anything ever goes bad with their product, either if it is their fault or rider abuse with lifetime warranty.
Shipped and delivered really quickly from realcyclist. Just a tad large for me personally, but impressed with the optics and frame. Great return policy from realcyclist as well. I plan to exchange for the smaller Traces.
These glasses are MONEY! I have never had a sunglass with lenses so easy to swap out. Just twist the temple and the frame opens right up. Twist it again and it holds the lenses super secure. Love em!
Recommend with reservations about temple pieces
These glasses work fine except for the temple pieces have this little piece of rubber at the tip that is prone to dislodging in hair or in a helmet strap. Aside from that glitch, these are excellent frames/lenses.
I like these as casual shades. They are fine for riding in cold weather but because of the full rim they are not great in hot weather where sweat is an issue.

Changing the lenses is easy and fun with the interlock system. Sometimes if you tweak the arms, however, the lens can fall out.
I have been using my spoilers for about 5 months now and I have to say that they have become some of my favorite sunglasses. I am more used to the bigger "face hugger" style sunglasses, but I have really grown to love these Interlock spoilers. On the days when it isn't too bright outside, but I still need to wear some eye protection, I can switch the lenses out to a different lens shade - it only takes about a minute to change lenses and is really simple. They also look really good and provide good eye coverage. Overall, I would recommend these.
These sunglasses are very comfortable and easy to wear all day. No pressure points that cause headaches. Drove 4 straight hours to Tahoe from Southern Cali and had no discomfort. Only issue is they tend to fog up the first time i put them on for a few minutes then it goes away. Great pair of sunglasses though.
Unanswered Question
Are at least one set of the lenses polarized?...
Are at least one set of the lenses polarized? I'm assuming that the black/copper/yellow is more $ since it has 2 sets of polar? does that package also include a 3rd set?
Will these glasses fit into the lower vents...
Will these glasses fit into the lower vents of my bike helmet for storing them when I'm not wearing the glasses when I'm riding or are the frames too big? I wear a Lazer O2 helmet.
I currently use an old set of Smith Slider glasses that I've noticed fit quite nicely into the helmet when I don't need them on.
If you get them and it doesn't work, realcyclist has the best return policy, so you can't go wrong with them.
The lazer 02 helmets were not particularly designed with securing glasses through there vents unfortunately. You might find this model hard to fit in most helmets because of it's larger ear frames. Smith glasses happen to link nicely with garneau helmets ( just for future reference)
Very nice shades, best ive ever owned. The interlock is nice but i find i don't really use it, i could seeing it being nice if you messed up a lens. They fit really well, and don't move around much. I have noticed that they fog up a little easier than others, but nothing too bad. I was wearing these skate boarding and got hit by a car leaving a cut from where the glasses were, however i think they took some impact. During the crash part of the earpiece broke, but smith was chill to warranty it. Very solid shades from a very solid company
The Good: Great styling, they fit my large-ish head very well and look nice. The optics work well and the lenses offer a wide range of light management. The lens swap process is simple and the case comes with a special pocket to store all of them.

The Bad: Forehead sweat tends to pool around the top of the frame, stream down the lenses, and remain inside the lens area.

The Verdict: I bought these for biking. I ride just about every day. I like the versatility that the inter-lock lens system allows, especially when using the clear lenses for night riding. I sweat when I ride and, as I write this review, I'm doing so in the brutal summer months. The oversize frames tend to come in contact with my forehead and and act as sweat conduits. This is annoying at best and has never significantly altered my vision. I don't recall having this issue with other frames.

In conclusion: I like them and I don't regret my purchase. I can deal with the sweat, but they're not perfect. They are great for the price and do well in all other respects.
Great lenses, look cool, good coverage. I'm only giving them 4 stars because I found the fit on the bridge of the nose to be slightly tight (an issue I haven't had with any other sunglasses). They got a bit uncomfortable after wearing them on a boat for 5 hours. But for running/hiking/biking, these can't be beat -- stay in place perfectly.
Unanswered Question
hi i own the smith directors and was...
hi i own the smith directors and was wondering how is the fit compared to those a little larger or much larger thanks
I am wondering how much different these...
I am wondering how much different these are in lens and frame size from the Trace? I am looking into these frames as well and was hoping to get a comparison if anyone knows between the two models. Also, would this be a good choice for outdoor use like fishing/hiking/biking etc.? Thanks.
they're close to the trace, but with rubber on the nose and the earpieces. I almost bought the trace but couldn't justify it because I use these for EVERYTHING. I mountain bike in them, and with the rubber pieces, I haven't had to adjust my glasses on a ride even once. And that's all mountain riding. I've used them hunting and flyfishing and hiking as well. And they look good enough that I wear them with my suits for work (business suits, guys). Obviously I'm stoked on these glasses. I'm the reviewer bigaika from above, and I was just cruising to pick up another pair!
These are the best glasses I have ever worn. Period. I tried to find these starting a month ago, when I saw them on the Smith website. I walked into a local shop Sunday, tried them on, and bought them immediately. They fit guys with a little larger bridge on the nose, and a wider, bigger face. Don't let the Medium to Large fit thing scare you away. They fit big. The optics are incredible, they come with three lenses, and the lifetime warranty is awesome. I think Smith is all I use for my optics anymore. If you love their goggles, you'll love their sunglasses. Especially these. Even with the price, I'm thinking of picking up another pair. EXCELLENT.