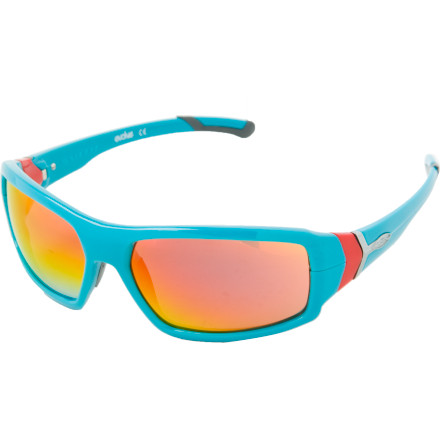 Detail Images
The Smith Spoiler sunglasses have the multiple-lens adaptability of the Pivlock series, yet they're more streetworthy. It's not a knock on the lighter, sleeker models. It's just that, for casual wear, the Spoilers look so darn good. They're great on the bike and off.
The Spoiler design uses Smith's Interlock interchangeable lens system. Rather than relying on a slotted frame (like their old Sliders) or the notched fit of the Pivlock system, the Interlock design wraps the lens in a full frame as usual. The functional part is found on the outside of the frame, at the temple attachment. To release the lens, you'll simply twist the temple 90° which in turn operates an eccentric cam in the split frame to wedge the frame open enough to remove or install the lens.
The lenses use Smith's Tapered Lens Technology (TLT) to give you a distortionless view. As you might've already experienced, visual distortion occurs when light waves hit an aggressively curved lens causing them to refract. This refraction causes a prismatic effect, or distortion. TLT corrects the distortion by progressively tapering the lens thickness from the optical center toward the peripheral edges. With TLT, light waves travel directly to your eye to generate precise vision and reduce potential eye fatigue. Objects are clearly defined and seen in their exact position.
Seeing clearly adds safety, but so does Smith's Carbonic lens material -- the most impact resistant lens material money can buy. Smith treats them with an anti-scratch coating to keep them as new as possible, as long as possible. They're light, they exceed ANSI Z80.3 specifications, and they protect your eyes from 100% of the UVA, UVB, and UVC rays out there.
The Smith Spoiler is available in three color/lens combos -- Black White/Blue Mirror, Black/Polar Grey, and Matte Black Evolve/Polar Brown. The Black White and Black glasses come with two extra sets of lenses. The Ignitor lenses are great for overcast days as they increase definition and depth perception in low light. The Clear Mirror lenses are the best for very low light conditions. Switching between lenses is a total breeze and can be done in a matter of moments without tools. The Matte Black Evolve glasses don't include extra lenses. The frames on these are made of Smith's Evolve, a renewable material derived from the castor bean plant.
All lenses are made from durable, shatter-resistant polycarbonate

An 8-Base lens curvature wraps around your face to keep out the peripheral light

Hydroleophobic coating helps prevent residue build-up and limits lens fogging while you ski or hike

The TLT, or Tapered Lens Technology, provides a distortion-free view in all directions

A large, tough Grilamid TR90 frame fits bigger faces and resists occasional shocks and accidental drops

Hydrophilic Megol nose and temple pads react with moisture to grip your face tighter when it's drenched with sweat

Clear lenses (included) work well in low light conditions, and the Ignitor (rose-tint) lenses suit medium-to-variable light conditions

Great for Riding and Rocken
Gender:

Female

Familiarity:

I've put it through the wringer
I use these for everything! Perfect for MTB and road. Great buy!


Just Ok
Gender:

Male

Familiarity:

I've put it through the wringer
I use mine for mountain and road cycling and love these shades!! I have a medium sized faced and I have found these shades to stick on my face without sliding off. The frames do feel a little cheap in your hand, but they seem to work just fine. I have now used all three lenses for sunny and cloudy days as well as night riding and all works perfectly. All in all no complaints.



03/29/2013 Update: I've had mine now for a few months now and the left red mirror lens has been scratched probably by a hanging branch. I just got off the phone with Smith Optics customer service and they don't warranty their lenses. They sell their lenses on their site for $40 a set only and I was told I was welcome to buy the whole set (even though only one lens is damaged). They also have a recycling program where you can send your glasses in and get up to 50% off a new pair. I've never worn a pair of sunglasses before while mountain biking that became scratched so quickly and easily. Either way, I'm done giving my money to a company that uses sub-par materials in their craftsmanship and does not back up their products.
Good glasses
Gender:

Male

Familiarity:

I've used it several times
The lens coverage and style of these shades is hard to beat. It's perfect for any kind of cycling. I definitely agree with the other reviewers in that you need a large face to accommodate these glasses. I'd say I have a medium face, and they often slide 1-2mm down my nose. I don't really use the interlock system very much, but I have used the clear lenses a few times for night riding because my eyes are sensitive to wind. Very useful!
I bought these with polarized lenses while I was in CO. These are a great pair of sun glasses. I wear them hiking, biking, boating etc. I've dropped them in the ocean, swam in the finger lakes with them, and had them in rockies and they still look great. I haven't used the interlock system a lot yet, but after playing with it for a few minutes it seems to work great. Definitely for larger faces so make sure you have a big melon
I have these with the polarized lens & love them.
Really nice that you can change lens in a casual pair of shades. You can even race or ride in them if you like or forget your racing glasses.

Also really easy to change the lens with the Interlock system in them.
Makes Swapping Lenses Easy - Part II
Please check out my review on the Evolve version for some more depth, but I'll go through the differences. This version does come with three lenses (Mirror, Ignitor, Clear) which is nice for versatility. I also find that this version feels a little heavier, yet more sturdy. I use the Teal/Orange color for MTB/Road Biking so people can see me and because I feel like they will hold up better if they fly of my face or if I crash. Good fit for those with Medium to slightly Large faces.