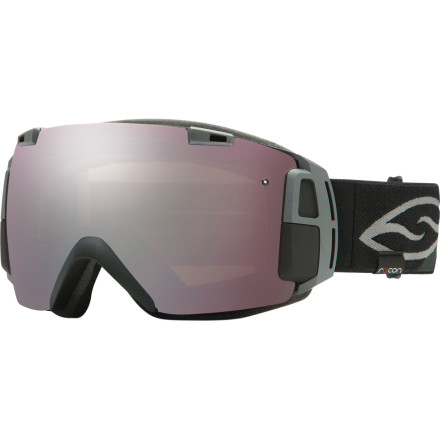 Colors
Description
Smartphone + GPS + interchangeable goggles = whaaaa?
Head into any ski-town bar after a fresh day, and you're all but guaranteed to hear different versions of the same few stories: "Dude, I went so big! Must've been like 60 feet! "No way man, I took that whole thing in like, two turns!" or "I spun, like, 75 laps and my legs are worked, bro. Beer and hot tub?" Bravado, stoke, and half-truths are the verbal currency of any legit ski bar, but the winners of the tall-tale roulette usually possess the best storytelling skills, not necessarily the best shredding chops. At least, they did.
Enter the Smith I/O Recon Goggle. Using an integrated ReconSnow 2 system, it's able to show you, on a heads-up display INSIDE the goggles, all sorts of boast-enhancing (or deflating ... sad trombone) stats like your speed, jump airtime, vertical, and runs taken, (it does averages, too) to create the definitive barstool claim. The Recon does way more than bursting your bros' bubbles, though—it also provides information like location, temperature, and altitude, and syncs with your smartphone to let you control your tunes (a wrist remote is included), send text messages, and find points of interest within the resort. You can even track your buddies around the hill, putting an end to wasted runs spent waiting for Dave (it's always Dave).
All this would just amount to a face-mounted smartphone if it weren't hooked up with Smith's signature optical quality. Fortunately, the Recon comes correct with a spherical Carbonic-X lens, which uses TLT optics to provide unparalleled visual clarity. All the lens options are also built using Vaporator technology, which actually seals an inner and outer lens together and incorporates a Porex filter, allowing air to circulate freely while keeping moisture on the outside. If that's not enough, every lens has a 5X anti-fog coating, and is easily interchangeable, so you're never caught up by flat light or suddenly glaring sun―because the Recon doesn't have a way to record who took the gnarliest fall of the day.
ReconSnow 2 heads-up display with real-time information
Syncs with your smartphone via Bluetooth
Wrist-mounted remote
Spherical Carbonic-X lenses with 5X anti-fog treatment
Vaporator Lens Technology with Porex anti-fog filter
Quick Release lens system and two mirrored lenses
Two lenses included (see size chart for info on tints)
DriWix face foam
QuickFit silicone-backed strap with clip buckle
Fits medium faces
Share your thoughts
What do you think of the
Smith
I/O Recon Goggle
? Share a...
Posted on
Got Data? I do!
Familiarity:

I've put it through the wringer
I love my Recon Goggles! Once I got used to all of the functionality, I found these super easy to use. My top speed for the day was 47MPH. I spent 24 seconds in the air....hahaha. I even downloaded the ap so I could see where my brother was on the mountain (he has the same goggles). I was even able to look at my text messages during the day so I could keep up on my work. If you like data, I would totally recommend a pair of Smith Recon goggles!
Posted on
Great idea, atrocious execution
Gender:

Female

Familiarity:

I gave it as a gift but have feedback to share
Wow, I've only got 2000 characters to fully detail my disappointment with these, and I only paid $520 for them.. I can't imagine how I'd feel if I spent $780! I am only hoping that these have changed hugely since I bought them just over a year ago, but it doesn't seem that they have.
Ok first, I bought these for my boyfriend, and as I am the more technologically-able, I set them up, with all the syncing etc that's involved between the goggles, the wrist control, and an iphone. A few cycles of upgrading and downgrading the firmware ensued (which I can imagine would have been beyond the patience of many people), before everything would even talk to each other. Then, its first use.. it took ALL DAY for the unit to recognise our location, well, that is, until the battery ran out (only a few hours). The next day, it knew where we were, and worked beautifully, but stopped out before lunch. It turns out that the battery, which is merrily sticking out of the left side of the goggles, according to some guy on the internet who had the patience to deal with it, doesn't like the cold, and could do with a bit of insulation. That's right, goggles to enable the technologically-empowered enjoyment of SNOWboarding, don't function well in the cold. Not Smith's fault probably, but Recon's I'd imagine.
At this point, my boyfriend has no interest in using the things, as they can't track his whole day. We're now in the new season and I thought I'd take over, so I've been plugging them in for the last week, trying to a) sync them b) get them to recognise the resort and c) get some use out of them before the battery dies, day after day. But now, it's New Year's eve and I just got back from a great dinner, hoping to find them charged and ready to go for a big day tomorrow, and... they're dead. Not even charging anymore. And according to our online Engage account, we have ***6*** trips successfully recorded, with our exciting stats and half-logged days in the powder.
...TBC
Posted on
Has this model wifi?
Has this model wifi?
Responded on
For $800 it better.