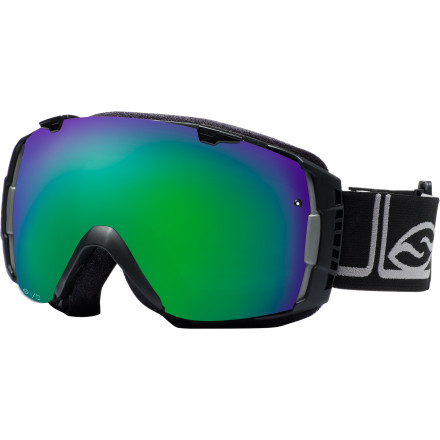 Detail Images

Community Images
Description
Smooth style meets clear visual.
Smith's sleek, rimless design matches up nicely with the ease of their interchangeable technology when you wear the I/O Interchangeable Optics Spherical Series Goggle. Oversized spherical lenses curve like the natural shape of your eye to provide optimal visual clarity when you ride. The quick release lens system makes it easy to change out lenses depending on the weather and which lens works best in certain conditions. Smith uses their Vaporator lens technology on the I/O to keep fog off your lenses for crystal clear sight on the mountain.
Eco-friendly Evolve series utilizes 53% bio-based Rislan frame material, FSC certified packaging, a coconut fiber bag, and a water-based lens coating
Share your thoughts
What do you think of the
Smith
I/O Interchangeable Optics Spherical Series Goggles
? Share a...
When I did the order on Amazon.com, I saw...
When I did the order on Amazon.com, I saw goggles Smith I/O - http://www.amazon.com/Smith-Interchangeable-Goggle-Ignitor-Mirror/dp/B004YSQ0L2/ref=sr_1_11?s=sporting-goods&ie=UTF8&qid=1345706265&sr=1-11&keywords=Smith+I%2FO. But in the status of the order I see Smith I/OS. I wanted smith I/O instead of smith I/OS. If you send me smith I/O, everything is all right. But if it is smith I/OS, please cancel the order and return money. The picture on a site doesn't coincide!!! Or I am not right?
Your going to need to contact backcountry. These Q&As are answered by users and not backcountry staff. You can find out how to contact someone to help with the problem here https://sales.liveperson.net/hc/s-9551721/cmd/kbresource/kb-792816335229514977/view_question!PAGETYPE?VisitorProfile=BCS&sf=101133&documentid=239499&action=view
I heard only good things about these and have loved them. They fit nice and snug, are super comfortable, and don't fog up. The extra lenses are nice to have for different conditions and the I really like the field of vision these offer. I bought a Smith helmet too, and love how they fit together so perfectly. Highly recommend.
Will these work over glasses? If not,...
Will these work over glasses? If not, which are the best Smith Goggles for wear with glasses? Thanks!
The Knowledge or the Prophecy are the Smiths to look at for goggles that will fit over glasses. These will not do a good job of it.
Perfect goggles, very soothing to the eyes. Great fit with the smith helmet and comes with two lenses. One for sunny day and the other one for cloudy day. That's pretty cool. Good quality product and worth the price totally.
Unanswered Question
I'm upgrading from the dragon mace, as I...
I'm upgrading from the dragon mace, as I want better peripheral vision. Which has more? dragon rogue, or Smith I/O
Warning - lenses have a streaking film inside that fogs
I put these goggles on my face, within 10 minutes a film inbetween the lenses became visible and completely ruined my vision (and my day).
I thought it just may have been a bad lense but when I put in the extra lense they came with the same exact thing happened. The foggy film was completely covering the lense. Ruined my day and will NEVER buy these again. For what its worth you can get 2 or 3 pairs of good goggles. NOT WORTH THE $$$$$$$$
I'm on my second season with the I/O and am totally sold. The ease of switching lenses is phenomenal. And the fit cant be beat. I have a large nose with a high bridge and they fit fine with no gaps. I will be buying another pair this next season
Maybe these are park Goggles, NOT all mountain Goggles. I have been skiing for 35 years and bought these Goggles because I loved the design and new look. Smith has a great name and I was looking forward to the great lens. Everything I hoped for came true, but there was one problem. When I skied fast, and I mean gun hard down the mountain, air got in and my eyes watered and burned with the cold. I changed out lens still the same issues, watering eyes on cold days. So I try them 3 different days, and at a normal rate they seemed fine, but when I blasted down the hill they always leaked air inside them. I returned them and got the same pair hoping it was a defect in the pair I had, but the first day out was windy, and when I hit it hard, my eyes watered again. I was not happy. I just returned them for a pair of Oakley Splice. They have the same wide view, great lens, with a full frame around them. I am hoping with the full frame they wont leak air.
You won't be unhappy with these goggles unless your a some sort of gypsy. Fit very nice to your face and the sensor lenses are awesome for variable conditions.
lover the interchangeable lenses
I love the I/O goggles, absolutely love them. They don't fog even in the nastiest conditions and the interchangeable lenses means that I'm never stuck with the wrong pair of goggles for what the weather throws at me. They are kind of big, but I like the full-coverage-bug-eye look. Will probably buy the I/OS next time.

Basically, I'm agreeing with the other 133 reviews - suck it up and buy these. They will seriously be the last goggles you ever buy.
These things have amazing field of vision. I was previously using the Smith Phenom goggles. I honestly don't feel that the lenses are really any easier to change in and out than were the Phenoms. This could be because I was used to those ones. Either way, it's more a matter of both of them being really easy than one being better in that respect. Where these things really shine is their optical quality and field of vision. I love Smith goggles and these have done nothing to change that opinion.
I really like these goggles a lot. They look cool, you can see crystal clear and i really like the extra lens feature so you don't waste the money on the extra one. My only real complaint is that i don't feel like they fit my face really well (maybe they have to be worn in a little more). I feel like if you have a little bit flatter of a face they will be more ideal for you... maybe It's just me, but i felt like i had to push them to my face to get ric of the gap between my nose and cheek. Other than that they feel and look great.