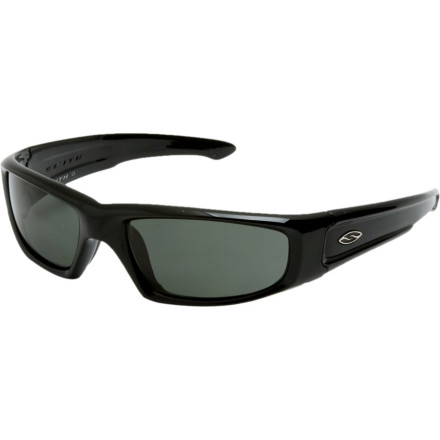 Detail Images
The Smith Hudson Polarized Sunglasses flaunt cool and collected street-worthy style, but they're not just about looks. Smith blessed them with elevated performance features to keep your vision clear from the downtown district to weekends in the woods.
Lightweight Carbonic lenses resist impact and block UV rays completely
Polarized lenses block reflected glare and reduce eye fatigue
Sturdy Grilamid TR90 frames are light and resilient
Hydrophilic Megol nose pads mean the sunglasses won't slip, even if you work up a sweat
See sizing chart for Smith lens breakdown
Took me 7 years to write this review.
I cant believe I got this in '05. It's still my go to sunglass. I used it in our hike of Mt. Baldy and Mt. Whitney and it protected my eyes from the glaring sun. The lens and the frame are Super Durable!
Great sunglasses, they will fit small- to medium-sized heads, mine being more of the latter. I paid about $40 including 2-day shipping on SAC but I would spend up to $90 for Hudsons. These replaced my Electric Valence glasses for jogging because the rubber nose pad keeps them from moving around and they look better. My pair did come with a piece of finish hanging off it but I decided to keep them, that's how much I like them.
I have had five pair of these glasses. worth every penny. They fit great and look even better. I won't get a different pair as long as smith keeps making these.
Great pair of lightweight polarized sunglasses at a good price. They are very small and thus fantastic for the small faces and tiny heads. My only gripe is the tightness or the fit above the ears. They narrow quite a bit thus they stay on the head securely and are great for sports, but after an hour of straight wearing you feel the pressue. Overall these are an excellent choice for an inexpensive pair of polarized light weight glasses designed for the narrow faced and tiny headed.
Super durable! I fell through a bridge and got slammed in the face with a wood board from the bridge. The lenses didn't break or crack! They protected my eye from a lot of damage.