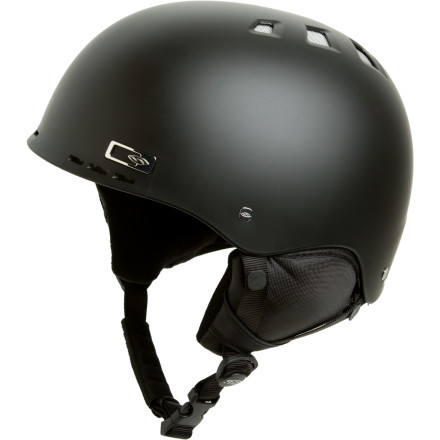 Detail Images
You do dumb stuff year-round, so that cranium of yours needs year-round protection. The Smith Holt Skullcandy Single-Shot Audio Helmet is your answer. Smith knows you don't want to mess with five helmets for every ten-degree difference in temperature, so they've included summer-weight ear pads with the Holt. Now you can rock out year-round, and keep doing the dumb stuff you love to do.
Twin-Tip Audio Kit gives you phone and audio compatibility in a reliable, hard-wired package
Standard Bombshell ear pads and lightweight summer ear pads included
AirEvac 2 ventilation system works in concert with Smith goggles to keep your vision clear at crucial moments
Removable goggle lock because you don't wear goggles in the summer –unless you really like goggles, then go for it
This helmet rocks in more ways that one... :-)
The Helmet is great cord breaks very easy.
The Helmet is great cord breaks very easy.
Ear pads and audio cutting in and out
Really like the helmet overall, warm, fits well, ear cups do tend to get a little uncomfortable as day goes along, not a big deal there though. I have used the helmet 5 times and the audio is already cutting in and out BOTH SIDES! probably a problem with the input jack or the wires leading into it. Would I buy it again? probably like I said it fits well and is secure and for the money cant really complain too much.
Description Misleading, But In a Good Way
I used this for the first time tonight. For starters, it was toasty warm, which I've come to expect from helmets, but I never got sweaty, which is always a plus. But aside from the helmet's basic functions and aesthetics, let's talk about the speakers since that's probably why you're looking at this in the first place.

This actually doesn't come with the Twin-Top Audio Kit as the description says, but if you compare to other Smith helmets, you'd figure that out just by looking at the supplied images. It's a single cord, so if you don't need to hook up to a phone and music device as two separate devices, as I didn't (I use my iPhone as my iPod as well), then this is right up your alley. The cord has a volume wheel on the side, which honestly is difficult to use with gloves, but set it and forget it and you'll be fine. The single button (which is "mashable" with gloves) works just like the main button on Apple earbuds - click once to pause/play the track, twice to skip, hold to fast-forward, hold longer to use voice control. It's awesome. I could make and answer calls while on the lift or mountain, and rock tunes when I was riding the lift alone, like the outcast of the mountain. And the speakers can pushed loud enough that you really can't hear any conversation going around you, but if you dial it in just right, you can hear quite a bit going on around you and still hear the music just fine (it's good to be kind of safe, after all). In terms of audio quality, it's a lot better than I expected. They're not exactly studio monitor headphones, but how could you ever expect it to be? The bass was great, it didn't sound tinny, and I could even hear some percussive parts of a song I love that I'd never heard before, which was nice. I'm of the ADD generation where having that kind of "distraction" tends to help me perform other tasks better - maybe it's because I'm not over-thinking things, but for me it definitely improved my riding a bit. In short, I liked it the most for the runs where I'm all by myself with no one to talk to (sad face), but now can be entertained the whole time. Also, not having to fish my phone out of my inside pockets to make/receive a call was a huge plus.

My only complaint is minor: the earcups, given that they have speakers on them, put pressure on my ears and after a while my ears start to ache. I say that's a minor complaint because I have this issue with every helmet with earpads and every pair of headphones that aren't of the over-the-ear or earbud variety. It's an affliction I've dealt with all my life, so I was fully expecting that when receiving the helmet. Certainly not a big enough issue to keep me from wearing this to the mountain every time I go.
This set up works so well with the iPhone to use the phone feature without havin to pull it out (to answer n use voice command) n the iPod feature of the phone (click to play or pause n double click to skip)! Awesome helment and is also very warm which was suprising to me
This helmet is awesome and I listen to my iPod now as I race down the mountain!
I do like this helmet, fits well with my goggles (I'm using - http://www.dogfunk.com/von-zipper-feenom-goggle-w-bonus-lens) - it is very lightweight and has taken the crunch out of quite a few decent stacks. The only beef I have is that after long term use the ear pads begin to hurt my ears; Probably due to the headphone speakers inside. Having said that, once you're carving it up you'll hardly notice that at all.
Does this come with a knit (or other)...
Does this come with a knit (or other) liner? I ask because my head is a size xs, but should I order a size s so I have room for a beanie underneath when skiing?
theres a mesh liner. this helmet keeps my head and ears warm in snow, rain, wind and any combination of them. the earpads are pretty snug so if you like wearing a beanie underneath, you should probably get a size up.
most audio helmets are way over 100 dollars but this helmet has a good price that gives you a rad helmet with decent sound so you can jam to what ever you want on the mountain
this is good to use with an ipod right?
this is good to use with an ipod right?
Yeah man, just plug it in and you're good to go.
Unanswered Question
we got the holt and the single shot skull...
we got the holt and the single shot skull candy. how do you answer a call...end a call..etc with the click? there were no instructions. also is it compatable with the droid?
Warm, good looking and safe.
Warm, good looking and safe.