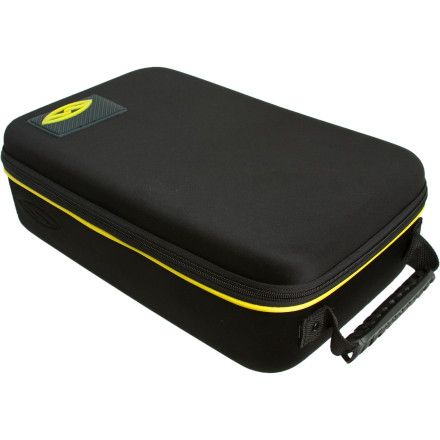 Detail Images

Community Images
Thrashing your goggs on a tree is one thing, but getting them scratched when you're off the hill just shouldn't happen. The Smith Goggle Carrier ensures that up to four pair of goggles and several lenses stay in good shape during transport.
Zippered closure, padded partitions, and a molded EVA outer shell protects your eyewear from damage while you travel between mountain ranges
Three mesh pockets on the underside of the lid hold extra lenses
Top handle enables easy hauling from the RV into your buddy's house with handfuls of other gear
This case can hold five of my goggles, and all of my lens replacements that I have, and it's amazing.

my two major reasons for being a big fan of this case:

1. My goggle mess isn't all over the place

2. My goggles and lens replacements are all protected
Awesome case
Familiarity:

I've used it several times

Fit:

True to size
Keep all your goggles in one place at home and pull out what you need to travel because this is too big to haul around. But, it is very awesome for home storage.
Almost too big
Familiarity:

I've used it several times
To be honest, if Smith made a case just like this, but at 1/2 or 2/3 of the size, it would be perfect for my needs.

I'm able to carry two older Oakley Wisdoms and a Smith IO along with 3 replacement IO lenses, and still have room for at least another pair of goggles if not 2. And I don't even use the little pockets on the top side of the case that flips up.
What are the dimensions (L x W x H) of the...
What are the dimensions (L x W x H) of the case?
Exterior: 16" L (including handle) x 10" W x 5" H
The case can hold a good number of goggles and other stuff such as extra lenses or warmers. It is easy storage and great for travel, but the center of the lid is a bit flimsy and dips in unlike the sides which holds pretty sturdy. You may want to avoid putting something heavy directly on top of the center just in case.
Huge, great for storage, terrible velcro
Gender:

Male

Familiarity:

I've put it through the wringer
Yes, it's huge and great for storing your goggle quiver. Wonderful for families or couples, whether you both have multiple goggles or just lots of lenses for your frames. Also notable for traveling: it fits perfectly height-wise in a drop-bottom roller. BUT: the dividers might as well use scotch tape for all the good the velcro does. And, oddly, they aren't curved. Which means even if they were as secure as, say, the identical type of dividers routinely used in camera bags, they would create wasted space behind the curve of the goggle. Probably would want to hug the goggle if you wanted the most protection, above any space concerns. Not a big deal if you have 4 pairs of goggles here as dividers will serve fine as padding between goggles. Also, I wouldn't plan on using the dividers to create extra space or to secure less than 4 goggles from sliding around. Also not entirely sure of what you would want to put in the top mesh. Curved lenses are a no-go, since they will push into the goggles when the lid is closed. Maybe earbuds? For the price though it's great storage for families/couples or goggle-hoarders and as rugged as the single Smith box. But it lacks any functionality above a stationary storage box. Not a fault, but some minor upgrades would go a long way.
Gets a lot of attention
Gender:

Male

Familiarity:

I've put it through the wringer
Yeah I am not kidding everyone I have ever gone with comments on the case. Positive anyone who uses it will think it rocks.
3 Smith's and 1 Scott fits perfect
In order to use the 2 lid sleeves for your replacement lenses ,you will have to lay the back 2 goggles flat and face down. Otherwise you can just put them in protectors and place them in the goggle slots. This is a well built case and is pretty sturdy , so it will not collapse easy under pressure.
they are really cool if yo have a lot of goggles, but they are cheaper on motorcycle-superstore.com so go on there website
Great Goggle Case - Holds 4 easily
The Smith Goggle Carrier is a great solution for anyone with more than 1 or two pairs of goggles. I'm able to fit 4 pairs of goggles and 4 sets of replacement lenses easily - the internal baffles are padded and attach via velcro, so they're easy to move and accomodate different goggle shapes. I'd recommend this case to anyone who like to keep their goggles in good shape and all in one place!
Mmmmm.... Goggle Case....
Great case, much larger than I expected... I fit 4 pairs of Oakley Crowbars in it with room to spare... I like the rigid case and soft/fleece lining... goggles are separated by a vinyl covered piece of cardboard that has Velcro on each end attaching it to the sidewalls... Great way to carry/store your goggles at home, in the car, or to/at the mountain... I better get a couple more of these!
The bag is spacious and has plenty of room for 4-5 pairs of googles whether carrying them for the family or just a fashion type of person that needs lots of googles. The only draw back is that it looks and feels flimsy while open. It bows out on the sides while open. But it does the job of protecting your investment(s). It also has 2 pouches for extra lenses as well a larger pouch behind them that may fit an extra google or additional lenses. You can not beat the price!!!
Will this case fit two pairs of Oakley...
Will this case fit two pairs of Oakley Splices?
Hey Daniel, yeah you should be able to... I fit 4 pairs of Crowbars without issue...