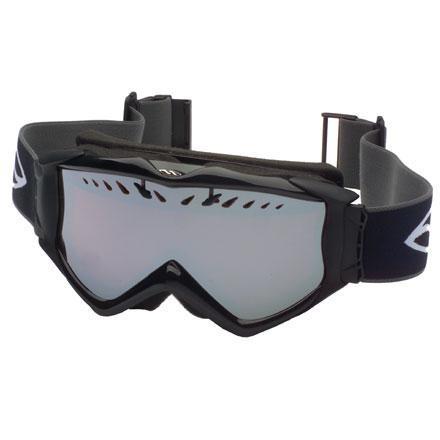 Detail Images
2 pairs, 6 years, and counting
I'm on my second pair of Fuses now, the first having lasted about four seasons before the face foam started disintegrating completely. I picked up another pair last year, and I've put 120+ days on them the last two seasons and still going strong. I'm out working whether its 30 below, 25 and bluebird, or 40 and raining, and these goggles haven't let me down. Fogging isn't a problem as long as you do what you're supposed to (don't stick them on your head when you're sweating, and once you're outside put them on and don't take them off ever), and fit is great over a hat or with the various Boeri and Giro helmets I've worn them with (big nose, big head, medium-size face otherwise). I wear these goggles every day, swapping between the Platinum Mirror lens for brighter conditions and the Sensor Mirror for boxed in or flat light, with clear lenses for night riding. Both the Platinum and Sensor lenses perform wonderfully, with enough overlap that I can put one in in the morning and be OK even if the conditions change during the day. The Sensor in particular really makes everything pop in flat light. All around, these goggles are a great purchase, especially if you find them at half price on steepandcheap or tramdock at the end of the season.
Smith Fuse Regulator Series Goggle
Great goggels can't wait to use them this winter.
Have been rocking these for 2 seasons now and they are fantastic, fit really well with my Giro G10 helmet. I didn't realise the rose platinum ones came with a spare yellow lens which was a bonus. Yellow is the go in flat light and at night, platinum any other time. I did have an issue with fogging between the lenses last time I used them so I sent the lense into Smith and they replaced it no questions asked. They seem to have changed from a closed cell foam between the lenses to a silicone substance.
These are the best goggles I've ever had. The optics are nice and they do not fog. These fit my medium large face nicely. The only thing I would like to improve would be to get a polarized lens. Still, I definitely recommend them.
These goggles have performed great for me. I have 2 pair - 1 with a dark lens for bright day-time and another with a clear lens for night riding. I've never had any fog problems or anything.
I have owned several pairs of Smith Regulator Goggles in the past but this is the first time I experienced a problem. On a recent back-country ski trip the goggles fogged between the lenses leaving me nearly blind.I'm hoping this was a one time event.
best goggles I have ever owned
These goggles are quality pieces of work. The craftsmanship is solid, the design works well with a helmet, and the lenses are great for all conditions. (I haven't tried them out on a super sunny day yet, they might be a bit bright but I think I'd still rock 'em.) For flat light they are superb. I have actually been tricked into thinking the sun was out because they amplify the contrast so effectively. They are very comfortable and fit an average sized dude's face well. I also own goggles by Arnette and Spy. These blow those out of the water in every way.
These goggles survived rain, wet-snow, sleet and heavy snow in Whistler without fogging. Fit well with a helmet too!
Mine came with the yellow night lenses as well as the reflective rose lenses. I saved 40 bucks by getting them here!
i just got these and they are real nice. they don't fog, and i think they look real cool. the sensor mirror lens is really good in flat light.
Great performance and value
I replaced a 12 yr old pair of regulators with these, and they continue to be wonderful. They work great with a helmet and the RC36 lenses are great for all conditions. Highly recommend these goggles.
I really like this brand and features. They're sturdy goggles that are really easy to control for fog and comfort. The sliding vent does just enough for me--I think the fan models are a bit excessive. These fit a girl's face well (medium faces) and go easy on and off (unclipping or simply sliding them). The face foam doesn't seem to be as cheap as some other brands, but then again you tend to get what you pay for. I like the platinum mirror because it's a really versatile, multi-purpose tint. There's a nice protective baggy for them and an extra lens in the box too.
, ☃bcs_badge_alumni_label☃
Bang for your buck!
These goggles rock! Comfortable, stay de-fogged, love them.
Christmas gift for my son(16). He loved them and they performed with perfection at Mammoth during the Snow storm over the Holidays. They look good and perform, too!
These goggles work out great for me and I have never had any problems. Very comfortable and very stylish. These are a great pair of goggles.
Been rocking these goggles all season and I absolutely love them. The fit is amazing, they don't fog and the sensor mirror lenses are the bomb. I have the Saiman Chow artist version, so they get mad style points as well.
These goggles are great. if you hate smaller frames and want to be able to see everything you would normally be able to get these Smith goggles. They dont fog up or anything and as i said they dont block your vision in any way! i definitely would recommened these goggles.
I liked them, they were nice. They got really torn up though. They feel good and look good, the mirrors are sick. The pink is pretty sick, but everyone has these goggles now and they are way too mainstream.
, ☃bcs_badge_alumni_label☃
The Best Lense I have Ever Used
This sensor mirror lens is honestly the best lens I have ever used. The frames on these goggles look great as well. Great low light to medium light lens as well as ventilation.
These goggles are so comfy! They are a perfect fit with my Red Hi-Fi helmet and as an added bonus make you look like a nutter! The red mirrored lenses certainly helped in the strong sun of Vail, but I would definitely recommend getting an additional (yellow) lens for flat light conditions. That said, I still wore them in blizzards and low light conditions and boarded fine. Just the additional awareness of my surroundings would probably have been more sensible!!