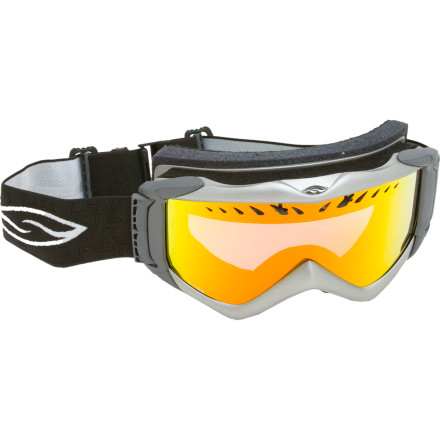 Detail Images

Community Images
Everyday shredders
Familiarity:

I've put it through the wringer
Countless days with these things - no problems. Don't fog. The only issue is if you really eat it and you get snow all up on the inside of your lens, they tend to be done for the day. But dry em' out and they're go to go.




Basic, but great
Gender:

Male

Familiarity:

I've put it through the wringer
These are my favorite goggles for the hill. They are not terribly flashy if that's what you're into, but the basic look is solid and extremely comfy. They seem to only suffer minimal fog issues in humid moments, and have a great viewing area. I can't think of anything bad to say about them.
Used for two years now. Good results. Used in almost all light conditions. Only issue was some fogging at -18 degrees this year but great other than that.
I'm trying to figure out what the extra...
I'm trying to figure out what the extra lens mine came with is for, I got the sensor mirror as the main lens, and the second lens doesn't seem significantly darker (or darker at all), sort of amber but with no reflective coating
It should be the Ignitor mirror lens. 35% VLT instead of 70% VLT.
I'm a big fan of these googles. I was initially concerned with whether the retro-styling would be too gaudy, but they don't stand out too much and the materials are quality. They came with persimmons and amber lenses that are incredibly easy to swap in and out. I've used them in a pretty wide range of temps and weather. They also work well both with and without a helmet. All smiles so far.
I ski every week and love these goggles. They fit my medium sized face fantastic. I have used them in sunny and cloudy conditions and have no complaints. i was concerned when i ordered them since i wear a Giro helmet, but when they arrived i had no issues with the fit.
Good looking, right price, decent goggs
The goggles look great and theres a style for anyone. At 50% off the price is super hard to beat too. They fit nicely and usually have no problems, and are overall a solid goggle. I personally would give them 5 stars, but from my friends' experiences with them, have to rate them lower.
Now the cons... My friend and I have these goggles and on very cold days we both get fog inbetween the lens which is super hard to get out. They also fog up if your neck is all bundled up and you breath upward. Also, i bought a pair for my girlfriend and her first day with them, she took a spill and they snapped at the strap connector rendering them useless. Thankfully Backcountry has their amazing return policy.
Something else to consider... Replacement lenses cost $40 (practically the price of the whole goggle), and Smith does not carry Fuse replacement lenses. If you order from SmithOptics, you have to use the newer Stance goggle replacement lense, which fits the Fuse.
These goggles look great and they make me ski even faster! Nice to have the two lenses. Great Value!
Big enough so the sides don't impair on periphery vision but not too big. Despite the red / orange mirror, it has a blue tint which is difficult to see topography in flat light but great in the sun. A little drab at times because it's a blue-ish gray. Overall, great goggles
Unanswered Question
can you see your eyes through the google...
can you see your eyes through the google lens?
This is a flat lens, not an optically correct spherical lens. So there is some distortion when looking through the goggles. But for $40 on Tramdock not a bad deal at all. I have a medium round face and these fit my head very comfortably. They look cool (I bought the orange and white with ignitor mir lens), and even though its not a spherical lens it is high quality and not to shabby to look through. Fogging has not been an issue for me, keep your goggles on your face at ALL times when outdoors and no issues. I am very pleased with the googles, mostly because I picked them up for $40, For $140 you can get a good spherical lens google from Smith, but the Fuse goggles work great for me!
Unanswered Question
Hows the peripheral vision on these?
Hows the peripheral vision on these?
I bought a pair of these a couple years ago and they might just be the best pair I own. I also have a pair of Oakley A-Frames and Crowbars and the Fuse fits and performs much better than both. The field of vision is excellent in all directions particularly the peripheral, they're very comfortable fits perfectly with any helmet and I haven't had an issue with fogging. I have a medium sized face that doesn't seem to compliment my A-frames or Crowbars well, they tend to squish my face in and the side padding sits right up against my eyes. I do not have that problem with the Fuse they fit perfectly! Plus they're way cheaper. Best bang for the buck, highly recommend you add these to your arsenal.
Ive owned three pairs of Fuses, and I have had zero issues. I love these goggles: the fit, the larger size, and the reliability. If you look around and check tramdock you can often find these in the 40 dollar range. For the price they are unbeatable.
I can't choose between the Smith Fuse,...
I can't choose between the Smith Fuse, Dragon DX, Scott Alias and Spy Zed. Which one of these would fit best medium size face? Which has the smallest and largest frame? Could you compare them? I also plan to buy a helmet, so they should work with helmet of size M/L.
Thanks
Best Answer
Get the Smith Fuse... They are the best quality and their warranty is second to none!!!! Spy frames are always pretty large... Smith googles always work well with helmets, ESPECIALLY Smith Helmets!!!!