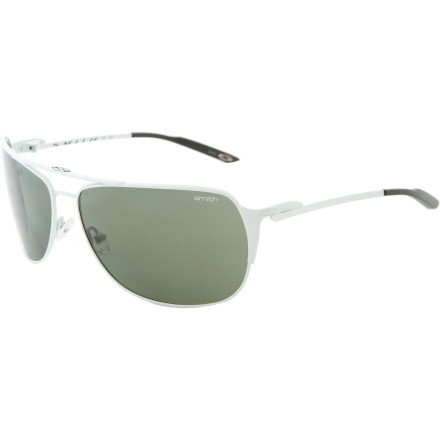 Detail Images
The skinhead was bolting full-throttle toward the alley, clutching the stolen purse, when you went for the tackle. That's when the glare off his scalp caught you in the eye, sending you sprawling. You should have sprung for the Smith Foley Polarized Sunglasses. The Foley's polarizing filters would have eliminated that glare and you would have gotten the bust. Because of your cheap sunglasses, all you got was a new nickname.
Polarizing Filter eliminates glare
Metal frame is stylish and fully customizable
63mm lens width, 15mm bridge width, and 125mm temple width
Odd Fit
Familiarity:

I've put it through the wringer
I really wanted to like these shades, however with my large head, they don't fit the way I'd like them to. The hinges do not flex on my big head, so they become uncomfortable after wearing them for a while. They also have a forward tilt on the lenses which causes the bottoms to touch my cheeks, and makes for an awkward look. In terms of quality, they are very solid. I've actually tried bending the frame so they can fit my face better, but they keep going back to their original position.
Polarized is the way to go!
These lens shade plus the polarization are my go-to glasses for driving. I basically keep these in the glove compartment, to ensure that I don't drive without them. The nose pads feel fine on my nose. My only gripe is that when I put these on my head when I'm not using them, the nose pads get stuck in my hair and it becomes tug-o-war to get them off. I guess dudes generally don't have issues with that if they have short hair. And of course.. they look good!
Great Optics and Frame, With 1 Issue
This is the first pair of aviator/police style sunglasses I've gotten. The larger frame fit my slightly Large size face pretty well and the optics were pretty astounding. I had to fudge with the nose pads a bit to get the right fit, but I broke my nose as a kid, so you may not have to.

Be careful though. Not really sure why it happened, but there are screws mid-way down the outer frame that holds the lens in place. This screw popped out without warning one day and I found that the other side was getting loose as well. I haven't contacted Smith on it yet, so don't do something like using lock-tite on it unless I continue this review, which I plan on doing. Smith is usually great at fixing issue like this, so maybe I'll get some extra screws. To be continued.

UPDATE: So, yeah. Cool. It turns out that the screw that fell out is universal with most screws that come with sunglasses and regular glasses repair kits. Good to know.
Smith Foley's oh so sweet
As you can see here, the Foley's and your average beanie can turn your ordinary Joe Blow into someone that looks to be somewhat important. These shades give you the "it" factor you have been looking for. You can't take the beat of the street with these shades on.
Wear em, share em, compare em to other shades - these are worth the pay, cause you'll slay anything in your path, you do the math. I'm gonna go get a bath.