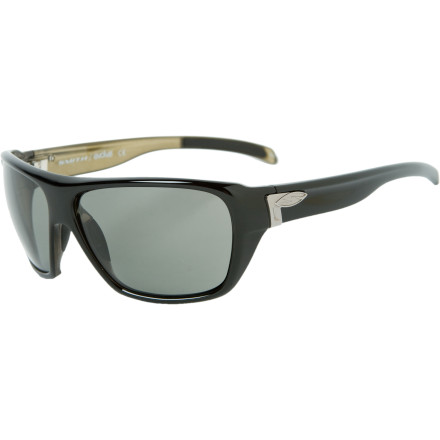 Colors

Detail Images

Videos
Description
Commanding.
Stand in front of a mirror. Slide on the Smith Chief Sunglasses. Now flex and admire your stunning and commanding physique. Of course that might have something to do with the Italian-finished shades comfortably resting on your face. Go outside where there's some glare ... oh wait... you won't be able to see the glare because the polarized lenses knock that distracting nonsense out like a prize fighter. Nice work selecting the boldly-style Chief; now, it's time to enjoy the crystal-clear optics by doing some people-watching at the airport.
Lightweight, optically-precise TLT lenses adapt to high or low amounts of UV light to provide just the right tint for the situation
Anti-reflective and hydrophobic lens coating keeps your lenses pristine by resisting
Evolve frames utilize Smith's Rislan bio-based material, which is sustainably produced and less harmful on the environment than conventional sunglass materials
Spring hinges cradle your temples for a secure fit that won't squeeze your head
See sizing chart for lens color explanations
Smith Chief Polarized Sunglasses
These big bad boys stay right where you put them thanks to the comfortable rubber pads on the nose bridge and temples. Super durable thanks to the spring hinges, really light for glass lenses which don't scratch as easily as plastic. Love these, and Smith customer service rules. They back up everything. Quit her messin' around and squintin', see more on the water!
If you are a skier or boarder the Chief rules!
Awesome coverage for bright snowy environs and glaciers. Looks rad on the streets as well. One of Smith's finest creations.
These glasses provide great coverage and fit great on my big head. The spring hinges make for a super comfortable fit all day long. When I am not wearing them on my face, they are up on my hat where they stay nice and snug. Polar glass lenses are the way to go. I am so stoked that Smith Optics is still making glass lenses!!!