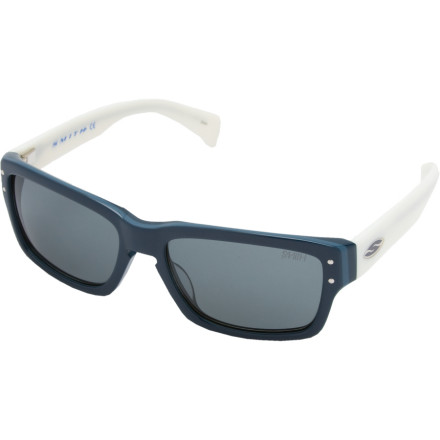 Detail Images

Community Images
Some call the Smith Chemist Sun Sunglasses retro. Others call them futuristic. You'll call them your favorite shades. Optically precise Base 6 lenses ensure crystal-clear vision in a wide range of lighting conditions, and the steel-reinforced nylon frames provide plenty of durability. Smith pulled out all the stops to make these sunglasses as unique as possible without bumping into an annoying look that no one wants.
A slightly different classic - smallish
Familiarity:

I've put it through the wringer

Fit:

Runs small
My main gripes: 1. The grey lens is not dark enough for bright sun. 2. The nose is too narrow so they sit up high and dont feel that secure (on me, obviously others feel differently). The real ray bans these are kind of trying to imitate fit me much better. If those classic style ray bans are a little large on you, these will be perfect. I have a feeling that's why there are so many reviews where guys say their girls are taking these away from them. One smaller gripe is the hinges actually dont feel very solid to me. I get too much play when I twist the arms along the long axis. Other than that, it's the classic retro style sun-glass. What else can you say? The photo says it all. True to color.
GREAT LENSES AND STAY ON!
I have these in the smoke/glacier grey. I've had them since december and still no scratches (dropped MANY times). The color in the photo is only a tiny bit more "saturated" then in person. I liked them but my wife loves them and stole them from me. I know she uses them for EVERYTHING including running/hiking/mountain biking every day in park city and she's never had any problems with them staying on! I know its hard to find this "style" sunglasses that stay on your head when being really active but these do! Oh and a bonus is the double hinges at the temples.... so great for comfort.
these fit great and are super comfy thanks to the two way hinges at the temples. they are total eye candy :D they also happen to be perfect for when the snow is really bright but the sun isnt and you need protection from the bright white but cant stand amber lenses.
These are some cool glasses with some bold styling. The purple/brown color was a little intimidating as a dude, but I got a lot of compliments with them and the purple wasn't too purple. I think the black/black would be good for someone who likes the Ray Ban Wayfarers, but wants something a little different.

The sizing seems pretty accurate. I wear a size 7 1/8 hat and these fit slightly loose - just like a casual pair should.

Unfortunately I lost these to the throes of a mosh pit during the Ghostland Observatory show in downtown SLC...RIP
Old School look new school technology. Great sun glasses for human use!
The Smith Chemist is a great classic "Rayban" style with class. I have two pair and love to kit it out depending on the colors of my gear. Both pair are polarized but not too intense. I've had other polarized lenses that are pretty intense but the shape of these make the normal effects mellow and easy to handle.
The one thing I love is the thickness of the frame. It makes them feel durable but remain lightweight and comfortable to wear.
mustache/neckbeard not included.
So, I have a fat head. It's true. Roadtrips kill me. Er, well, they did until I got these shades.. Wearing any glasses for an extended period of time would lead invariably to my temples hurting so badly that I would just deal with the future being so bright. I know, kinda weird. Well, maybe not, I think that there is someone else out there with the same problem, and to you I say, buy these shades, they're comfy and they look old-skool cool.
These glasses will keep your style fresh wherever you go. The high quality lenses and retro frames make these my favorite glasses!
old school style, new school tech
Killer optics--would expect nothing less from Smith. Comfortable, and stable on my head even at ridiculous speeds on the bike. Keep in mind that the two-tone blue on the Blue/Ivory colorway is definitely very dark--to the bystanders you blow past on the Boulevard, it might look like a black.
What more can you say- these glasses look cool! Love the TLT Optics and clear frames.
They are way sick, an updated sportier look to those classic raybands. They stay on my face while i work and during any activity I'm doing from swimming and biking to walking around town. Only thing i didn't like about them were the lenses weren't tinted enough but thats just preference.
A more sturdy rendition of the classic.
Yeah, these are pretty much the most baller glasses around. Pretty good for rocking around town and looking good. Perfect for some risky business and dancing. Just dont let your girlfriend swipe yours cuz youll never see em again. Optics are superb
These are so slick! I've got the clear frame/red lens combo and can't stop wearing them. Yeah, yeah, yeah the lens quality is tops and all that, but the important thing is that these are so dope looking. From beanies to bandanas, longboarding to long hikes; you can't go wrong with these.
what size will these fit best less than...
what size will these fit best
less than or bigger than 7 1/4?
Best Answer
what's dope about these is that the arms have 2-way hinges on them, so they fit a whole bunch of different face types. I have a pretty big Neanderthal-style head, and they fit me fine because the arms can flex out a little bit without being uncomfortable, but one of my skinny-ass co-workers has a pair too, and he's just as stoked.
yea, thanks for the answer. I recently tried them on at a local shop and noticed the hinges too. the only thing is that I'm not sure how comfortable they will to wear for so long because the hinges flex outward. do you have any problems?