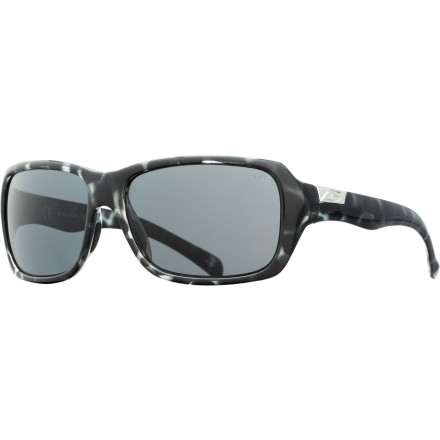 Detail Images
Slide the Smith Women's Brooklyn Sunglasses on when the day urgently calls for an afternoon next to the pool. Polarized lenses filter out UV rays and glare, so you can always sight your martini floating on the inflatable bar next to you. Smith added a curvaceous profile for a sleek look, so these shades will go anywhere with you. Hydrophilic megol grip pads on the nose and temples keep your eyes covered even if you just so happen to doze off … again.
These glasses are stylist, yet very functional. They stay in place so I can be active while wearing them. I can also wear them to more formal events and you would never know I was just riding a bike or running.
I have these in the Stone/Brown Gradient combo and they are a great addition as a classy yet functional eyewear. The ebony colour makes me think of Audrey Hepburn, if Audrey Hepburn needed classes that stayed on her face while she hiked, trail ran, and bike commuted around town.
These are great glasses, I bought these mostly as glasses to work out in. They are really light weight frames and comfortable. Although I got them to be my work out glasses I have been using them a lot for daily use as well, they can be used for everything!
Hardy yet elegant, these glasses are a great! They have great coverage for active, outdoor stuff like biking or spring skiing, and they are durable. Couple that up with a classy, smoothed out boxy look and they pretty much kill it. Nice to support Evolve products as well- check out the Smith Evolve series if you haven't yet.
This is one of those classic ladies Smith styles that can be worn on a mountain bike ride or to a wedding. Super cool style too.