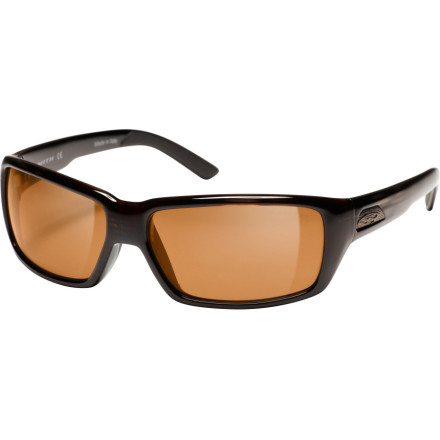 Detail Images

Community Images
Description
Don't feel bad. These shades are cooler than most people's friends' sunglasses. You're still a good person.
Despite their understated, retro style, the Smith Backdrop Polarchromic Sunglasses pack more features and technology than all your shades and all your friends' shades combined. Probably your friends' friends, too.
Polarchromic lenses are both polarized and photochromic, eliminating glare and self-adjusting tint lighter or darker according to light conditions
TLT Techlite glass lens offers maximum optical clarity and greater durability than plastic
Grilamid polycarbonate frame for durability
Small to medium fit with medium coverage
Share your thoughts
What do you think of the
Smith
Backdrop Polarchromic Sunglasses
? Share a...
super comfy, nice fit. I do wish that they came with a soft bag/lens cleaner, as the hard case that is provided won't do such a great job of cleaning the lenses--and for the price it seems as if they should come with both. Can't say enough good things about the glasses though.........superb.
Sweet shades, worth the cash
I was hesitant to spend this much on sunglasses but I think these are well worth it. I like the style, they fit my face well, guess I'd be considered "medium" size face when looking at eyeglass websites. They are comfortable, not too heavy, feel like they will stay on my face climbing, skiing ,etc. The photochromic lenses are great. I've never owned a pair that had them before. Most of my past sunglasses have been too dark to wear on anything less than totally clear, bright, sunny days but these can be worn in a huge variety of conditions. The clarity of the lenses is amazing, this might be more impressive to me than to others, I'm coming from always having plastic lenses as opposed to these glass lenses. Will never go back to plastic. The redish color of the lenses is great, a welcome departure from boring black lenses. I bought them as kind of a test (again wasn't psyched to spend over $200 on sunglasses, never have before), I was ready to return them if they didn't feel like they were worth the money. But I have to say these are definitely keepers! So if you're thinking of taking the plunge into "expensive" sunglasses these are definitely worth checking out.
These are my go to Sunglasses for everyday use. I originally got them for fishing, but liked the look and function so much (and limited budget) I now wear them everyday. I got the mahogany and copper and they are perfect for fishing, they really cut down the glare off the water to spot fish. The square look fits my mediumish face perfectly. Just a classic pair of sunglasses. Cant go wrong with them! Only durability issue is that the side logo insert fell out a few months back. A little disappointing and im sure Smith / Backcountry would warranty, but not a big deal. This gives it 4/5 for me though.
These glasses are sick. Great style, great comfort, and bomber construction. Obviously since the lens is glass they are heavier than polycarbonate or other lenses, but the clarity is unmatched. Incredibly crisp, clear optics.
I fly fish early & late so I want the...
I fly fish early & late so I want the lightest color glass polarchromic lenses so I can not only see the fish in the water but also tie flies on small tippets. Looks like a toss up between the amber & copper, so I'd like someone to answer that has worn BOTH pairs at early dawn & dusk.
I've been fishing with the Smiths amber glass lenses before the light lenses came out & I love em, just wish the Polars were out when I bought mine.
Paid $240 at the time & would have gladly paid more so I could see better when it's a bit darker out.
Thanks,
Sounds like Amber is your lens!
I can't go any where without sunglasses even on cloudy days. I have the mahogany polar chromic copper and love these glasses. They filter the light nicely to where I can see as comfortably on sunny bluebird days as on cloudy ones. I wear them all the time around town and depending on the day on the mtb trails and all the time in BC touring. The storage case they come with is great for shoving them in the pack. I recommend!
Backcountry drops the ball on Smith backdrop.
Check that the case is included with these. The regular polarized ones do not come with any case, which is a bummer considering they cost $178. Even though the detailed view on those shows a case. They just come with a crappy bag. Ask in advance.
My personal favorite and I am the rep. The polarchromic Ignitor lens is Awesome all day long. Love the spring hinges. Wear them on my hat when I am inside and they never fall off.
Great polarization and optical clarity. Photochromic quality is subtle but works. Good glasses for fishing or mountain sports
Second pair of Smith's that I have owned. They just keep getting better! I refuse to wear any other brand. Great feel, photochromic quality is awesome, good fit. Buy them...
This is my third pair of Smith's now. I bought the Slider series over ten years ago then upgraded to the Interlock when they came out. Now I just made the move for a set of Polarchromics. I have not had a chance to use these in many diverse conditions yet so I can't give a detailed review yet. But what I can tell so far is that these are by far the best shade I have had. The Techlite glass lens is far and away more clear than any plastic based lens on the market. The ultimate test for me will be when I'm on the river fishing until dark. If these shades can still be effective in the late evening then they'll forever be shade quiver. As far as construction and detail are concerned, these are probably the prettiest/cleanest pair of shades I've ever owned. Then again, for $179.00...they should be.