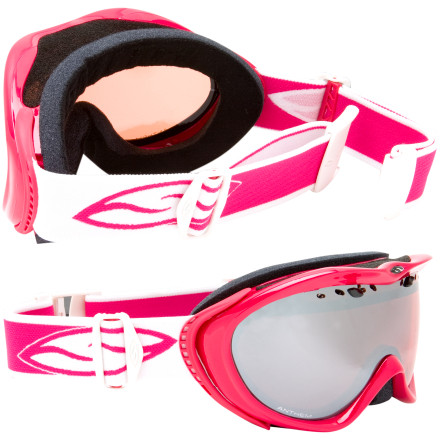 Detail Images
Are these goggles good for overcast...
Are these goggles good for overcast conditions? I have a pair for bright, sunny days, but they are terrible in low-light conditions. Looking for a good pair for a cloudy New England day!
depends on what lens you get, go for sensor mirror
These Smith Anthems fit my face really well (not sure what that mens for you). They also have an excellent field of view.
My wife had been searching for goggles that would work with a small size helmet. We got some good advice from a clerk whose wife had the same problem with most goggles being too big, but the store was out of stock. Backcountry to the rescue, the Anthems arrived quickly and at a very fair price and best of all they fit and work perfectly. The fresh powder at Vail this season during a monster snow proved then well.
I bought these goggles somewhat reluctantly, but it was meant to be. They fit around a woman's face perfectly, and aren't too bulky. Not to mention that they're beautiful and classy looking!
More importantly though, I've rode in Wisconsin, Colorado, and Whistler - all of which these goggles performed perfectly!
I love the color and fit of my Anthem goggles. However, I have noticed that the lenses scratch easily and don't provide as much sun protection as I had hoped. My lenses are the gold ones, so maybe the other types provide better protection. Overall I like them, especially because they fit smaller faces. They look pretty badass on too!
Nose fit is rather poor, does not self adjust as specified. A lot of air thus comes into the goggles and they fog up quite often.
I got the Sensor Mirror light for the 70% light transmission. However, in flat light, does not perform any better than an average lens.
The goggles fit great, viewing area is great, lens color is great. The lens doesn't cause any change in-depth perception, which is important. Overall, great goggles and I am very happy with them. Would highly recommend.
these goggles were the best
I really like these goggles and wont be replacing them too soon. The lens was perfect for the conditions and they didn't fog up too much - when they did it was my fault!
Best of all they matched my boarding outfit so what more could you ask for?
I really like the fit of these and feel that you can never go wrong with Smith's. The lenses, however, on a super bright day seem to cause a slight rainbow effect which can really be a little irritating. Overall I do like these and would recommend them but maybe just switch out the lens on a super sunny day.
these are the only pair of goggles i've ever had that i will actually wear. they never fogged up under extreme conditions and fit great with my RED reya helmet!
I have 2 pairs of these goggles. They fit small, low profile. I like the mirror lens for sunny conditions. The sensor mirror isn't all it's cracked up to be. In fact I choose my persimmon Spy goggles over the sensor mirrors on cloudy days.
I have never had a pair of goggles fit better than these. Great peripheral vision and good protection without covering half your face. Got the azalea with platinum mirror, which is a pretty light mirror compared to other ones I've seen. It's nice to not look like a dweeb and still be able to see.
, ☃bcs_badge_alumni_label☃
Killer
This goggle is one of the best on the market for people with smaller faces. The lens quality is killer. Also the Sensor Mirror lens is the best lens I've ever worn in flat-light.
These goggles were terrific and I got so many compliments on the style and color. They were extremely comfortable, and I never had to adjust them once I positioned them correctly. They never fogged up. On cloudy days, I could also really still see the contour of the snow which made skiing more enjoyable. Thanks, they were great. Chris
Smith Anthems are my goggles of choice.
I own both a pair of Oakley A Frames and these Smith Anthems. Both goggles rock for anti-fog and peripheral visibility. But, I have a small, narrow face and the Anthems seem to fit a bit better. Based on the other reviews regarding trouble with some of the lenses, I opted to buy these in Crystal Fuel with the standard RC36 lens. The lens has worked great in all but very flat light. But, at those times, all my other friends had trouble seeing too. I also like the stylish colors and the nicely coordinated headbands. The price might hurt the piggy bank for some, but it's money well-spent.
rating the burton driver X snowboard boot
Burton C-60 bindings, very light, good support, nice ratchet straps, a little weak in the grabbing ability, when cold and clogged with snow.
There are better goggles out there
First, I'll say that I sweat a lot. Second, I'll say that if you do as well, buy different goggles. I gave them a shot for three days, and am about to return them because they fog up worse than any other goggle I've ever owned. Standing in the lift line, before I'd taken a single run yesterday, they fogged over totally except for one small spot right near the nose piece. The other two days, they did the same thing to a lesser extent. I tried a little Cat Crap, which did no good. So back they go. I think that overall, Smith makes a good goggle, but this particular pair isn't one of them.
Amazing Female Goggle too!
These goggles are simply the best, especially for female faces! I haven't worn goggles in the past as I found them too big and the side viewing impossible! These goggles fixed that. They wrap right around the face and the side view is amazing. I almost forgot I was wearing them. I bought them in Ice Lavender with Platinum mirror, they're perfect in any light and fog!
When I put the goggles on it fit well on my face. The reddish lens is great for cloudy and sunny days, but not when there's a white out.
I love these goggles. I have a very small face and have had so many poor fit goggles. These are wonderful, the lenses are great, though I will buy an extra that isn't polarized because when it's super sunny the rainbow effect can trip me up sometimes. I love the style and the white with the woodcut pattern is gorgeous and unusual.