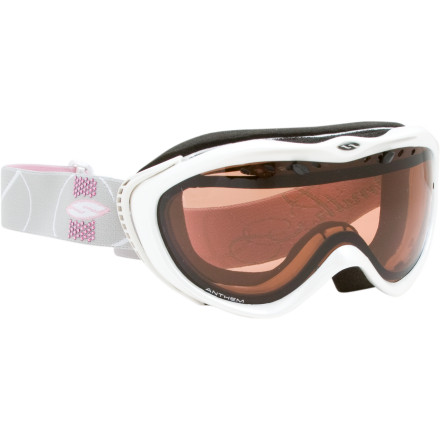 What do you think about this product?
Have questions about this product?
I just started skiing this year and used sunglasses the first few trips out. After getting these goggles I am amazed! They work great, fit my face and made our days on the slopes even more enjoyable. We had one day of sun and one day of clouds - they provided fantastic coverage for all weather. I would definitely recommend them.
I use to wear a pair of goggles that were so big, they took over my whole face. these anthem goggles are great. they fit my face well, they have not fogged once one me, they are durable. They fit well with helmets, they are COMFORTABLE! the coolest thing is the visual range with these. the periferale range on these is unreal. they are spherical so you can see everything!! I use them in snow, ice, sun, night, flat light, low light, EVERYDAY. I don't ski without them.
my wife is looking for goggles but she has...
my wife is looking for goggles but she has a terrible time finding ones small enough. She's tried several kids models, but finds them uncomfortable and...childish. Anyway, I can't seem to get an answer from Smith, so I'll ask you all: Do you know which is smaller, the Smith Transit goggle or the Smith Anthem goggle?Thanks in advance for your help.
im not sure which is smaller, but my mom has an extra small head and is very very particular about her gear, she wont settle for less than perfection basically...she has the anthems and LOVES them