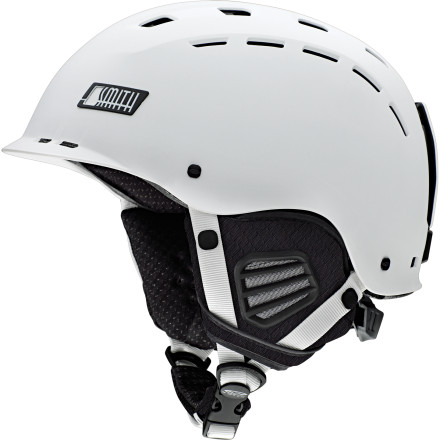 Community Images
Hammer away at gnarly zipper lines through the bumps or slay a cliffy pillow line with your head protected inside the ventilated Smith Hustle Helmet. Cinch down the chin strap, whip open the top vents, and drop into a steep line with confidence. Hardshell ABS provides plenty of lightweight, durable protection for your grey matter should disaster strike and you tomahawk into the trees.
X-Static performance lining has a smooth, comfortable feel and helps to quench stench using an antimicrobial treatment
Tough, removable Bombshell ear pads keeps your ears warm and protected against snow, branches, and snowballs
AirEvac 2 Ventilation uses 28 separate vents to let cool, fresh air circulate under your lid, while hot air escapes
A removable goggle lock keeps your eyewear secure while you slay powder or hammer away at a zipper line through the bumps
What is the centimeter size of the sm and...
What is the centimeter size of the sm and m of the Hustle
Can I mount a go pro to this helmet?
Can I mount a go pro to this helmet?
yes, of coarse! the 3M tape of gopro mount will stick to anything
I keep wanting to replace this helmet because it seems like there are so many smaller profile helmets out there and I feel like a bobble head in this one. But, the helmet is warm and comfortable. The venting is nice and really helps for high output telemark days. I've never had my goggles come off their retainer so that is good. My goggles (Rudy Project) fit okay, I think I need to adjust my padding. The tightening system in the back is nice and embraces the base of your skull comfortably. All-in-all I like it but think I'd be happier with the Giro G10 or Seam.
Unanswered Question
In terms of comfort how does it stack up...
In terms of comfort how does it stack up against the variant? I am borrowing one now, and love it but looking to save a few $$. Thanks
Great helmet but a little expensive
This helmet is great. It fits perfectly and it looks stylish. The visor helps to keep goggles in place when the goggles are removed from your face. The best feature is the controllable vents, the main reason I bought this helmet. The inner padding is not as high quality compared to the higher end smith line, but it works fine (although even many of the cheaper helmet has better inner padding and lining). I bought this at full price and its worth what I paid ($120), but it was certainly not a bargain.
New Ski Helmet gift for my wife
She loves it. It fits perfectly, is warm, and comfortable and stylish.

Thanks
Hustling in the mountains
Looking for simplicity and function in a lightweight helmet this may be the lid for you. I had the variant over the last few seasons and it was nice, but had to glue in ear flaps, deal with broken vent sliders, etc. No issues with any of those things on the Hustle and it doesn't appear that I will. Seems like a much more sound and simple design.

It's warm as well!
Heading out to attempt a rare line in the Timpanogos Massif.
Alright so in the last 2 weeks of skiing Ive taken two branches to the dome, smashed my head into the ice, knocked myself senseless and royally screwed up a 20 foot (+/-) drop, and this bad boy stayed secure and performed flawlessly.
So here's what I really like about it: its comfortable and adjustable, so you can get your fit just right via the cinchy thing at the back of the helmet. Its warm when you want it to be, and cool when you dont want to melt your brains out. It does this via this nifty little venting system at the top which you can open and close arbitrarily - which is really useful on those days when the weather cant seem to decide what its doing. The ear pads are removable for those extra warm days, but they stay secure unless you want them to come out. Another nifty feature with this helmet is the zipper along the back of the ear pads; skullcandy and smith teamed up to get some audio system worked out for these helmets, so you can buy a specifically designed system that will fit in the ear pads, but its a tad pricey and kind of pointless since you can just jerry-rig your ipod headphones in there, which still works great. There are also these air-flow vents in the brim which allow for airflow passed your goggles in an attempt to keep them fogging up, and so far as I can tell it works very well.
Having said that though, there are some things that Im not a huge fan of. This helmet is HUGE, and some goggles dont work with it correctly so you end up looking like a mong. Smith had designed their helmets to work with their goggles, so if you have o-frames or something, youre going to look retarded. Mose electric goggles match up, as well as a-frames and crowbars, but thats all Ive seen work. Definitely think about getting some smith goggles with this helmet.
This helmet is great, not only for when you get the random branch to the head when youre doing a tree run, but also when you catch an edge and whip you dome into the groomed snow
are the ear pads removable. Can someone...
are the ear pads removable. Can someone recommend a helmet with a fixed liner?
The ear pads are most certainly removable. Having said that, they're ridiculously secure. I pulled them out to dry them one day and it was a process and a half; 2 snaps on each side of the chinstrap, and the cinchy thing on the back loops through and secures it behind your head. Smith did a really good job in engineering this bad boy. I wouldnt worry about a fixed liner, since the liner in this helmet isnt coming out unless you REALLY want it to.
I agree with everything said below. This helmet is a workhorse. and comfortable. A feature I love that isn't mentioned is the earflaps have a zipper along the bottom which you can zip your own headphones into. rather than droppin about 50 on a skullcandy pair of muffs
Will this helmet integrate well with Oakley...
Will this helmet integrate well with Oakley A-frames?
I dont have the a frames personally so i cant give you a for sure but my friend does and he doesnt really notice any gap
For performance and (goggle strap holder)...
For performance and (goggle strap holder) quality for anyone recommend the Smith Hustle or the Maze/ look if some (either way) if I have Whit/orange goggles a black or whit helmet.
Definitely go for the hustle. the goggle strap holder is a rubber piece with a snap. On the maze its an upsidedown clip...relatively easy for the goggles to slide down and out of it. Also the adjustable vents are more than worth it on the hustle.
how heavy/bulky does it feel ?
how heavy/bulky does it feel ?
not heavy at all. maybe a bit bulky. but you get used to it in about 10 minutes.
This work well with White air retro goggles...
This work well with White air retro goggles from smith ?
Meaning the throwback goggles they have this year or from years passed? If you mean this year then yes they will work. If you mean from previous years (and from retro that may mean many years ago) then the helmet will still work but frame shape has changed a bit so it most likely won't integrate perfectly.
THEY INTEGRATE PERFECTLY!! I am runnin the same set up as we speak. got the retros and a gray hustle.
I have been using this as my go to get it done helmet. This helmet has it all, clean lines and a super functional ventilation system. I love how when i am hiking creating a lot of heat I can open up the vents and just like that I get instant satisfaction from releasing the heat I have build up and it keeps me at a perfect temperature where I am comfortable and not having to worry about the small things, just slaying the mountains.