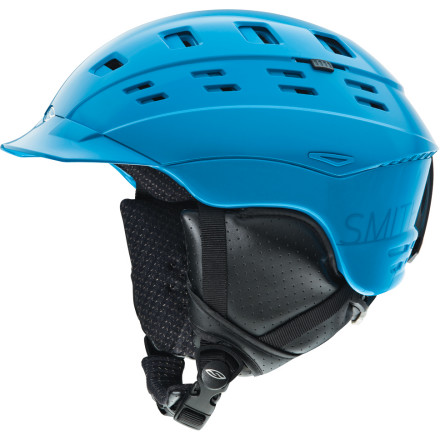 Detail Images

Community Images
Back for another year and better than ever, the Smith Variant Brim Helmet protects your noggin from dings and integrates with your Smith goggles to improve venting, limit goggle fogging, and eliminate dreaded gaper gap.
Hybrid shell construction fuses two separate shells (an ABS and an in-mold) to create a lightweight, low-profile fit
AirEvac 2 ventilation system helps circulate air and expel excess warmth to reduce goggle fogging
Boa system lets you adjust the fit with an easy-to-use twist dial
Low-profile design won't make your head look like a giant balloon
Air-flow system includes 22 adjustable vents for customizable comfort
Compatible with a Smith/Skullcandy audio system (sold separately)
Saved my life
Familiarity:

I've put it through the wringer
I have two things to say about this helmet. One, it is comfy. The air vents really make this helmet comfortable in most conditions. I leave it on my head while touring up and down, that way I always have it on when it matters. Just can not beat the comfort of the liner and vents and fit. Second, and even more importantly, it just works. I took a head first dive into a tree at about 20mph this morning when one of my tips caught on underbrush and sent my flying. I am totally fine. As my skull made contact with the tree, I could feel the tremendous impact being adsorbed and redirected by the helmet. Weird feeling. The only thing going through my mind as it happened was, "I love this helmet sooo much". End of story, my neck will probably hurt tomorrow, but I am fine. Moral of the story, always wear a helmet, and use a comfy Smith helmet if you have that option.
helmet with options
Familiarity:

I gave it as a gift but have feedback to share
I got this as a gift, but can tell just by trying it on and seeing it in person. Smith's AirEvac 2 vent system will give you some great options for keeping you cool in the spring, and warmer in those colder temps.
My Favorite Helmet
Familiarity:

I've put it through the wringer
I love this helmet. I'll be honest, the reason I bought it in the first place is because with the olive green color (sadly no longer available), it reminded me of Master Chief's helmet from Halo. Yes, I am that big a nerd. But after skiing with it for several seasons, I can safely say that non-nerds will love it as well. It fits great, keeps you warm when it's cold out (as in Chair 6 at Breckenridge cold), and with the vents open, does a pretty good job keeping you cool. I also found that my Oakley A-frames fit great, so I can only imagine how well Smith goggles would fit.



I really like the way the helmet looks. The brim adds something without looking stupid. I've read recent reviews that say the brim is flimsy, but I haven't had any issues with mine (although its a few years old by now).



Bottom line, I bought another one because I liked it so much.
Smith sets the standard
Familiarity:

I've put it through the wringer
Best helmet I've had to date.



Lightweight and form-fitting, the Variant is the most comfortable helmet I've tried on. The Boa definitely lets you cinch the helmet to your preferred tightness, depending on how much flow you have going on underneath your dome.



Vents are easy to switch on and off, even with mittens. I've never had a big problem with goggles fogging up because of overheating, even on longer hikes.



The earpads are cushy enough so that not a lot of wind seeps through, but don't put pressure in the wrong spots. They also feature a zipper on the underside that allows for placement of audio-devices.



Stylish, functional, interfaces well with most goggles.
For the price, best helmet on the market
Familiarity:

I've put it through the wringer
I absolutely love this helmet. I have used it for over a year now, and I have never had a single problem. I wear this helmet with Smith I/O goggles, and Smith purposely designed the goggles and helmet to fit perfectly. Cool air comes in from the front, through the goggles, and push warm air out of the vents.

The vents in this helmet are great. You can open specific ones to have a particular kind of air flow based on the weather. The vents are also easy to open and close even with your gloves on. The brim actually really helps with blocking some sunlight during the day. The brim also provides some more wind blocking, and makes my goggles feel more snug and fit on my face.

The back of the helmet is open to insert any audio system. I actually hooked up a wireless communication system with these helmets, connected to a handheld receiver so I can talk to my buddies while I ski.

The helmet has saved my life on many huge falls, while the helmet only received some scratches.

The helmet looks sharp and performs exceptionally. Highly recommend.
I raced for 4 years in high school, so the only helmet i was used to was tiny, cold and had a crash bar 2 inches in front of my teeth to protect the pearlies from incoming gates. After realizing I'm old and I fall hard, I did alot of research on a good helmet and settled on the variant brim. I had a hard time finding a helmet that didn't make me look like a rasta or biker or a kayaker.....I just wanted a nice comfy ski helmet. I've had this for a few seasons and I love it. The venting is a great option, and the louvers are big enough to move with your gloves on. Highly recommended noggin protector.
is this helmet able to accept head phones...
is this helmet able to accept head phones in the ear muffs?
Hey,

This helmet is compatible with a Smith/Skullcandy audio system (that you buy separately). You can slip that audio system into the helmet ear covers and bump your tunes.

Putting your own headphones in will be really tricky, but I have seen it done before with some cutting/pushing.

The skullcandy tune-ups are your best bet.
As Smith says- The Ultimate Integration
Gender:

Male

Familiarity:

I've put it through the wringer
Have had this helmet for several seasons now, has a few scratches and dents in it but it has protected my head from the weather and more importantly, impact. Stacked a drop, tomahawked down about 20 metres, resurfaced still in one piece, and so was the helmet.

The Smith Fuse's I use integrate perfectly with the helmet, vents on top keeps your head cool on a warm day, and the snow out when its dumping.

What more could you want from a helmet?
runs big
Familiarity:

I've put it through the wringer
I bought the XL size and its perfect for my size 8 (fitted hat size) head. Good protection, great venting, the only problem is that the brim (which looks great style wise) gets in the way of sliding the goggles up and down...but again I chose it for style of substance so its kinda my fault...I'd highly recommend this helmet.
No more bobble-head blues
Familiarity:

I've put it through the wringer
Hard to find a combination of all the things you want but this helmet has it. Great combo of style and function. Venting controls the temp very well. Keeps in the heat on cold days and lets in the air on warm ones. Ear flaps don't leave your ears screaming at the end of day. Provides great protection the times I've crashed or been bashed in the head with the safety bar (a simple "coming down" also helps). Works great with Smith I/O goggles. Only draw back is that the BOA is more for fine tuning. If between sizes, I suggest sizing down to avoid working at the outer ranges of its capacity. Liked it so much I even put a goat on it.
Great helmet. Vents are a nice touch on the spring days.

Great fit regardless if you are wearing a hat underneath because of the adjustment knob on the back.

Brim keeps all weather off of your face.

No goggle fog up at all while wearing this helmet.
Excellent helmet! I love the baseball-helmet like feel to it. The brim is great for keeping wind, sun, and even small tree branches out of your eyes. The vents work great. This helmet also keeps my goggles from fogging.



My only gripe is that the ear pads are too thick for comfortably wearing headphones while using the helmet.
Expensive but well worth the price
Super comfortable, light and has some great ventilation. The ear padding is set up to run some speakers inside of it for days you want to blast the Metallica and charge. The only con on this helmet is you can't remove the ear padding for warm spring ski days.
I have been skiing for years but resisted using helmets (thought they would be a pain). I thought I would try one this year for my trip to WinterPark,CO. I thought it was great! It is so light I never noticed it was there. I found no noticable restrctions to visibility or mobility. Doubt I will ever ski again without it.
is this compatible with the oakley a...
is this compatible with the oakley a frame?
Although it will work, Smith helmets are made to nest perfectly with Smith Goggles for maximum ventilation.
Works great with my A Frames. No annoying air flow between the goggles and the helmet.
Best Answer
Worked with Dragons but even better now that I got Smiths. Several friends wear with A frames with no complaint.


the ear flaps fit a bit snugly which leads to sore ears at the end of the day. The boa in the back loosens on it's own (not sure if it is just the lock that is broken on it)
Unintentional "peace sign"
It was anything but peaceful up there. The empty glove pressed to my chest made a style statement I hadn't expected. I held the glove to my chest to keep it from getting blown away. The wind was ripping (50 mph gusts) on top of Tuckerman's Ravine as I shot this self portrait with the summit in the background.