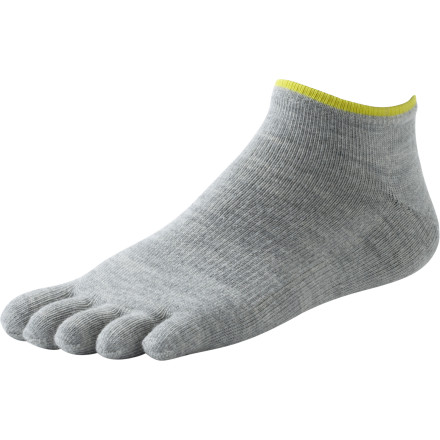 Take the plunge and wrap your toes and feet in the comfort of the SmartWool Toe Sock Micro. Breathable, moisture-wicking SmartWool fabric helps control foot funk, and delivers you a more comfortable sock. This ultralight, non-cushioned Toe Sock is great to use when you travel or for everyday wear.
Unanswered Question
Is this Smartwool model SW490?
Is this Smartwool model SW490?
These sock are a great product with excellent material quality. Great product for Running, Biking or working out in the gym.
I love these toe sucks i tell every on that i have them
i now have 5 pairs of these guys. fit perfectly with both pair of my vibram 5fingers. keeps the stink factor at about a 3 rather than my normal 8. love them. they feel seemless on the toes. i will say that i got the large ones for a size 44 5fingers (10.5-11 US) and they come to mid-malleolus. tried on the mediums and they did not fit my toes as well. the micro is not exactly micro, not exactly a no-show sock, but i am still very satisfied with these and will buy more in the future. keep your eyes open too, you can find them for less than $15/pair.
These socks are great for super long hikes. Split up the toes to reduce chances of blisters! I also use these with my fivefingers, it makes them real snug but helps in super colds temps.